Emotional Well-Being: Emerging Insights and Questions for Future Research | NCCIH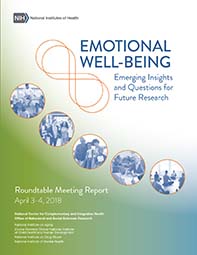 In April 2018, NCCIH and the NIH Office of Behavioral and Social Sciences Research cosponsored a roundtable meeting to learn about the existing research on the role of emotional well-being in health and to identify priorities for future studies. Two leading experts in this field, Dr. Richard Davidson of the University of Wisconsin-Madison and Dr. Bruce McEwen of the Rockefeller University, cochaired the meeting.
The report from the roundtable is now available on the NCCIH website. It includes information on the state of the science, research gaps and opportunities, and a strategy for moving the field forward.