Antidepressants Not Just for Depression Any More: MedlinePlus
Antidepressants Not Just for Depression Any More
Other uses include insomnia, pain and anxiety, researchers say
Tuesday, May 24, 2016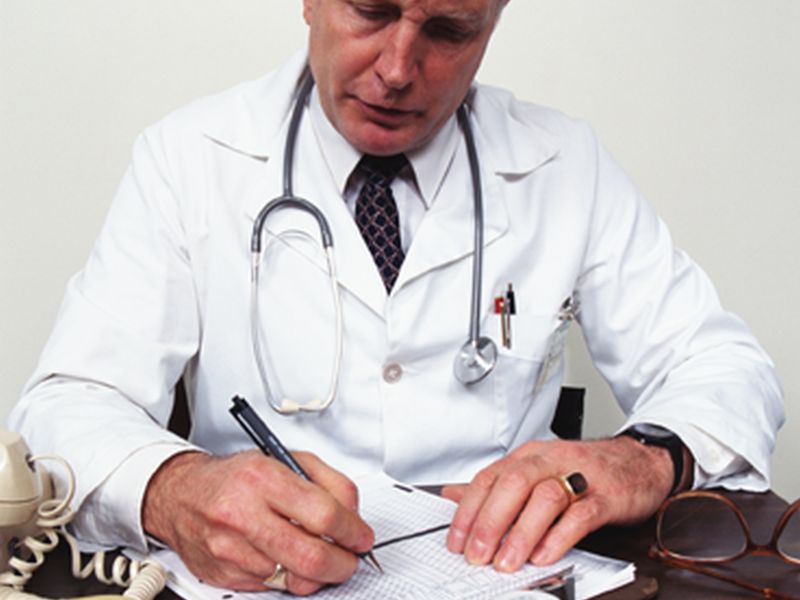 TUESDAY, May 24, 2016 (HealthDay News) -- Doctors prescribe antidepressants for a wide range of medical problems other than depression, apparently fueling the boom in sales of these medications, researchers report.
Depression accounts for only a little more than half the antidepressant prescriptions issued by Quebec physicians during the past decade, the Canadian study found.
Doctors also issued antidepressants to treat anxiety, insomnia, chronic pain, panic disorders, fibromyalgia, migraine, obsessive-compulsive disorders, and a host of other "off-label" conditions for which the drugs are not approved, according to the report.
Two out of every three non-depression prescriptions for antidepressants were handed out under an off-label purpose, the findings showed.
"The thing that's of concern here is that when prescribing for conditions other than depression, often these are for indications such as fibromyalgia and migraine where it's unknown whether the drug is going to be effective, because it's never been studied," said senior author Robyn Tamblyn. She is a professor of epidemiology and biostatistics at McGill University in Montreal. "These doctors are prescribing in the dark," she said.
Antidepressant use in the United States increased almost 400 percent between 1988-1994 and 2005-2008, with the most recent figures showing 11 percent of teens and adults take antidepressants, according to the U.S. Centers for Disease Control and Prevention.
Researchers have suspected part of this boom may be that doctors are prescribing antidepressants for off-label indications that haven't been evaluated by the U.S. Food and Drug Administration, Tamblyn said.
To investigate, Tamblyn and her colleagues gathered electronic medical records generated by primary care physicians in Quebec between 2006 and 2015.
During that period, about 102,000 antidepressant prescriptions were written by 158 physicians for nearly 120,000 patients, the investigators found.
Only 55 percent of antidepressant prescriptions were handed out to treat depression, the researchers said.
Other illnesses treated with antidepressants included: anxiety disorders (18.5 percent); insomnia (10 percent); chronic pain (6 percent); and panic disorders (4 percent).
In several conditions listed, no antidepressant has ever been approved for their treatment, the researchers noted. These include migraine, menopause, attention-deficit/hyperactivity disorder and digestive system disorders.
Other conditions treated with antidepressants included sexual dysfunction, premenstrual syndrome, post-traumatic stress disorder, urinary problems and bulimia.
Depression expert Dr. Peter Kramer said antidepressants have a wide range of potential uses, given how they work.
"I've always written these are not necessarily best called antidepressants," said Kramer, a clinical professor emeritus of psychiatry and human behavior at Brown University in Providence, R.I.
"They are active in the nervous system, but whether they reverse depression or they intervene against certain kinds of injuries against nerve cells in some general way that isn't targeting depression, that seems to be an open question," added Kramer, who wasn't involved in the study.
Some doctors use a sedating antidepressant called Trazodone to counter insomnia in addicts weaning themselves off drugs, Kramer said. Others have used low doses of tricyclic antidepressants, such as amitriptyline to treat chronic pain.
"I'm a little more skeptical about broad-brush research results that make doctors look as if they are foolish," Kramer said. "I like to start with the presumption that something thoughtful is going on, and try to figure out what that is."
However, some off-label antidepressant use might be occurring out of a developed tradition, rather than any practical or scientific knowledge, said the study's lead author, Jenna Wong, a researcher at McGill.
"They've become well-known off-label uses for these drugs in the medical community," Wong said. "It's kind of like a culture among doctors. You see your colleague prescribing it, and then you would be more likely to."
Kramer and Tamblyn agreed that clinical trials need to be performed on these off-label uses for antidepressants, to either prove or rule out the drugs' effectiveness.
"If doctors are using medicines in these areas, we should do more formal research on those areas," Kramer said.
In the future, depression researchers have to keep in mind that antidepressant prescriptions are not a good way to track the mood disorder, since half of the time these drugs are aimed at treating other conditions, he added.
In other words, "we shouldn't use antidepressant prescribing as a proxy for depression," Kramer said.
The study results were published May 24 in the Journal of the American Medical Association.
SOURCES: Robyn Tamblyn, Ph.D., professor, epidemiology and biostatistics, McGill University, Montreal; Peter Kramer, M.D., clinical professor emeritus, psychiatry and human behavior, Brown University; Jenna Wong, M.Sc., researcher, McGill University; May 24, 2016, Journal of the American Medical Association
HealthDay
Copyright (c) 2016
HealthDay
. All rights reserved.
News stories are provided by HealthDay and do not reflect the views of MedlinePlus, the National Library of Medicine, the National Institutes of Health, the U.S. Department of Health and Human Services, or federal policy.
More Health News on: