Genetic Insights May Help Kids Battling Developmental Delays: MedlinePlus
Genetic Insights May Help Kids Battling Developmental Delays
DNA analysis led to better treatments in 4 of 10 cases studied
Wednesday, May 25, 2016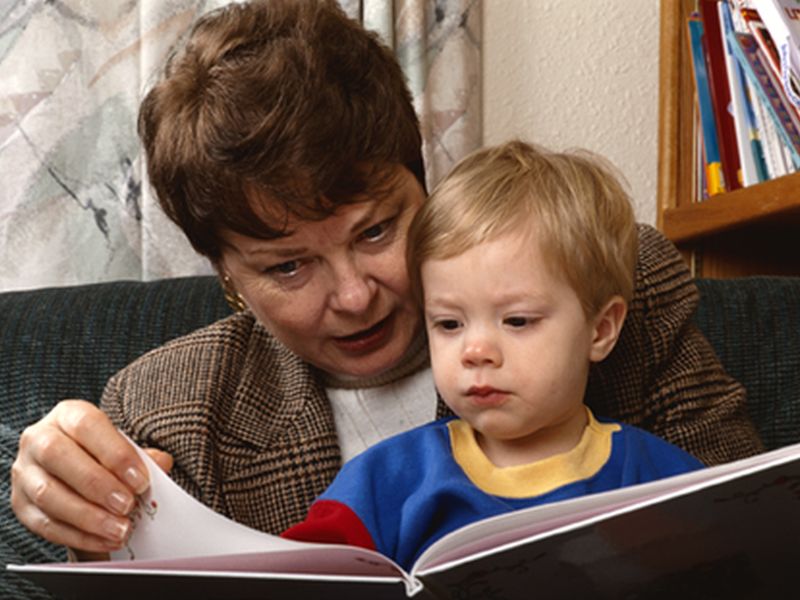 WEDNESDAY, May 25, 2016 (HealthDay News) -- There's new hope for children stricken by mysterious developmental delays, with a new study showing that extensive genetic analysis may help determine the cause of their disability.
Canadian researchers found a precise genetic cause for seven out of every 10 children suffering from a previously undiagnosed condition that caused developmental delays.
In many cases, the genetic analysis led to groundbreaking discoveries. Researchers discovered 11 new disease genes linked to developmental delays, and described new physical traits and symptoms for a number of known diseases.
And based on the new genetic diagnosis, doctors were able to offer targeted treatments in four of 10 cases, said senior researcher Dr. Clara van Karnebeek. She is a pediatrician and biochemical geneticist at BC Children's Hospital and principal investigator with the Center for Molecular Medicine and Therapeutics at the University of British Columbia.
The genetic analysis led to "better clinical practice and, most importantly, potential better outcomes for these children who, if they went undiagnosed, would often develop severe impairment and never have an opportunity to improve," van Karnebeek said.
Much of the time, the children's condition improved by giving them vitamin supplements or by altering their diet or medication regimen, she said.
The findings were published May 25 in the New England Journal of Medicine.
In the study, van Karnebeek and her team focused on children suffering from developmental delays tied to metabolic problems -- signs that the cells in their bodies were struggling to convert proteins, carbohydrates and fats into energy.
These rare genetic conditions can create an energy deficit and a build-up of toxic substances in the brain and body, causing developmental and cognitive (intellectual) delays as well as other illnesses, the researchers said in background information.
The investigators recruited 41 children who were suffering from these delays, which could range from delayed walking and talking, to more severe problems like epilepsy or autism, she said.
Using traditional urine and blood tests, the researchers screened the children for 90 known metabolic diseases tied to developmental delay, and found that based on those tests, the children didn't qualify for any of the known illnesses.
The researchers then performed an analysis of the children's exome, the part of their genetic structure that guides the creation of proteins essential for the body to function properly.
"It was clear that something with their metabolism was not right, aside from their developmental delay. We went looking for the needle in the haystack, in terms of a single DNA change which could explain both their developmental delay and these metabolic changes," van Karnebeek said.
Thanks to the genetic results, researchers were able to help 17 of the 41 children with treatments aimed directly at their genetic condition, she said.
"One of the parents explained the difference she saw in her son before and after," van Karnebeek said. "Before, he was head-banging thousands of times a day, injuring himself. Afterwards, he calmed down. He was able to come home and have dinner with the family and watch TV."
Many large medical centers and commercial labs are able to conduct these sorts of analyses for children with previously undiagnosed developmental problems, she said.
However, the genetic screen is expensive at this time, costing a couple of thousand dollars, on average, van Karnebeek added.
Dr. Edward McCabe, chief medical officer for the March of Dimes, called the study an "impressive investigation."
"As sequencing gets cheaper, it's the way we need to go to identify the cause of disorders in these patients," McCabe said.
The U.S. National Institutes of Health has launched an Undiagnosed Diseases Program aimed at using similar genetic analysis to help patients with difficult to diagnose ailments, McCabe said. The program is building a network of medical centers in the United States able to perform such deep genetic reviews.
"This is the way medicine will be practiced, and it's important for us to recognize there are a lot of genes for which we haven't identified a disease association," McCabe said. "We're learning that often patients have two disorders going on at the same time, which is very confusing to the clinician. Using sequencing, we can get a precise diagnosis on an individual where there was none prior."
SOURCES: Clara van Karnebeek, M.D., Ph.D., pediatrician and biochemical geneticist, BC Children's Hospital, and principal investigator, Center for Molecular Medicine and Therapeutics, University of British Columbia; Edward McCabe, M.D., Ph.D., chief medical officer, March of Dimes; May 26, 2016,New England Journal of Medicine
HealthDay
Copyright (c) 2016
HealthDay
. All rights reserved.
News stories are provided by HealthDay and do not reflect the views of MedlinePlus, the National Library of Medicine, the National Institutes of Health, the U.S. Department of Health and Human Services, or federal policy.
More Health News on: