If Younger Sibling Arrives Before 1st Grade, Kids Less Likely to Be Obese: Study: MedlinePlus
If Younger Sibling Arrives Before 1st Grade, Kids Less Likely to Be Obese: Study
But children who didn't have a younger sibling by first grade much more likely to be obese
Friday, March 11, 2016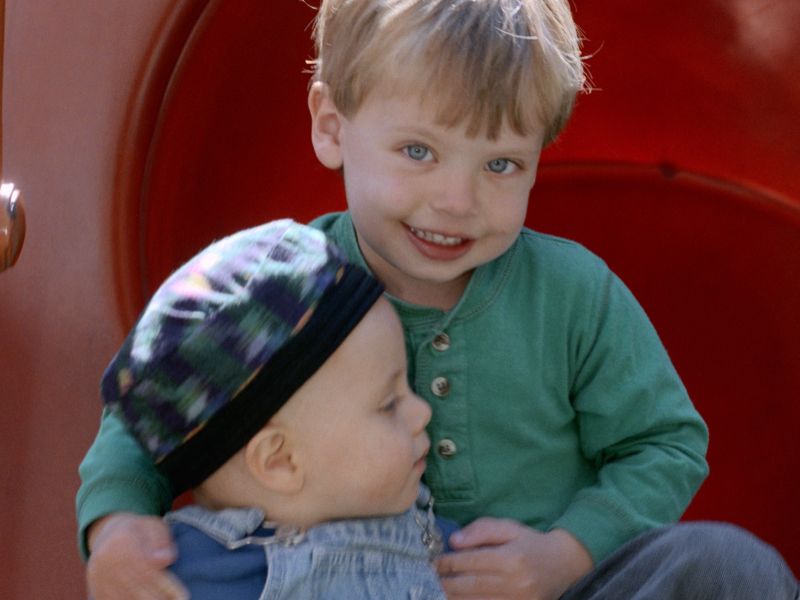 FRIDAY, March 11, 2016 (HealthDay News) -- Children who have younger siblings before they reach first grade may be less likely to become obese, new research suggests.
If they are between the ages of 2 and 4 when a second child arrives, they "are significantly less likely to end up being obese," said study author Dr. Julie Lumeng, an associate professor of pediatrics at the University of Michigan, in Ann Arbor.
Conversely, those children who did not have a younger sibling born by the time they reached first grade were nearly three times more likely to be obese.
The study was published online March 11 and will appear in the April print issue of the journalPediatrics.
About one in six children and teens in the United States is obese, putting them at risk for a host of other health problems, including type 2 diabetes, according to the U.S. Centers for Disease Control and Prevention.
Lumeng couldn't explain the association she found in the study. She pointed out that she found a link, but not a cause-and-effect relationship. "In the study we did, we did not have data that would help us understand the mechanism," she said.
The researchers analyzed data from nearly 700 children across the United States, tracking their weight status and whether they had a new sibling born before first grade.
Those who had a younger sibling born when they were between the ages of 3 and 4 had the least amount of obesity. Just under 5 percent of those children were obese by first grade. Of those who had a sibling born when they were 2 and 3 years of age, 8 percent were obese by first grade, the investigators found.
But nearly 13 percent of the children who did not have a younger sibling born by the time they reached first grade were obese, the findings showed.
When people hear the results, Lumeng said, they often ask if she is recommending women have more babies to save their children from obesity. Not at all, she said.
The finding raises more questions than it answers. And research that discovers why kids with siblings before first grade were at healthier weights may help experts counsel families about how to help their kids avoid obesity, she suggested.
Lumeng speculates that a child with a younger sibling may become more physically active, perhaps engaging in sibling play more than playing video games or watching television. "Maybe you go to the park more," she said, "or maybe there is just more activity in the house."
The dynamics could change in other ways when a sibling is born, she suggested. For now, the findings simply indicate that something changes when the younger sibling is born, and it may help the older child keep a healthy weight.
Dr. Elsie Taveras, chief of general pediatrics at Massachusetts General Hospital for Children in Boston, called the study findings novel and interesting.
"The study was excellent and really well done," Taveras said. But without research on the mechanism, which was beyond the scope of the study, it's too early to give any advice or propose a program to help the older siblings maintain a healthy weight, she said.
"I don't think this [finding] should be a factor in family planning," Taveras added. Like Lumeng, she hopes more research will uncover why those children who had younger siblings before first grade seemed less likely to be obese.
SOURCES: Julie Lumeng, M.D., associate professor, pediatrics, University of Michigan, Ann Arbor; Elsie Taveras, M.D., chief, general pediatrics, Massachusetts General Hospital for Children, Boston; April 2016, Pediatrics
HealthDay
Copyright (c) 2016
HealthDay
. All rights reserved.
More Health News on: