12/17/2015 01:18 PM EST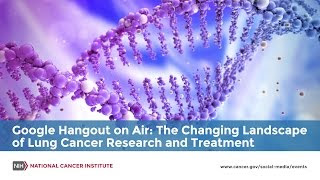 Along with the Lung Cancer Social Media (#LCSM) community,
the National Cancer Institute will be co-hosting a lively and
interactive Google Hangout on Air about the changing landscape
of lung cancer research and treatment. During the chat, viewers
will have the opportunity to pose questions to a panel of lung
cancer experts including NCI's Dr. Shakun Malik, the head of
thoracic oncology therapeutics, Roy S. Herbst, MD, PhD, Chief
of Medical Oncology, Yale Cancer Center and Smilow Cancer
Hospital at Yale-New Haven and David Tom Cooke MD FACS,
Head, Section of General Thoracic Surgery University of California,
Davis. You can also learn more and follow along on the #LCSM
Chat page. The chat will be moderated by lung cancer advocate
and #LCSM co-founder, Janet Freeman-Daily. To ask questions
of our experts, simply use the #LCSM hashtag during the chat.