Low-Risk Prostate Cancer Often Not Monitored Closely: MedlinePlus
Low-Risk Prostate Cancer Often Not Monitored Closely
Most men who chose 'watchful waiting' weren't followed as recommended, study finds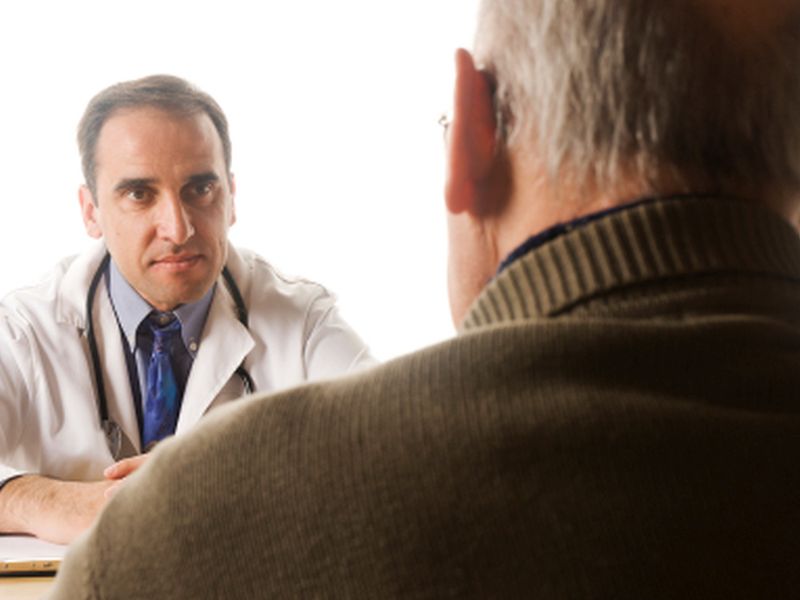 FRIDAY, Dec. 4, 2015 (HealthDay News) -- Most men with low-risk prostate cancer who choose "watchful waiting" instead of aggressive treatment may not be followed as closely as they should be, a new study suggests.
This puts them in danger of their cancer progressing or spreading undetected, the researchers warned.
"This is really an important finding, because before patients and their doctors decide to pursue active surveillance as a management option for prostate cancer, both the physician and patient should agree on a follow-up schedule to closely monitor the cancer," study first author Dr. Karim Chamie, an assistant professor of urology at University of California, Los Angeles, said in a university news release.
The study included almost 38,000 men who were diagnosed with prostate cancer between 2004 and 2007, and followed through 2009. Of the approximately 3,600 men who chose close monitoring (active surveillance) instead of aggressive treatment such as surgery and radiation, only 4.5 percent received proper monitoring.
"What was most surprising was that patients who underwent aggressive treatment for their prostate cancer were more likely to receive routine lab testing and visits with their doctor than those not receiving aggressive treatment," said Chamie, surgical director of UCLA's bladder cancer program and a member of the Jonsson Comprehensive Cancer Center.
"In other words, those likely cured through aggressive treatment were followed more closely than patients whose cancers were left untreated," Chamie added.
Recommended monitoring includes prostate-specific antigen (PSA) tests, physical exams, and at least one additional prostate biopsy within two years, according to Chamie.
"Many researchers have been advocating for active surveillance for men with low-risk disease," Chamie said. "However, this study suggests that before we advise our patients to pursue active surveillance for their prostate cancers, we should be certain that we are committed to closely monitoring the cancers with a repeat biopsy, PSA testing and physical exams."
The findings were reported in the Dec. 1 issue of the journal Cancer.
Prostate cancer is the second most common cancer in American men. Each year, about 220,800 new cases of prostate cancer are diagnosed in the United States and more than 27,500 die from the disease.
SOURCE: University of California, Los Angeles, news release, Dec. 1, 2015
HealthDay
Copyright (c) 2015
HealthDay
. All rights reserved.
More Health News on:
Friday, December 4, 2015