Fainting during pregnancy could be more serious than earlier believed finds study

Fainting during pregnancy could be more serious than earlier believed finds study
Fainting spells especially early in the pregnancy could indicate health problems for the mother and baby later says a new study. Earlier short spells of black outs or syncope were considered to be normal during early pregnancy.
The study
comes from cardiology researchers led by University of Alberta senior epidemiologist, professor of Medicine and a member of the Women & Children's Health Research Institute, Padma Kaul and University of Calgary cardiology trainee Safia Chatur. The results of the study titled, "Incidence of Syncope During Pregnancy: Temporal Trends and Outcomes," were published in the latest issue of the
Journal of the American Heart Association.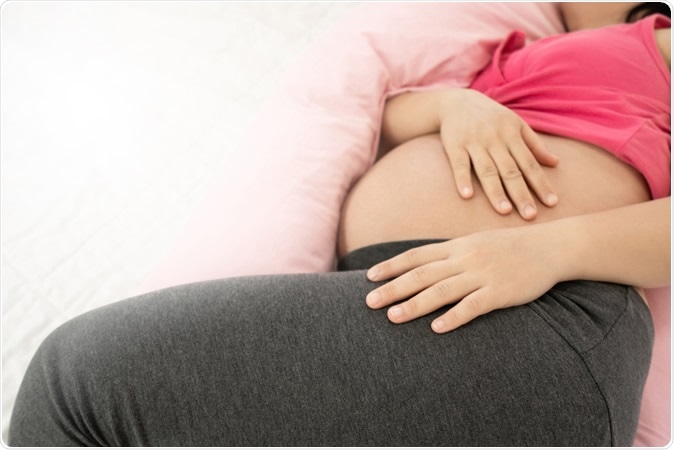 Image Credit: Blue Planet Studio / Shutterstock
The team studied antenatal records of the mothers and birth records of 481,930 babies born in Alberta between years 2005 and 2014. For the mothers, the medical records for up to a year after delivery were also analyzed. Each of the participant's frequency, time and final outcome of the fainting spells were taken into account.
Fainting spells are called syncope and mean there is a brief loss of consciousness that occur either due to lack of adequate oxygen to the brain or due to low blood pressure. Pregnancy and its associated hormonal changes lead to dilatation of the blood vessels and rise in blood supply and heart rate. These may lead to dizziness and fainting due to drop in blood pressure.
Results showed that around 1 percent mothers (4667 mothers) experienced fainting spells during their pregnancy. Of these, one in three experienced these spells during the first trimester of their pregnancy (1506). A further 2058 fainting spells were seen in the second trimester and 1103 spells were seen in the final trimester of pregnancy. Around 8 percent or 377 mothers had more than one fainting spell during their pregnancy.
When the fainting spells occurred during the first trimester, there was an association with increased rate of premature births among the babies and an increased risk of further fainting spells and heart disease in the mothers. Babies born to mothers who have more of these fainting episodes also were at a greater risk of being born with a low birth weight or with congenital birth defects.
Kaul warned that all women who experience fainting episodes need to consult with their doctors. Women and their babies need to be monitored closely in case there are fainting episodes. Kaul added that like other pregnancy associated conditions including high blood pressure, diabetes etc., syncope should also be added to the list of pregnancy associated conditions. She said, "Pregnancy is a natural stress test for the woman's system. Fainting during pregnancy may identify women who are at higher risk of cardiovascular complications down the road."
She explained, "Fainting is a relatively rare event and nobody has studied it systematically at a population level. Generally clinicians thought it was fairly benign. So that's what we were expecting to find." She added that these results surprised them initially. She said that there are small studies and case reports that warn about fainting spells and their adverse outcomes for the mothers and babies. This was the first long term large study to look at the association between pregnancy fainting spells and adverse outcomes for the mother and baby. Kaul said, "Our study is significant because it's truly population-based. In Canada, thanks to universal health care, we're counting everyone."
As a next step to their study, Kaul along with co-author Roopinder Sandhu, a cardiac electrophysiologist at the same university is on the way to develop a Canadian Syncope Atlas for the Cardiac Arrhythmia Network of Canada. This Atlas will map out the prevalence of fainting around the country and also estimate the health care costs and social impacts associated with the condition. Kaul also hopes that this research would be replicated in other nations to get the world wide picture.
Kaul concluded by saying that it is not clear if the underlying conditions lead to the fainting spells or if fainting spells cause the heart problems and other adverse outcomes. That would need further study she said adding, "It's a chicken-and-egg problem, so the associations need to be worked out through further study."
The authors of the study conclude in their paper, "Given the observed higher rates of adverse outcomes among women experiencing syncope in pregnancy, closer monitoring both during pregnancy and in the postpartum period may be necessitated."
Data for the study came from the Alberta Ministry of Health (Alberta Health) and the study was funded by Cardiac Arrhythmia Network of Canada.