Forming 3D Neuronal Models of the Brain

Forming 3D Neuronal Models of the Brain

insights from industry
Grischa Chandy, PhD
Senior Product Manager,
HCS & Manager Analysis Sciences
Molecular Devices
An interview with Dr Grischa Chandy, conducted at SfN 2018 by Alina Shrourou, BSc.
How can 3D imaging and analysis improve our understanding of the brain?
The ability to acquire and analyze 3D dimensions provides a more physiologically relevant model to study. With 3D imaging and analysis, researchers can study physiology and pathophysiology in the 3D context. For example, instead of a sample with just neurons, it can be a 3D sample with neurons and astrocytes, enabling researchers to gain a greater understanding of neurodegenerative disease and discover potential therapeutics.
Neuron overlay taken at 60x on the ImageXpress Micro Confocal system
What is a 3D neuronal model and how can these be used to develop potential therapeutics?
With induced pluripotent stem cell (iPSC) technologies, it is possible to generate 3D models from individual patients and correlate the patient's genome with phenotype and functional response to potential drug candidates.
StemoniX®
, one of the companies we collaborate with, has developed a 3D neural assay model for high-content, high-throughput screening.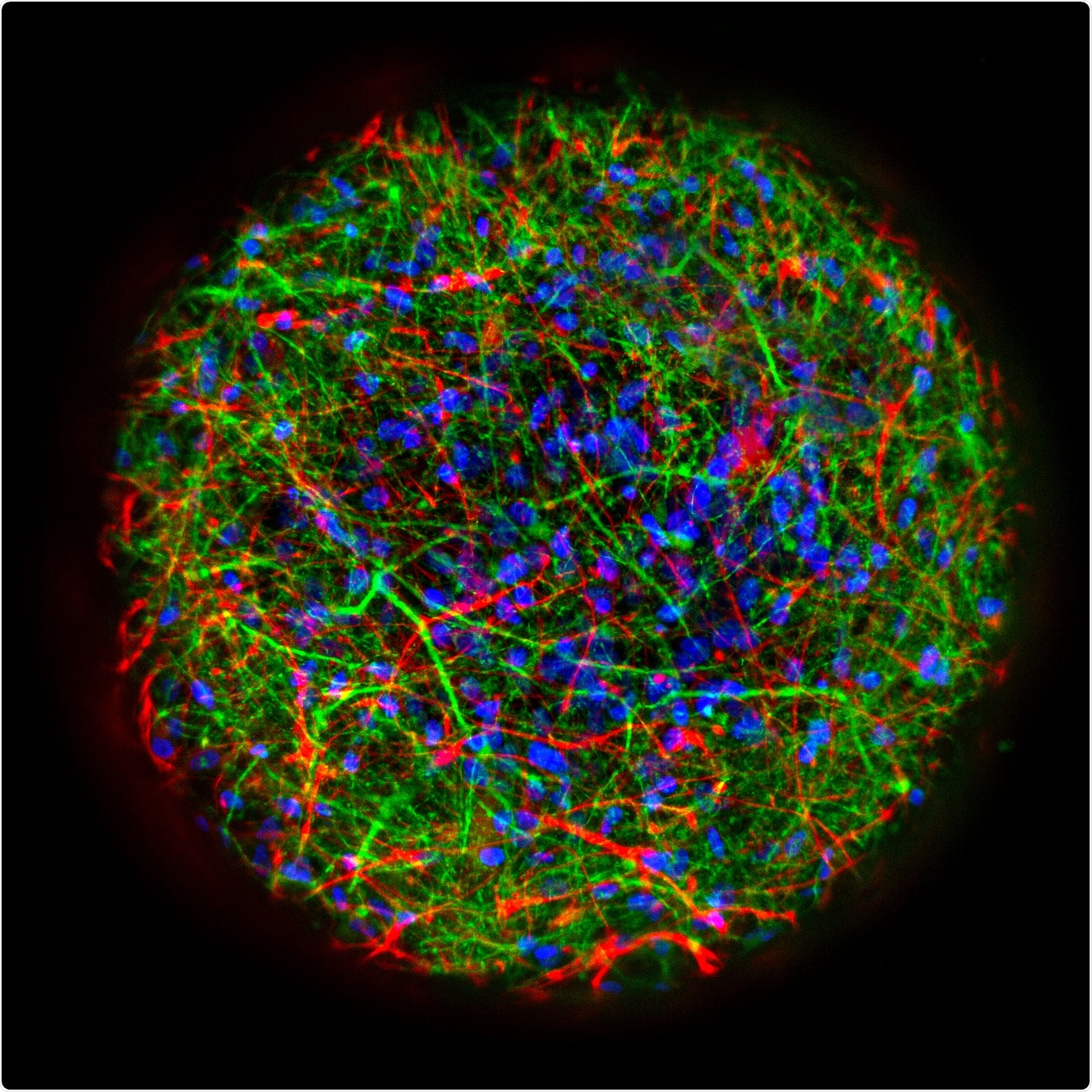 Confocal image of a StemoniX microBrain® 3D spheroid showing the presence of neurons (MAP2, green) and astrocytes (GFAP, red). Nuclei are stained blue (DAPI). Credit: StemoniX
Are there any essential factors or abilities needed in a device in order to achieve a clear 3D image? If so, what are these?
Molecular Devices specializes in automating and scaling workflows. It is critical to have a system flexible enough and capable of finding and focusing on a variety of 3D sample holders that researchers are using like hydrogels or microplates with ultra-low attachment, round bottom wells. To properly acquire the image, the system needs to be able to automatically focus on and then, optically segment the 3D model.
The system also needs to be able to analyze the 3D dataset in 3-dimensional space, in order to interconnect objects that span multiple serial optical sections. And, if physiological measurements need to be made (example of intracellular calcium changes or membrane potential), the system needs to have fast sensitivity and image streaming capabilities (ultra-fast >60 frames per second).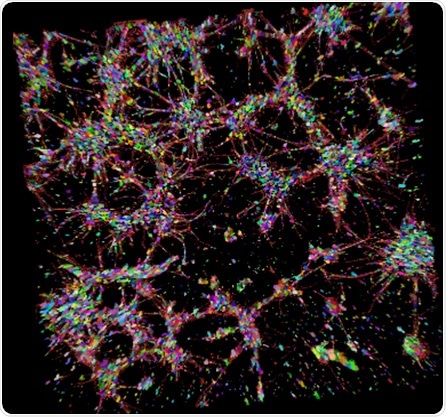 3D visualization of cell nuclei and TUJ-positive neurites and cell bodies. Credit: Ectica and Oksana Sirenko, Molecular Devices
What 3D imaging systems do Molecular Devices provide to help scientists with their neuroscience research? What 3D imaging system are you promoting at Neuroscience 2018?
Our ImageXpress® Micro Confocal High-Content Imaging System features a spinning disk confocal with a unique dual-disk offering and a sCMOS camera that offers sensitive, high-speed imaging and a large field of view. The system offers the ability to design custom image analysis modules that include true 3D analysis with fast multi-CPU processing of large 3D datasets.
We also offer configurable environmental control options that are automation-friendly, for multi-day experiments. Environmental control is integrated within the system and we also have the capability to automate between an incubator and the imager.
We have an Advanced Workflow and Engineered Solutions team to help researchers looking to scale or to automate their system. For example, the system can be automated to expand a study to >44 plates in live imaging mode and/or researchers can run CO
2
control and hypoxic experiments.
The ImageXpress® Micro Confocal High-Content Imaging System
Please give an overview of the technology behind this product(s) which allows such accurate 3D cell representation to be achieved.
The ability to acquire and analyze 3D datasets is driven by our unique confocal design and our tools that allow you to scale 3D image analysis across a plate. However, as people explore what and how to create 3D models, researchers will need to rely on more than that. Researchers need a method to automate the collection of data in live cells, in addition to a multitude of variable conditions. This would be different from a basic research workflow.
We provide a few different workflows to counter this problem. One is our unique live cell incubation system that enables time lapse imaging experiments for extended periods. Another is ensuring our system is designed to work with external lab automation, which makes it possible to expand studies across multiple plates and to enable the study of more conditions and compounds. The ImageXpress Micro Confocal system makes it possible to monitor stem cell growth, automate cell culture, and monitor for key stem cell differentiation checkpoints prior to running endpoint assays.
What are the applications of Molecular Devices' 3D imaging solutions?
Stem cell development, 3D cell culture, organ-on-a-chip data acquisition, 3D screening, StemoniX microBrain® 3D, imaging of iPSCs in ultra-low attachment, round bottom well spheroid plates, physiology experiments with real-time pipetting, high-speed, co-culturing, immuno-oncology studies, t-cell mediated cell death, and more.
What do you hope to gain from Neuroscience 2018?
In our discussion with researchers and other industry experts, we hope to gain further insight into the future direction in neuroscience research. These discussions help us to develop new, innovative tools to meet the needs of the research community.
About Molecular Devices
Molecular Devices provide customers with innovative bioanalytical solutions for protein and cell biology in life science research, pharmaceutical and biotherapeutic development.
With over 140,000 placements in laboratories around the world, Molecular Devices instruments have contributed to remarkable scientific research described in over 150,000 peer reviewed publications. Included within a broad product portfolio are platforms for high-throughput screening, genomic and cellular analysis, colony selection and microplate detection.
Sponsored Content Policy: News-Medical.net publishes articles and related content that may be derived from sources where we have existing commercial relationships, provided such content adds value to the core editorial ethos of News-Medical.Net which is to educate and inform site visitors interested in medical research, science, medical devices and treatments.