Opioid Crisis Hitting Boomers, Millennials Hardest: MedlinePlus Health News
Tuesday, November 21, 2017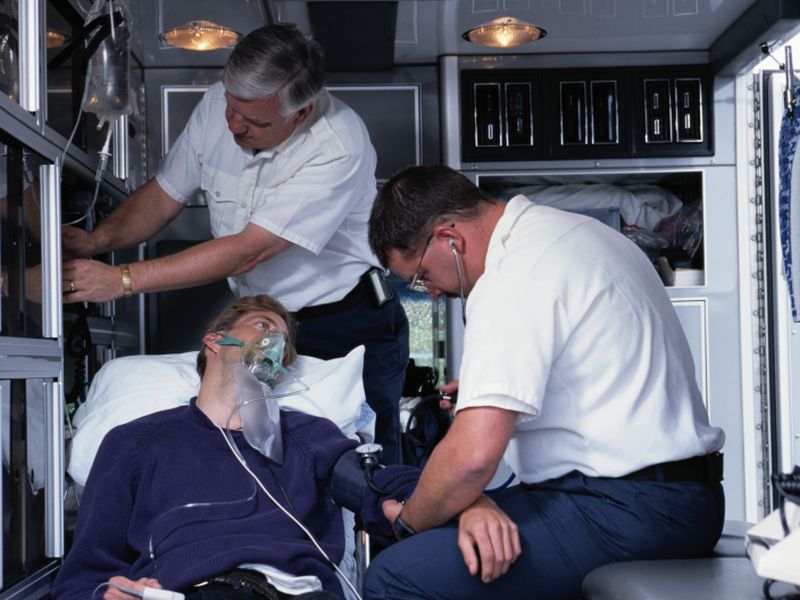 TUESDAY, Nov. 21, 2017 (HealthDay News) -- The U.S. opioid epidemic seems to be taking its biggest toll on the baby boomer and millennial generations, a new study suggests.
Researchers found that since 2010, boomers -- born between 1946 and 1964 -- have had heightened rates of death from prescription opioids and heroin. Meanwhile, millennials -- people in their 20s and 30s -- also have been hard hit by heroin overdoses.
"The opioid epidemic has affected everyone," said senior researcher Dr. Guohua Li. "But what we're seeing is that these two generations are at highest risk," said Li, a professor of epidemiology at Columbia University.
Li said he could only speculate on the reasons.
But the findings on boomers were not surprising, he noted. That generation is known to have a relatively high rate of drug abuse, versus other generations. Plus, Li said, they were middle-aged when prescriptions for opioids were taking off in the 1990s -- which means they were a "primary target" for the medications.
According to the U.S. National Institute on Drug Abuse, more than 2 million Americans were abusing opioids in 2015. That included heroin and prescription opioids, such as painkillers like Vicodin (hydrocodone), OxyContin (oxycodone) and codeine.
Recent research has found that Americans' prescription opioid abuse has leveled off. But overdose deaths are still climbing.
Earlier this year, a U.S government study highlighted the toll that heroin alone is taking. Between 2002 and 2016, deaths from the drug soared by 533 percent nationwide -- from just under 2,100 deaths to more than 13,200.
So while efforts to curtail opioid prescriptions have worked, opioid deaths overall have not yet declined, said Robert Heimer, a professor of epidemiology at Yale School of Public Health.
Unfortunately, some people addicted to prescription opioids switch to heroin or, more recently, illicitly made "synthetic" opioids such as fentanyl.
"Often, people on heroin started with prescription opioids," Heimer said. However, he added, these are typically illegally sold prescription drugs.
Heimer, who was not involved in the new study, said the findings are "useful."
"It really suggests it's the older and younger generations that are being most affected by this epidemic," he said.
The study analyzed national vital statistics for the years 1999 to 2014.
Li's team found that compared with people born in the late-1970s, boomers were up to 27 percent more likely to die of a prescription opioid overdose. And they were up to one-third more likely to die of a heroin overdose.
Meanwhile, the rate of heroin overdose death accelerated most among millennials -- people born in the 1980s to early '90s. For example, those born in 1989 and 1990 were 23 percent more likely to die of a heroin overdose compared with Americans born in the late 1970s.
According to Li, it's not clear why millennials face a higher risk than their "Generation X" predecessors. But he speculated that they have had relatively less economic security than Gen Xers.
On the prevention side, various medical groups have changed guidelines to rein in opioid prescriptions.
Also, U.S. states have launched drug monitoring programs, which electronically track prescriptions for controlled substances. Doctors can check them before prescribing opioids, to help catch "doctor shoppers" -- people who go from one provider to the next, seeking a new opioid prescription.
But those efforts only go so far, Heimer pointed out.
To cut down overdose rates, access to addiction treatment is vital, Heimer and Li agreed.
"Medication-assisted treatment" -- with the drugs methadone, buprenorphine or naltrexone -- is considered the most effective therapy for opioid dependence. The medications act on the same brain targets as opioids do, and help suppress withdrawal symptoms and cravings.
But there are big barriers to receiving that kind of treatment. Only a small number of U.S. doctors prescribe them, and lack of training is one reason, according to Heimer.
"Stigma" is a wider, underlying issue, he said. The drugs used to treat opioid addiction are sometimes seen as nothing more than a substitution, and there is still a belief that total abstinence should be the goal.
"The biggest problem is that medication-based therapy is stigmatized," Heimer said. "We don't do that with any other chronic disease, and addiction is a chronic disease."
The findings were published online Nov. 21 in the American Journal of Public Health.
SOURCES: Guohua Li, M.D., Dr.PH., professor, epidemiology, Columbia University Mailman School of Public Health, New York City; Robert Heimer, Ph.D., professor, epidemiology, Yale School of Public Health, New Haven, Conn.; Nov. 21, 2017, American Journal of Public Health, online
HealthDay
Copyright (c) 2017
HealthDay
. All rights reserved.
News stories are written and provided by HealthDay and do not reflect federal policy, the views of MedlinePlus, the National Library of Medicine, the National Institutes of Health, or the U.S. Department of Health and Human Services.
More Health News on