U.S. Opioid Prescriptions Fall, But Numbers Still High: CDC: MedlinePlus Health News
U.S. Opioid Prescriptions Fall, But Numbers Still High: CDC
And length of prescriptions went up, raising risk of addiction among patients
Thursday, July 6, 2017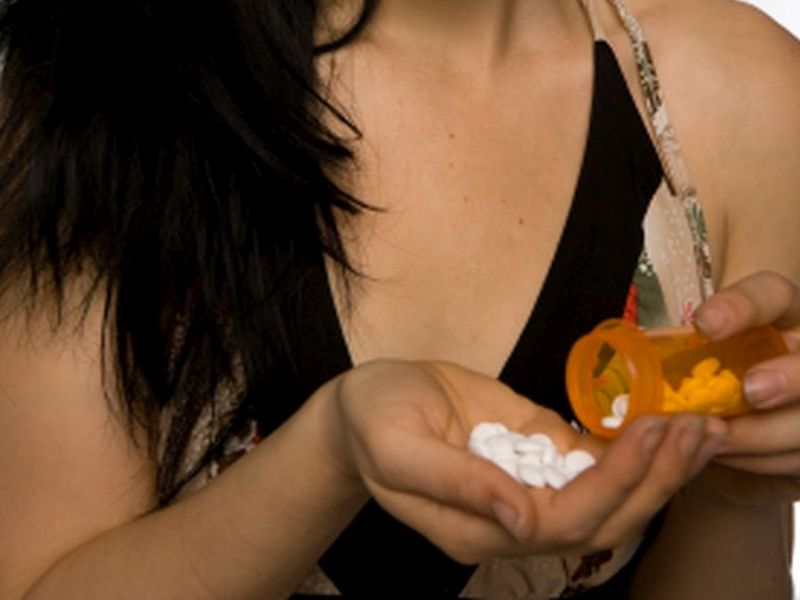 THURSDAY, July 6, 2017 (HealthDay News) -- Prescriptions for opioid painkillers have dropped since 2010 in the United States, but the number of Americans getting the highly addictive medications is still too high, a new report shows.
Prescriptions declined from a peak of 782 morphine milligram equivalents (MME) per person in 2010 to 640 MME per person in 2015, according to researchers from the U.S. Centers for Disease Control and Prevention.
"Half of U.S. counties saw a decrease in the amount of opioids prescribed per person from 2010 to 2015," said CDC Acting Director Dr. Anne Schuchat. "Overall, opioid prescribing in the United States is down 18 percent since 2010."
But the total amount of opioids prescribed in 2015 was still about three times that of 1999, the CDC researchers said, with many people being provided lengthy prescriptions of the narcotics at high doses.
"We're still seeing too many getting too much for too long," Schuchat said. "The amount of opioids prescribed in 2015 was enough for every American to be medicated around the clock for three weeks."
Drug overdoses accounted for just over 52,400 deaths in 2015, and nearly two of three overdoses involved an opioid, according to the CDC.
Prescriptions are still providing high doses of opioid painkillers, such as OxyContin, for periods long enough to turn patients into addicts, Schuchat noted.
People are being handed opioid prescriptions that cover longer periods of time, increasing from an average 13 days in 2006 to almost 18 days in 2015, the report found.
"Anyone taking opioids can become addicted to them. After taking them for just a few days, a person becomes more likely to take them long term," Schuchat said. "Taking even a low-dose opioid for more than three months increases the risk of addiction by 15 times."
Patients also are being prescribed dangerously high levels of opioids, even though the average daily dose per prescription decreased from 58 MME in 2010 to 48 MME in 2015. Researchers use MME as a means of accounting for differences in opioid drug types and strengths.
Schuchat noted that a dose of 50 MME or more doubles a person's risk of opioid overdose death, compared with 20 MME or less per day. At 90 MME or more, overdose death risk is 10-fold higher.
The availability of prescription opioids varies widely across the country, Schuchat said.
Residents of the highest-prescribing U.S. counties received six times more opioids per person than people in the nation's lowest-prescribing counties in 2015, the researchers said.
"Opioid prescribing varies from place to place as much as the weather," Schuchat said. "Even neighboring counties can have a major difference in prescribing levels."
Access to these painkillers varies based on where a person lives and which doctor they see, the investigators found. More opioids were prescribed in counties with small cities or towns, a larger percentage of white residents, higher rates of unemployment and Medicaid enrollment, and a higher prevalence of diabetes and arthritis.
The Appalachian Mountains remain the region hardest hit by the opioid epidemic, Schuchat said, but she added that "no part of the country is spared."
"We see within every state some high-prescribing counties," Schuchat said. "Today, there are very few towns, cities or even families that don't have some connection with the opioid problem."
The report praised Ohio, Kentucky and Florida as states in which significant reductions have occurred, thanks to prescription monitoring and public health programs that target hot spots and promote alternative means to relieve chronic pain.
"It's fairly impressive how much improvement there was throughout the state of Florida," Schuchat said. There, the amount of opioids prescribed per person decreased in four out of five counties between 2010 and 2015, and overdose deaths also dropped.
The report was published online July 6 in the Journal of the American Medical Association.
SOURCES: July 6, 2017, media briefing with: Anne Schuchat, M.D., acting director, U.S. Centers for Disease Control and Prevention; July 6, 2017, Journal of the American Medical Association, online
HealthDay
Copyright (c) 2017
HealthDay
. All rights reserved.
News stories are written and provided by HealthDay and do not reflect federal policy, the views of MedlinePlus, the National Library of Medicine, the National Institutes of Health, or the U.S. Department of Health and Human Services.
More Health News on