More U.S. Airports Offer Hands-Only CPR Training: MedlinePlus Health News
More U.S. Airports Offer Hands-Only CPR Training
Kiosks that provide 5-minute sessions are now in 7 air travel hubs, heart association says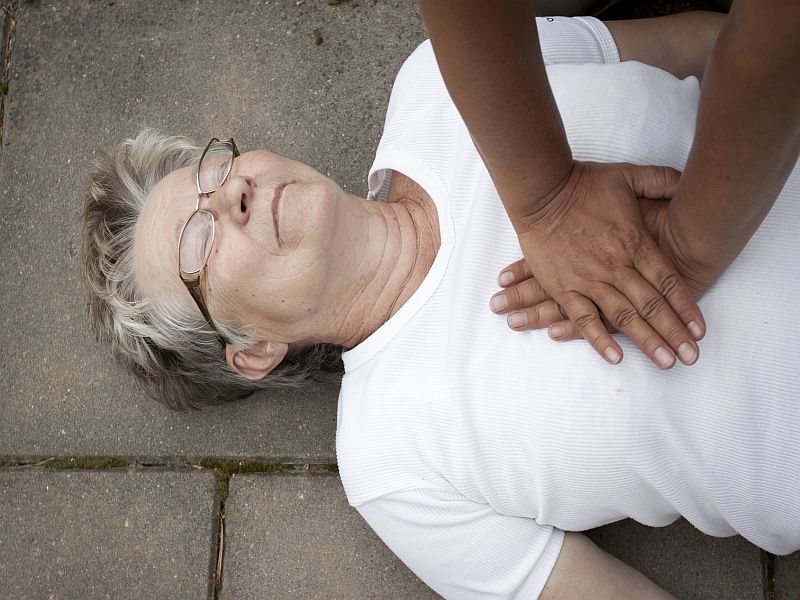 TUESDAY, July 25, 2017 (HealthDay News) -- Hands-only CPR training is now available at kiosks in three more major U.S. airports, bringing the total number to seven.
The three airports are Cleveland Hopkins International, Cincinnati/Northern Kentucky International, and Orlando International, according to the American Heart Association (AHA).
Since 2016, more than 20,000 visitors have learned hands-only CPR from the kiosks at O'Hare International in Chicago, Indianapolis International, Hartsfield-Jackson Atlanta International and Baltimore-Washington International, the AHA said.
"Only 46 percent of people who suffer an out-of-hospital cardiac arrest receive bystander CPR before professional help arrives," said Dr. Clifton Callaway, a volunteer on the AHA's Emergency Cardiovascular Care Committee and a professor of emergency medicine at the University of Pittsburgh.
"The airport kiosks have proven to be an invaluable approach to introduce CPR to people, making it more likely they'll respond if they encounter a cardiac arrest victim outside the hospital," Callaway added in a AHA news release.
The kiosks enable travelers and other members of the public to learn hands-only CPR in about five minutes.
There are two steps to hands-only CPR: When you see a teen or adult suddenly collapse, call 911. Then, push hard and fast in the center of the chest until help arrives, the AHA said.
Each kiosk has a touch screen that provides an overview of hands-only CPR, followed by a practice session and a 30-second test. A practice mannequin or a rubber torso is provided for users, and the kiosk gives feedback about the depth and rate of compressions, as well as proper hand placement.
Hands-only CPR is as effective as conventional CPR for cardiac arrest when it occurs in public, and CPR can double or triple a victim's chance of survival, according to the AHA.
Each year, more than 350,000 cardiac arrests occur away from hospitals, and about 20 percent occur in public places such as airports, the association said.
Cardiac arrest occurs when the heart suddenly stops beating. When that happens, blood stops flowing to the brain and other vital organs. Death occurs within minutes if the condition isn't treated.
SOURCE: American Heart Association, news release, July 24, 2017
HealthDay
Copyright (c) 2017
HealthDay
. All rights reserved.
News stories are written and provided by HealthDay and do not reflect federal policy, the views of MedlinePlus, the National Library of Medicine, the National Institutes of Health, or the U.S. Department of Health and Human Services.
More Health News on
Tuesday, July 25, 2017