Pregnancy Weight Gain: Too Much or Too Little Is Unhealthy: MedlinePlus Health News
Pregnancy Weight Gain: Too Much or Too Little Is Unhealthy
Try to get to a healthy weight before conception, experts advise
Tuesday, June 6, 2017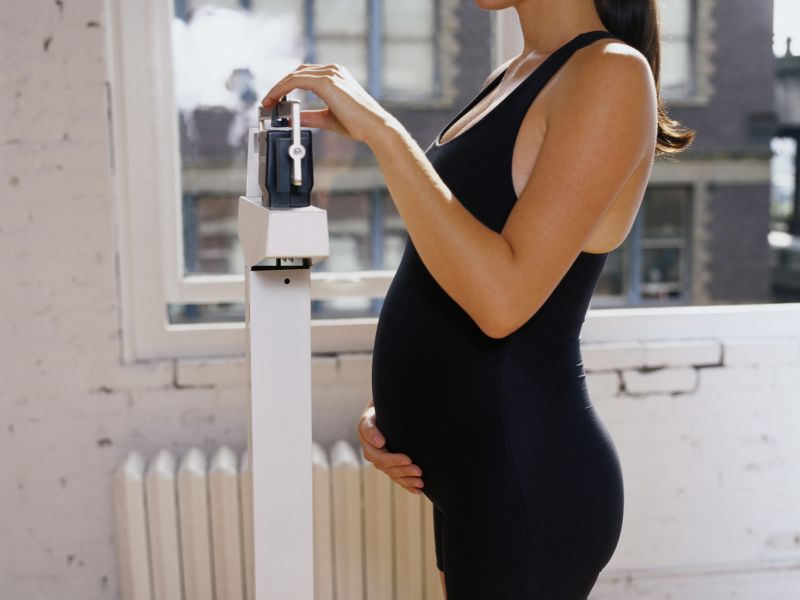 TUESDAY, June 6, 2017 (HealthDay News) -- Gaining too much or too little weight during pregnancy can harm both baby and mom, researchers say.
In a review of more than 1.3 million pregnancies, investigators found that 47 percent of women gained too much weight. And, 23 percent did not gain enough weight to meet recommended levels.
"Healthy recommended pregnancy weight gain depends on a mother's starting weight, with women with a higher weight recommended to gain less in pregnancy," said lead researcher Dr. Helena Teede.
"Regardless of a mother's starting weight, unhealthy weight gain in pregnancy is now very common and carries significant health risks for mothers and babies," said Teede, a professor of women's health at Monash University in Melbourne, Australia.
Weight gain below the recommended amount was associated with a higher risk of having a small baby and preterm delivery, the researchers found.
On the other hand, packing on more weight than recommended was tied to a greater risk of a having a larger and heavier infant (a condition called fetal macrosomia) and a cesarean delivery.
Around the world, prevalence of obesity and excess weight gain in pregnancy are increasing. And, about 4 out of 10 U.S. women are obese, according to background notes in the study.
For the study, Teede and her American and international colleagues reviewed 23 previously published studies from developed countries around the world. This type of study is called a meta-analysis, in which researchers pool data from divergent studies to tease out common trends.
Specifically, the researchers looked at how much weight women gained during pregnancy and whether it met the weight gain recommended by the U.S. Institute of Medicine.
Institute of Medicine guidelines recommend that underweight women gain from 28 to 40 pounds during pregnancy. Normal-weight women should gain between 25 and 35 pounds. Overweight women should add just 15 to 25 pounds. And obese women should limit weight gain to 11 to 20 pounds.
The report was published June 6 in the Journal of the American Medical Association.
Teede said that doctors need to monitor weight gain in pregnancy and to help women eat healthier and stay mobile and active.
"Women need to be aware of what their individual recommended healthy pregnancy weight gain is and note that the old stories of confinement or resting throughout pregnancy and eating for two are not healthy for mothers or their babies," she said.
Other specialists agreed.
"Pregnancy is not a time for 'eating for two,' but a great time to eat healthfully and exercise," said Dr. Aaron Caughey, chair of obstetrics and gynecology at Oregon Health and Science University.
Efforts to help women with diet and exercise have only demonstrated small benefits at best, said Caughey, who wrote an editorial accompanying the study.
"We may need newer ideas about how to counsel and incentivize pregnant women to achieve better outcomes," he said.
Another specialist said it's best to get to a healthy weight before pregnancy.
"Doctors need to help patients to optimize their weight before they become pregnant," said Dr. Jill Rabin of Northwell Health in New Hyde Park, N.Y.
"If you take care of yourself before you are pregnant, you are going to have a healthier baby," said Rabin, who is co-chief of ambulatory care in Northwell's women's health programs.
SOURCES: Helena Teede, M.B.B.S., Ph.D., professor, Monash University, Melbourne, Australia; Aaron Caughey, M.D., Ph.D., professor and chair, department of obstetrics and gynecology, Oregon Health and Science University, Portland; Jill Rabin, M.D., co-chief, ambulatory care, Women's Health Programs, PCAP Services, Northwell Health, New Hyde Park, N.Y.; June 6, 2017, Journal of the American Medical Association
HealthDay
Copyright (c) 2017
HealthDay
. All rights reserved.
News stories are written and provided by HealthDay and do not reflect federal policy, the views of MedlinePlus, the National Library of Medicine, the National Institutes of Health, or the U.S. Department of Health and Human Services.
More Health News on