Fish Eaters Report Less Rheumatoid Arthritis Pain: MedlinePlus Health News
Fish Eaters Report Less Rheumatoid Arthritis Pain
Study suggests most fish may play role in controlling symptoms
Friday, June 23, 2017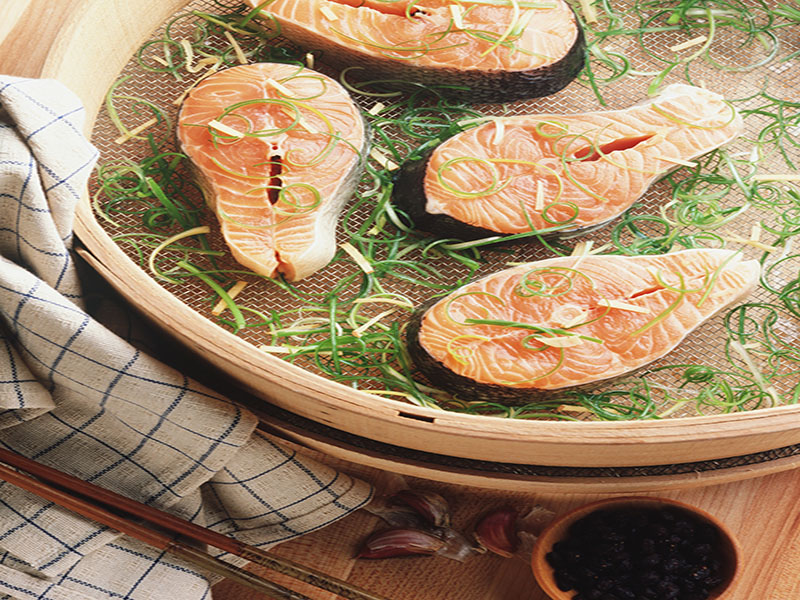 FRIDAY, June 23, 2017 (HealthDay News) -- Eating fish at least twice a week may significantly reduce the pain and swelling associated with rheumatoid arthritis, a new study says.
Prior studies have shown a beneficial effect of fish oil supplements on rheumatoid arthritis symptoms, but less is known about the value of eating fish containing omega-3, the researchers said.
"We wanted to investigate whether eating fish as a whole food would have a similar kind of effect as the omega 3 fatty acid supplements," said the study author, Dr. Sara Tedeschi, an associate physician of rheumatology, immunology and allergy at Brigham and Women's Hospital in Boston.
Generally, the amount of omega 3 fatty acids in fish is lower than the doses that were given in the trials, she said.
Even so, as the 176 study participants increased the amount of fish they ate weekly, their disease activity score lowered, the observational study found.
In rheumatoid arthritis, the body's immune system mistakenly attacks the joints, creating swelling and pain. It can also affect body systems, such as the cardiovascular or respiratory systems. The Arthritis Foundation estimates that about 1.5 million people in the United States have the disease, women far more often than men.
The new study, which was heavily female, draws attention to the link between diet and arthritic disease, a New York City specialist said.
"While this is not something that is new, per se, and it was a small trial, it does raise an interesting concept of what you eat is as important as the medications you take," said Dr. Houman Danesh.
"A patient's diet is something that should be addressed before medication is given," added Danesh, director of integrative pain management at Mount Sinai Hospital.
When his patients with rheumatoid arthritis ask about diet, he said he often suggests they eat more fish for a few months to see if it will help.
"I encourage them to try it and decide for themselves," he said, explaining that study results so far have been mixed.
In this case, the majority of study participants were taking medication to reduce inflammation, improve symptoms and prevent long-term joint damage.
Participants were enrolled in a study investigating risk factors for heart disease in rheumatoid arthritis patients. The researchers conducted a secondary study from that data, analyzing results of a food frequency questionnaire that assessed patients' diet over the past year.
Consumption of fish was counted if it was cooked -- broiled, steamed, or baked -- or raw, including sashimi and sushi. Fried fish, shellfish and fish in mixed dishes, such as stir-fries, were not included.
Frequency of consumption was categorized as: never or less than once a month; once a month to less than once a week; once a week; and two or more times a week.
Almost 20 percent of participants ate fish less than once a month or never, while close to 18 percent consumed fish more than twice a week.
The most frequent fish eaters reported less pain and swelling compared to those who ate fish less than once a month, the study found.
Researchers can't prove that the fish was responsible for the improvements. And they theorized that those who regularly consumed fish could have a healthier lifestyle overall, contributing to their lower disease activity score.
While they were unable to get specific data on information such as patients' exercise, its benefits are proven, Tedeschi said.
She acknowledged that fish tends to be an expensive food to purchase. For those unable to afford fish several times a week, Danesh cited other options.
"In general, patients should eat whole, unprocessed foods," he said. "If you can't for whatever reason, an omega 3 pill is a second option."
Because the study was not randomized, researchers were unable to make definite conclusions, but they were pleased with what they learned.
One finding that impressed Tedeschi "was that the absolute difference in the disease activity scores between the group that ate fish the most frequently and least frequently was the same percentage as what has been observed in trials of methotrexate, which is the standard of care medication for rheumatoid arthritis," she said.
The findings were reported June 21 in Arthritis Care & Research.
SOURCES: Sara Tedeschi, M.D., associate physician, rheumatology, immunology and allergy, Brigham and Women's Hospital, Boston; Houman Danesh, M.D., director, integrative pain management, Mount Sinai Hospital, New York City; June 21, 2017, Arthritis Care & Research
HealthDay
Copyright (c) 2017
HealthDay
. All rights reserved.
News stories are written and provided by HealthDay and do not reflect federal policy, the views of MedlinePlus, the National Library of Medicine, the National Institutes of Health, or the U.S. Department of Health and Human Services.
More Health News on