Secondhand Smoke Still Plagues Some Cancer Survivors: MedlinePlus Health News
Secondhand Smoke Still Plagues Some Cancer Survivors
Study found they face health risks from continued exposure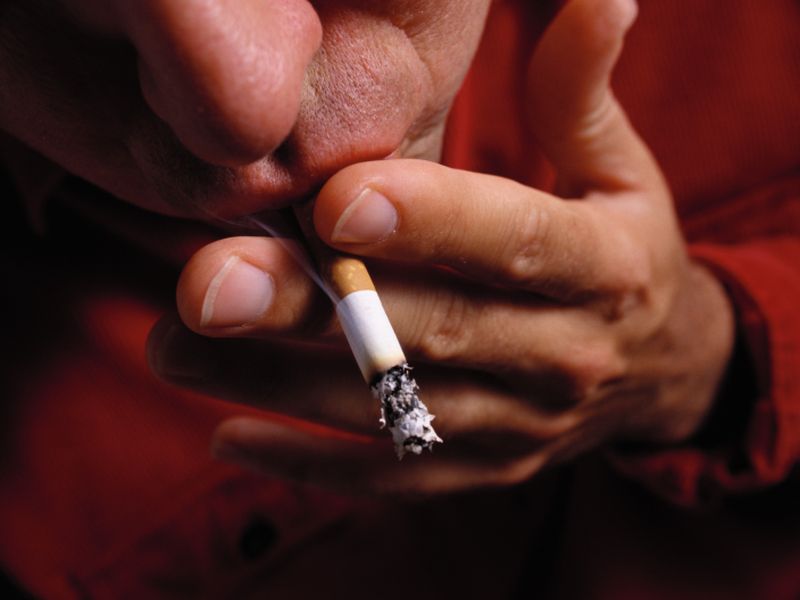 THURSDAY, June 22, 2017 (HealthDay News) -- The number of nonsmoking cancer survivors exposed to secondhand smoke is down significantly in the United States, but it's too soon to breathe easy.
A new review of federal data on nearly 700 nonsmoking adult cancer survivors found 15.7 percent reporting exposure to secondhand smoke in 2011-2012, down from nearly 40 percent in 1999-2000.
However, exposure rates were higher among those with a history of smoking-related cancer and those living below the federal poverty level.
Rates of secondhand tobacco exposure among nonsmoking cancer survivors are similar to that of the general population, the study found.
"This is concerning," said study author Dr. Oladimeji Akinboro, chief medical resident at Montefiore New Rochelle Hospital in New Rochelle, N.Y., "because those who have had or have cancer represent a group of people whose health outcomes are adversely influenced by any form of tobacco exposure."
Exposure to secondhand smoke can hurt survivors' cancer recovery and increase their risk of stroke, heart attack and death, he said.
The study found that some groups -- notably ethnic minorities and people with low incomes -- had higher rates of exposure than others:
Overall, 55.6 percent of blacks and 26 percent of whites had been exposed to secondhand smoke.
Of those with a history of smoking-related cancer, 35.5 percent reported exposure, as did 26 percent of those with a cancer not linked to smoking.
Of people with incomes below the federal poverty line, 53 percent reported secondhand smoke exposure, compared to nearly 23 percent of those with higher incomes.
Overall, 4.5 percent of nonsmoking adult cancer survivors lived with a smoker, according to the study published June 22 in the journal Cancer Epidemiology, Biomarkers & Prevention.
"Cancer patients and survivors must be encouraged to be their own advocates regarding secondhand smoke exposure, in adopting voluntary smoke-free home and vehicle rules, and avoiding settings outside the home where they are more likely than not to be involuntarily exposed to tobacco smoke," Akinboro said in a journal news release.
SOURCE: Cancer Epidemiology, Biomarkers & Prevention, news release, June 22, 2017
HealthDay
Copyright (c) 2017
HealthDay
. All rights reserved.
News stories are written and provided by HealthDay and do not reflect federal policy, the views of MedlinePlus, the National Library of Medicine, the National Institutes of Health, or the U.S. Department of Health and Human Services.
More Health News on
Thursday, June 22, 2017