Opioids Over-Prescribed After C-Sections: Studies: MedlinePlus Health News
Opioids Over-Prescribed After C-Sections: Studies
Pills women don't use may end up in the wrong hands, researchers suggest
Thursday, June 8, 2017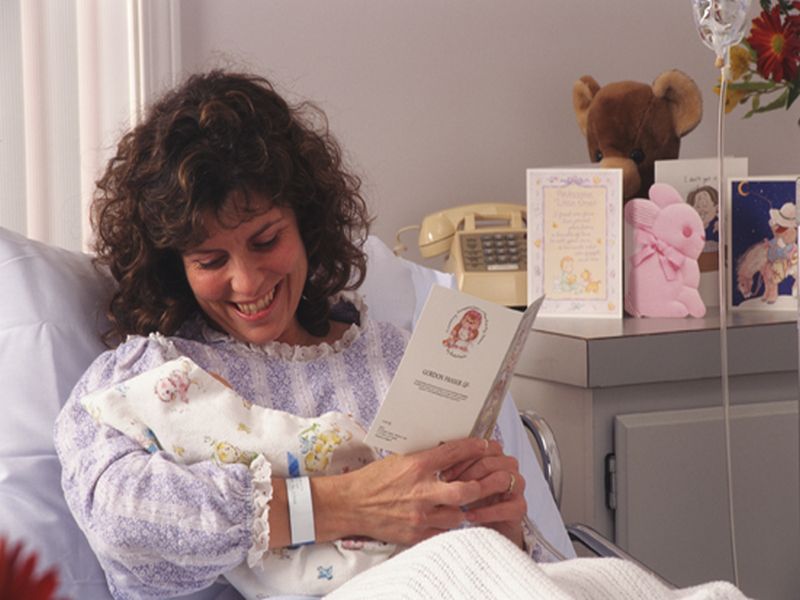 THURSDAY, June 8, 2017 (HealthDay News) -- Women are routinely prescribed more opioid painkillers than they need after Cesarean sections, creating a high risk for misuse, a trio of new studies suggests.
C-sections are the most common inpatient surgery in the United States, with 1.4 million procedures performed a year, according to the researchers. But there is little data on how much medicine patients actually need to manage their pain. To that end, how many pills are prescribed varies from provider to provider, the researchers added.
More care is needed to limit the amount of leftover drugs that could wind up in the wrong hands, the studies concluded. Most people who use opioids for nonmedical reasons get them from friends and relatives who have unused medication. And patients may not lock their leftovers away, putting young children at risk.
"We are the source of these excess opioids, and we need to do more to restrain that, but we really need to tailor that so the individual gets what they need. Our take-home point is we don't want one-size-fits-all prescribing," said Dr. Sarah Osmundson, who led one of the three studies. She's an assistant professor of maternal-fetal medicine at Vanderbilt University in Nashville.
Addiction to prescription opioids such as oxycodone (Oxycontin, Percocet) and hydrocodone (Vicoprofen) is a growing epidemic in the United States. The number of opioid overdose deaths has quadrupled in the past 15 years, according to one of the studies.
Though women are unlikely to get hooked on opioids after a C-section, an addiction expert said non-opioid pain relief should always be the first treatment of choice.
"We need to be conscious of what the consequences of routine opioid prescribing are -- not just for the patient but for anyone who might encounter her medicine cabinet," said Dr. Mishka Terplan. He's a member of the American Congress of Obstetricians and Gynecologists' Opioid and Addiction Medicine Work Group.
The largest of the three new studies -- by researchers at Brigham and Women's Hospital and Harvard Medical School in Boston -- involved 720 C-section patients at six U.S. medical centers. About 85 percent filled an opioid prescription when they left the hospital.
The study found women were prescribed roughly twice as many pills as they used. On average, each had 15 left over. With 1.3 million C-sections a year in the United States, that's an estimated 20 million opioids that could be diverted and misused.
The researchers found no difference in pain scores when they compared women by number of pills prescribed. But women who were prescribed more pills wound up using more pills, according to the study.
"This was especially interesting to us, because it suggests that we are setting patient expectations based on the number of pills that we prescribed," corresponding author Dr. Brian Bateman said in a hospital news release. Bateman is chief of obstetric anesthesia at Brigham and Women's.
The studies suggest that the remedy isn't as simple as dispensing fewer pills.
In the second study, Osmundson's team urged providers to peg quantity to how much pain medicine women actually use in the hospital -- more pills for those who need more pain relief as hospital patients, fewer for others.
Of the 179 C-section patients they studied, 165 were prescribed an opioid. Doses ranged from eight to 84 pills, with nurse-midwives prescribing fewer than doctors.
More than three-quarters of the patients had pills left over, and only seven women threw them away. Most kept leftovers in an unlocked cabinet, according to the study.
The findings suggest counseling patients is key.
Osmundson said women should be reminded to use opioids only when they really need them, to taper off as soon as they can and to dispose of leftovers properly. Unused pills can be mixed with coffee grounds or kitty litter and tossed in the trash or taken to an approved drug disposal site, she said. Some medical practices also dispose of them.
Terplan, associate director of addiction medicine at Virginia Commonwealth University in Richmond, said patients have a responsibility to ask questions and be sure they understand their treatment.
Convenience may be one reason for the opioid over prescriptions, he said.
A patient who needs more opioid painkillers has to get a written prescription -- a trip to the doctor that may be burdensome for a new mom who is recovering from surgery and caring for a newborn. So providers try to make sure she has enough.
So, what's the prescription for over-prescription?
A third study investigated a novel approach that reduced opioid use after C-sections by 50 percent.
It centered on a 10-minute meeting where a clinician spoke about post-operative pain and opioids while patients viewed a presentation on a tablet computer. Women were told how much pain to expect, risks and benefits of opioid and non-opioid painkillers, how to get refills and how to safely dispose of leftovers.
Then, patients chose how many 5-milligram oxycodone tablets to receive at discharge, up to the hospital's typical 40. The median number of pills they chose was 20. The average number of pills left over was four.
Nine out of 10 participants said they were satisfied or very satisfied with their pain management, and nearly as many called the shared decision-making helpful, according to the study.
"This is the path forward, I think," Terplan said. "It's not saying everybody gets 90 Oxycontins or seven Oxycontins, it's actually involving the patient in her own decision-making."
The studies were published online June 8 in the journal Obstetrics & Gynecology.
SOURCES: Sarah Osmundson, M.D., assistant professor, maternal-fetal medicine, Vanderbilt University, Tennessee; Mishka Terplan, M.D., professor, obstetrics, gynecology and psychiatry and associate director in addiction medicine, Virginia Commonwealth University; Brigham & Women's Hospital, news release, June 8, 2017, Obstetrics & Gynecology, online
HealthDay
Copyright (c) 2017
HealthDay
. All rights reserved.
News stories are written and provided by HealthDay and do not reflect federal policy, the views of MedlinePlus, the National Library of Medicine, the National Institutes of Health, or the U.S. Department of Health and Human Services.
More Health News on