Can Online Treatment Replace Your Therapist?: MedlinePlus Health News
Can Online Treatment Replace Your Therapist?
For people with mild or moderate depression, web-based versions might help, study finds
Thursday, June 1, 2017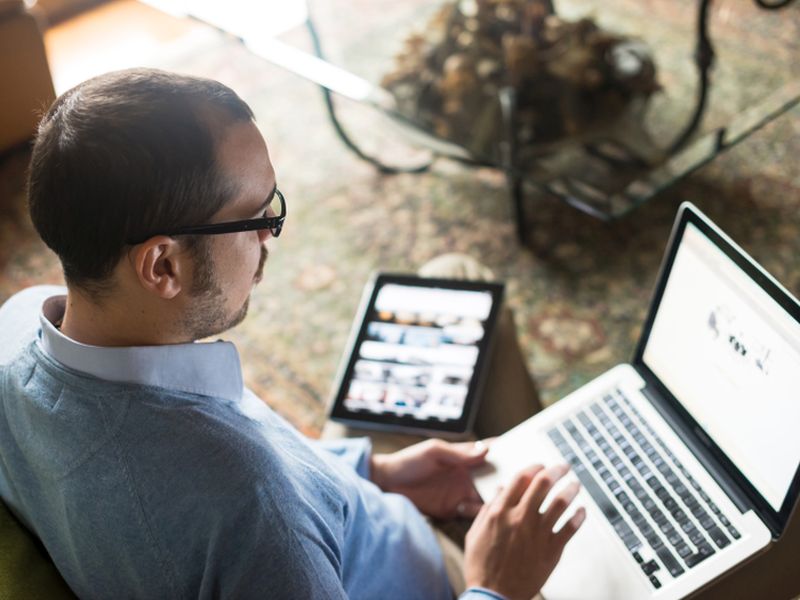 THURSDAY, June 1, 2017 (HealthDay News) -- Many barriers can keep people from psychotherapy, such as cost or the availability of a qualified health provider.
But new research suggests that online therapy programs can help some people with mild to moderate depression.
The study found the results lasted at least three to six months after therapy ended, and the programs don't necessarily need to have a therapist directly involved to produce benefits.
"There was a significant effect in decreasing depressive symptoms after completing the programs," said study lead author Dr. Charles Koransky. He is a psychiatry resident at the University of Maryland/Sheppard Pratt Residence Program in Baltimore.
Despite the benefits, Koransky said, there are limitations and even risks with online therapy. For instance, "if depression is worse than mild to moderate, such as if there are suicidal thoughts," online therapy is definitely not recommended.
Koransky and his colleagues reviewed the results of 14 studies published between 2005 and 2015. Those studies offered varying forms of internet cognitive behavior therapy (iCBT). Cognitive behavior therapy is a type of therapy that helps you identify, understand and change your thoughts and behaviors, according to the Anxiety and Depression Association of America.
In all of the studies reviewed, people with depression were either given some form of iCBT or were put on a wait-list. The online therapy consisted of online CBT modules, and may also have included phone, email or online forum discussions with a therapist.
Each study had varying numbers of participants, ranging from 45 to nearly 400.
On average, 80 percent of the participants stayed in the studies until their completion.
Online therapy could fill a gap, Koransky said, as there is a shortage of mental health professionals in the United States, and depression is common.
"One of the studies we found showed that about 14 million people in the U.S. had symptoms consistent with depression in 2014," he said. "It's a great way to access services. This is something people can do at home, really in privacy."
While the programs differed, one example of a program studied is called MoodGYM, originating from Australia. It consists of five modules, such as an interactive game, anxiety and depression assessments, downloadable relaxation audios, a workbook and feedback assessment, according to the MoodGYM website. This program is free to use.
One exercise, for instance, is called "what you think is what you feel." It asks users to focus on thoughts when something potentially stressful occurs, such as a job interview that did not go well, and then walks them through thoughts, feelings and how those affect behaviors. For instance, if someone thinks the interview went badly, he or she may feel miserable, which may prompt them to avoid further interviews.
Overall, the programs studied helped enough so that those with moderate depression to start might end up with mild depression or even no depressive symptoms, Koransky said. "Those effects lasted three to six months," he said.
He called the effect on reducing symptoms at the end of the study "medium" and the effect in maintaining that decrease "large."
One limitation of the new review is that all of the studies were done in Europe or Australia, so Koransky can't say if the findings would apply in the United States.
That is a limitation, agreed Dr. Ranna Parekh, director of diversity and health equity for the American Psychiatric Association (APA). She wasn't involved in the study.
"There is a burgeoning interest in this topic," Parekh said. It may be one way to close the gap in the shortage of mental health providers, she noted.
As for the APA stand on online therapy, "as long as it meets the same standards as someone would provide in an in-person treatment, we would support it," she said.
However, "one of the things patients always worry about with internet-based [programs] is confidentiality, hacking and all that," Parekh said.
She also cautioned that online therapy is not for those with severe depression. It's only for "someone with mild to moderate depression, but not at risk for suicide."
Koransky presented the findings recently at the annual meeting of the American Psychiatric Association in San Diego. Findings presented at medical meetings are usually considered preliminary until published in a peer-reviewed journal.
SOURCES: Charles Koransky, M.D., psychiatry resident, University of Maryland/Sheppard Pratt Residence Program, Baltimore; Ranna Parekh, M.D., director, division of diversity and health equity, American Psychiatric Association; May 21, 2017 annual meeting, American Psychiatric Association, San Diego
HealthDay
Copyright (c) 2017
HealthDay
. All rights reserved.
News stories are written and provided by HealthDay and do not reflect federal policy, the views of MedlinePlus, the National Library of Medicine, the National Institutes of Health, or the U.S. Department of Health and Human Services.
More Health News on