Could Spuds Be Bad for Blood Pressure?: MedlinePlus
Could Spuds Be Bad for Blood Pressure?
Eating potatoes 4 or more times a week linked to higher readings in study
Wednesday, May 18, 2016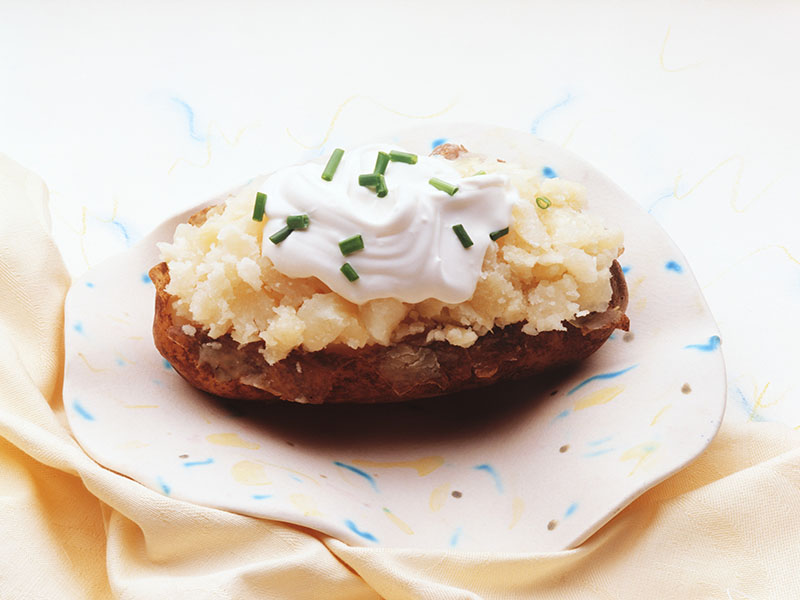 TUESDAY, May 17, 2016 (HealthDay News) -- Potatoes are a popular staple of the American diet, but eating too many -- whether boiled, baked, mashed or fried -- may raise the risk for high blood pressure, a new study suggests.
Consuming four or more servings of potatoes a week was linked with an increased risk for high blood pressure -- 11 percent for baked, boiled or mashed and 17 percent for fried -- compared with eating less than one serving a month. Surprisingly, potato chips didn't appear to increase the risk, the Harvard researchers reported.
"We hope that our study continues the conversation about potatoes and the risk of hypertension and other diseases," said lead researcher Dr. Lea Borgi, of the renal division at Brigham and Women's Hospital in Boston.
But one dietitian not involved with the study suggested the blame shouldn't rest with potatoes, but with the add-ons people put on their spuds -- such as sour cream and bacon bits.
For the study, Borgi and her colleagues followed more than 187,000 men and women who took part in three large U.S. studies for more than 20 years. During that time, participants filled out questionnaires about their diet. None of the participants had high blood pressure at the beginning of the study.
Potatoes have what's called a high glycemic index compared with other vegetables. And, that can trigger a sharp rise in blood sugar, which might explain the findings, Borgi said. The glycemic index measures how carbohydrates raise blood sugar.
Borgi pointed out that this study didn't prove potatoes cause high blood pressure, only that they seem to be associated with an increased risk.
Nevertheless, the researchers suggested that replacing one serving a day of potatoes with a non-starchy vegetable might lower the risk of high blood pressure.
Because of their high potassium content, potatoes have recently been included as vegetables in the U.S. government's healthy meals program, the researchers noted.
"Our findings have potentially important public health ramifications, as they don't support the health benefits of including potatoes in government food programs," Borgi said.
The report was published May 17 in the journal BMJ.
One nutrition expert said it's not potatoes that are the problem as much as all the fixings people put on them.
"The poor potato's reputation gets dinged again with this study," said Samantha Heller, a senior clinical nutritionist at New York University Medical Center in New York City.
Potatoes have been a staple in human diets for centuries, long before high blood pressure was the problem it is today, she said.
"Americans ate, on average, close to 50 pounds of potatoes per person in 2013, the bulk of which came from french fries," Heller said. "As a dietitian, I am not sure I can even classify commercial french fries as potatoes. They have been transformed into sticks of grease, salt, trans fats and who knows what else?" she said.
And while potatoes are a good source of vitamin C, potassium, minerals, energy and fiber (if not peeled), the reality is most Americans eat potatoes coated in salt, slathered in butter or loaded with sour cream, cheese and bacon bits, Heller said.
"It is no wonder that researchers found that high consumption was associated with poor health," she said.
But potatoes can be a healthy part of a balanced diet, Heller said.
"You can make mashed potatoes with olive oil, nonfat milk or soy milk and add mixed herbs and spices. I do not peel the potatoes and I mix in vegetables, such as sauteed spinach and garlic," she said.
Baked potatoes are also great with salsa, Heller said.
"But watch portions," she added. "For example, today's russet potatoes can be the size of a city bus. Alternate potatoes with other whole grain starches like brown rice or pasta. And remember, only about a quarter of your plate should be taken up with starchy foods."
Efforts made by HealthDay News to reach the National Potato Council for comment on the study were unsuccessful.
SOURCES: Lea Borgi, M.D., renal division, Brigham and Women's Hospital, Boston; Samantha Heller, M.S., R.D., senior clinical nutritionist, New York University Medical Center, New York City; May 17, 2016, BMJ
HealthDay
Copyright (c) 2016
HealthDay
. All rights reserved.
News stories are provided by HealthDay and do not reflect the views of MedlinePlus, the National Library of Medicine, the National Institutes of Health, the U.S. Department of Health and Human Services, or federal policy.
More Health News on: