Back Pain: Finding solutions for your aching back - Harvard Health
Create a plan to relieve your back pain
Image: Bigstock
If you suffer from back pain, you've probably tried one or two ways to ease it. The range of options — from doing nothing at all to having surgery — is quite large. But the abundance of choices also presents a challenge. How do you know which therapy is right for you?
Get your copy of Back Pain

Treatment of back pain has undergone a recent sea change. Experts now appreciate the central role of exercise to build muscles that support the back. This Special Health Report, Back Pain: Finding solutions for your aching back, helps you understand why back pain occurs and which treatments are most likely to help. This report describes the different types of back problems and the tailored treatments that are more likely to help specific conditions.


Before you decide on a course of treatment, keep these four things in mind.
Identifying the type of back disorder you suffer from is the first — and most important — step in finding how best to treat it. Although options abound, not all are appropriate for your specific back problem.

Whether you're experiencing back pain for the first time or you've suffered a relapse, seek the advice of an experienced, certified, and well-recommended health specialist. That might be an internist, family practitioner, orthopedist, rheumatologist, neurologist, neurosurgeon, or physiatrist.

Be an active participant in your care. Learn as much as you can about the risks and benefits of the treatments you are considering. Be clear on your treatment goals. Perhaps you don't intend to hike up a mountain, but you do want to go on that long-awaited trip and enjoy the view of the Eiffel Tower.

Don't be afraid to question advice. If a health professional recommends an invasive, experimental, or expensive treatment, consider seeking a second opinion from a physician who frequently deals with your specific condition.
How you decide to manage your back pain will ultimately depend on many things. Taking all these factors into account will help you and your physician determine which of the available options are right for you.
For more on healing your aching back, buy
Back Pain
, a Special Health Report from Harvard Medical School.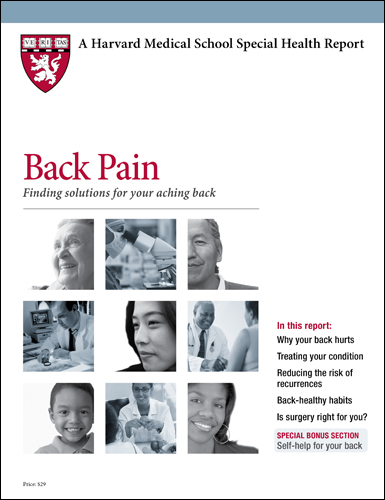 Back Pain
Featured content:
| | |
| --- | --- |
| • | Who develops back problems? |
| • | The anatomy of your back |
| • | Why does your back hurt? |
| • | Diagnosing back pain |
| • | Assessing your treatment options |
| • | ... and more! |
Click here to read more »