Crash Risk Soars When Truck Drivers Don't Treat Sleep Apnea: Study: MedlinePlus
Crash Risk Soars When Truck Drivers Don't Treat Sleep Apnea: Study
Consistent treatment with breathing device can reduce the risk, researchers report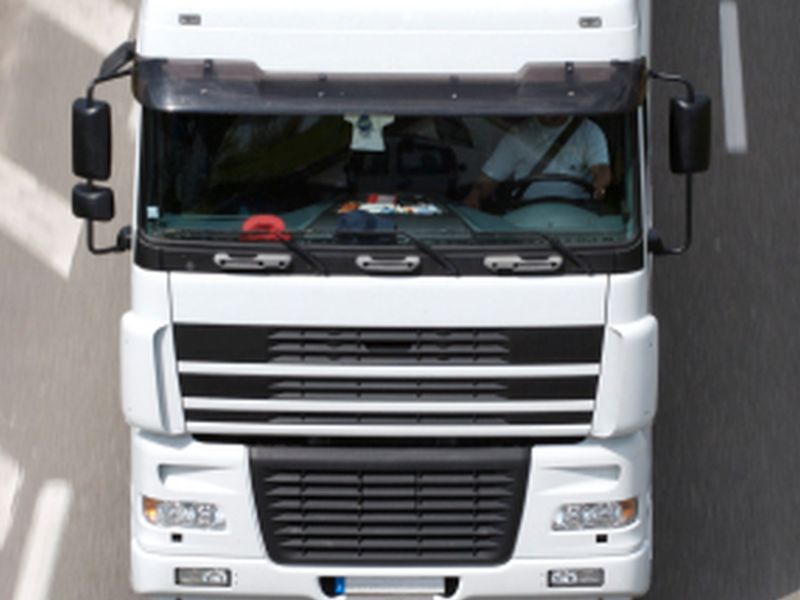 MONDAY, March 21, 2016 (HealthDay News) -- Truck drivers with sleep apnea who don't regularly follow their treatment program are much more likely to crash, a new study finds.
"The most surprising result of our study is the strength and robustness of the increase in the crash risk for drivers with sleep apnea who fail to adhere to mandated treatment with positive airway pressure therapy [CPAP]," said study author Stephen Burks. He's principal investigator of the Truckers & Turnover Project at the University of Minnesota.
The research included more than 1,600 U.S. truck drivers with obstructive sleep apnea and a control group with an equal number of drivers without the condition. Those with sleep apnea were prescribed CPAP, a treatment that keeps the airways open during sleep.
The drivers with sleep apnea were given a CPAP machine that could be used both at home and in their truck's sleeper compartment. The researchers tracked the truckers' use of CPAP with an internal memory chip that was placed in each machine.
The rate of serious, preventable crashes was five times higher among truckers with sleep apnea who didn't use their CPAP machine, compared to the control group. The crash rate among drivers with sleep apnea who always or sometimes used their CPAP machine was similar to that of the control group.
The study was published online March 21 in the journal Sleep.
Burks said the findings support the need for obstructive sleep apnea screening standards for all drivers. Screenings could be administered through the commercial driver's medical exam.
Obstructive sleep apnea affects at least 25 million American adults, the researchers said.
"This study emphasizes that untreated obstructive sleep apnea is a pervasive threat to transportation safety," American Academy of Sleep Medicine President Dr. Nathaniel Watson said in a journal news release.
"It is critical for transportation companies to implement comprehensive sleep apnea screening and treatment programs to ensure that truck drivers stay awake at the wheel," he added.
SOURCE: Sleep, news release, March 21, 2016
HealthDay
Copyright (c) 2016
HealthDay
. All rights reserved.
More Health News on:
Monday, March 21, 2016