Patient's Mood During Medical Procedure May Affect Outcomes: MedlinePlus
Patient's Mood During Medical Procedure May Affect Outcomes
More adverse events seen when people undergoing interventional radiology have negative attitude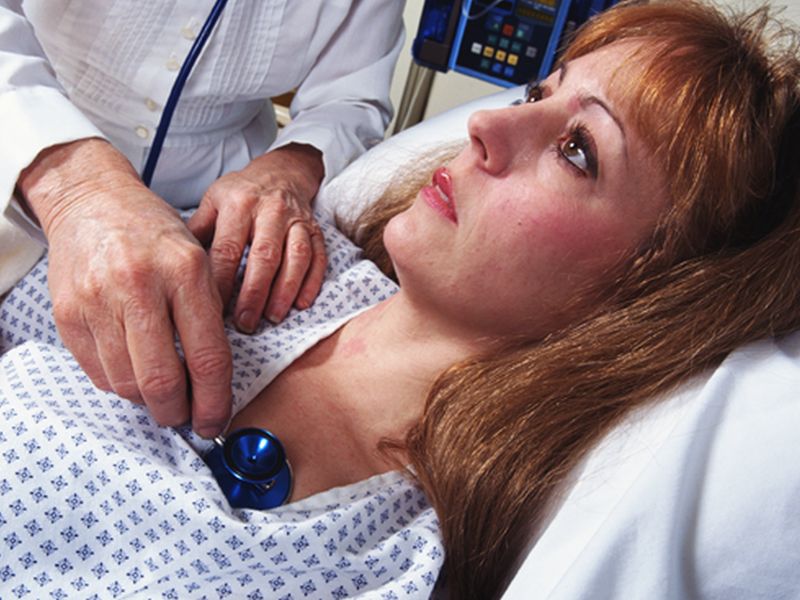 THURSDAY, Dec. 3, 2015 (HealthDay News) -- A patient's mood while undergoing a medical procedure can affect the results, a new study suggests.
"Our study shows that mood matters," said lead researcher Dr. Elvira Lang, an interventional radiologist in Boston.
The research included 120 women and 110 men (average age 55 years). The study participants each underwent a minimally invasive procedure in which a catheter was inserted through a blood vessel and threaded to an area of the body, such as a blocked artery, for treatment.
Before their procedure, the patients completed a questionnaire to assess whether their mood was negative, neutral or positive, the study authors explained.
Adverse events -- such as low or high blood pressure, postoperative bleeding or abnormally slow heart rate -- occurred in 22 percent of the study patients with high levels of negative mood. These negative feelings included stress, fear and hostility.
But just 12 percent of people in a less negative or a neutral mood experienced poor outcomes, the study found. A positive mood had little impact, the researchers reported.
The findings were to be presented Thursday at the Radiological Society of North America annual meeting, in Chicago. Findings presented at meetings are considered preliminary until they've been published in a peer-reviewed journal.
"I was surprised by this result," study author Dr. Nadja Kadom, acting associate professor of radiology at Emory University School of Medicine and Children's Healthcare of Atlanta, said in a society news release. "Prior to this study, I did not believe patient mood could have an effect on outcome."
Lang added, "You don't need to have a chipper, cheery attitude prior to your procedure. You just have to overcome negative emotions and get to a neutral level."
Typically, interventional radiology procedures are performed while patients are sedated but still awake and able to talk with the medical team.
"This is a real issue. The procedure room is a two-way street in which the patient can affect the health care professional and vice versa. Any time the team must manage an adverse event, it takes attention away from the procedure," Lang said.
Lang added that it might be helpful to teach health care professionals how to help patients manage negative emotions to improve their procedure results.
SOURCE: Radiological Society of North America, news release, Dec. 3, 2015
HealthDay
Copyright (c) 2015
HealthDay
. All rights reserved.
More Health News on:
Thursday, December 3, 2015