Milton's Story - Pseudomyxoma Peritonei (PMP) community - RareConnect
Milton's Story
At the end of 2007, I began to realize that the circumference of my belly was growing. I never paid much attention to it, thinking it was something related to my age. Some months later, a swelling near my navel began to reveal a hernia. Its rapid growth led me to a gastroenterologist in June.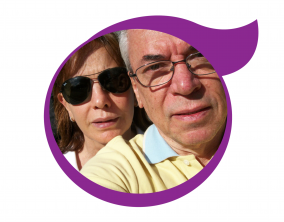 The doctor was more astonished with the size of my belly than with the hernia. He asked if I drank a lot, thinking it was a liver problem causing accumulation of fluid in the abdomen. He requested an ultrasound, which revealed the presence of intense ascites. There seemed no other abnormalities.
Facing the result, I was referred to a hepatologist. Nothing further was discovered. Exploratory surgery was suggested. During the procedure, the hernia would be corrected. Surgery revealed a mass of tumour tissue, which was sent for pathological examination. It was the extremely rare Pseudomyxoma Peritonei.
My physician, in the 30 years of his career, had never encountered the disease. But, recently, had attended a lecture at the Sao Paulo Cancer Hospital where one of the topics was exactly PMP. On this occasion, the physician-speaker spoke of his 10 years experience with the disease and how he had learned a revolutionary surgical technique with an American surgeon, called Paul Sugarbaker. I made an appointment with him immediately.
At this meeting, I learned that the cancer had originated from a tumour in the appendix that on rupturing had spread cancer cells throughout the abdomen, implanting themselves on the surface of organs. According to the doctor, a long surgery for over 10 hours, would conduct a complete cleaning of all tumours and visible implants. After the surgery, a chemotherapy "wash" for 90 minutes and at 41º C, would destroy any microscopic tumors.
The doctor informed me also that in 10 years his team had performed about 100 surgeries, with success rates similar to other specialized centres worldwide.
I was taken to the operating room at 7 o'clock in the morning on November 9, 2008. At 11 o'clock that night, I was admitted to the ICU, already without my spleen, peritoneum and gallbladder. Very importantly, my stomach, liver and intestines remained intact and free of disease.
In total, I was hospitalized for 21 days. Hallucinations and weakness were the highlights of this period. I had no pain or secondary infections or blockages or other traumas. Despite the constant interruptions for medications and x-rays, I managed to sleep well in my hospital bed. Excretory and urinary systems soon returned functioning almost normally.
Once back home, I suffered for three months from weakness and a lack of taste. The effects of chemotherapy often left me nauseous and sleepy.
But by April, had already resumed most of my activities at a moderate pace. I began to recover my lost 15kg, and was able to walk increasingly longer distances, eating returned to being a pleasure and I worked part-time.
In July, I started running. Incidentally, something I had never done before. I was willing to take the best possible care of my physical body and eat as healthily as possible.
For the first year I did CAT scans and x-rays of the lungs as well as blood tests every three months. Subsequent amendments have broadened the interval to six months.
In late 2011, I had my first colonoscopy in 3 years. All tests were normal.
Incidentally, I became a fan of running. Today I am able to run 40km a week.
Besides a lot of luck and the great skill of the doctors that I attended, I have tried to collaborate with medicine by exercising my body, eating healthily, and by maintaining a positive mental attitude with less stress in relation to life.
I think it is not a magic formula for health, but, I feel more active and participate in the exercise of survival that is part of a day-to-day routine for all of us who were diagnosed with this disease.
Above all, I think my case is just another, along with many others, showing that there is hope and perspective after PMP.
Discussion Topics
Latest Pseudomyxoma Peritonei (PMP) Community Activity