High-throughput sequencing of small RNAs and analysis of differentially expressed microRNAs associated with high-fat diet-induced hepatic insulin resistance in mice | Genes & Nutrition | Full Text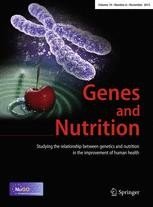 High-throughput sequencing of small RNAs and analysis of differentially expressed microRNAs associated with high-fat diet-induced hepatic insulin resistance in mice
Xue Zhao

†

,

Zhao Chen

†

,

Zengyuan Zhou

,

Yuzheng Li

,

Yuanyuan Wang

,

Zihao Zhou

,

Huimin Lu

,

Changhao Sun

and
Genes & Nutrition
2019
14

:6
Received: 30 October 2018
Accepted: 6 February 2019
Published: 19 February 2019
Background
Hepatic insulin resistance (IR) plays a crucial role in the development of many metabolic diseases, such as type 2 diabetes. MicroRNAs (miRNAs) are involved in the pathogenesis of IR and related diseases; however, studies of miRNAs in hepatic IR are limited.
Method
In this study, we adopted a high-throughput sequencing approach to construct small RNA libraries in the livers of normal mice and high-fat diet-induced hepatic IR mice.
Results
Through analysis of data, 107 known and 56 novel miRNAs were identified as differentially expressed miRNAs between the two groups. Additionally, bioinformatics methods were used to predict targets of the differentially expressed miRNAs and to explore the potential downstream Gene Ontology categories and Kyoto Encyclopedia of Genes and Genomes pathways. Meanwhile, some differentially expressed miRNAs (miR-34a-5p, miR-149-5p, miR-335-3p, miR-10b-5p, miR-1a-3p, miR-411-5p, and miR-592-5p) were validated by quantitative-time PCR, and their potential target genes related to IR or glycolipid metabolism were also predicted and presented in this study.
Conclusion
Taken together, our results defined miRNA expression signature that may lead to hepatic IR in mice, and the findings provided a foundation for future studies to further explore the effects and underlying mechanisms of the miRNAs and their target genes in the pathogenesis of hepatic IR and related diseases.
High-throughput sequencing
MiRNAs
Hepatic insulin resistance