Current knowledge and interest of French Canadians regarding nutrigenetics | Genes & Nutrition | Full Text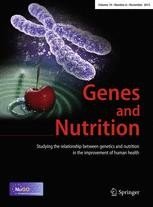 Current knowledge and interest of French Canadians regarding nutrigenetics
Genes & Nutrition
2019
14

:5
Received: 30 October 2018
Accepted: 1 February 2019
Published: 19 February 2019
Objective
The purpose of this study was to draw a global portrait of the current knowledge and interest regarding nutrigenetics in a population of French Canadians from the province of Quebec (Canada).
Methods
A total of 2238 residents from the province of Quebec, Canada, were recruited via social networks and from the Laval University employee/student lists to participate in a 37-question online survey on nutrigenetics.
Results
Most participants were not familiar with the term "nutrigenetics" (82.7%). Participants with good genetic literacy (26.8%) were less interested in nutrigenetic testing (p < 0.0001). The vast majority of participants (90.7%) reported to be willing to follow a personalised diet based on nutrigenetic testing, especially if they came to know themselves as carriers of a polymorphism increasing the risk of certain diseases. Participants had a higher interest in testing related to metabolic response to macronutrients (types of sugars, fats and proteins) than to micronutrients or other nutrients related to food intolerance.
Conclusions
The attitude of French Canadians about nutrigenetics is very consistent with the results from other surveys published in the literature. Although few individuals are familiar with nutrigenetics, the public's attitude towards nutrigenetics is globally favourable.
Nutrigenetics
Personalised nutrition
Genetic testing
Public opinion
Attitudes
Dietitian