Antipsychotics not helpful for delirium in ICU | National Institutes of Health (NIH)

Antipsychotics not helpful for delirium in ICU
At a Glance
Researchers found that critically ill patients in intensive care units didn't benefit from two antipsychotic drugs often used to treat delirium.
The study suggests that the practice of prescribing antipsychotics for delirium may need to be reassessed.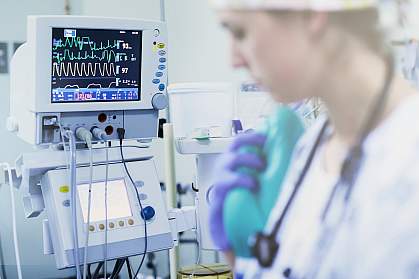 PeopleImages/Getty Images
Delirium is a confused mental state that includes changes in awareness, thinking, judgment, sleeping patterns, and behavior. It can affect patients of any age but is more common among older adults who experience major illness or have a major surgery. More than half of patients who are given mechanical ventilation in the intensive care unit (ICU) experience delirium.
Antipsychotic medications have been used to treat delirium in ICU patients for over 40 years without a complete understanding of their effects. To investigate the benefits and risks, a team led by Dr. E. Wesley Ely at Vanderbilt University studied patients at 16 medical centers nationwide. The research was supported in part by NIH's National Institute on Aging (NIA). Results were published online on October 22, 2018, in the New England Journal of Medicine.
The researchers enrolled more than 1,100 adults who were on mechanical ventilation or in shock. Participants had a wide range of ages, conditions, and admission diagnoses. Of these, 566 became delirious and were randomly assigned to three treatment groups: either an antipsychotic drug (haloperidol or ziprasidone) or a placebo (saline).
Participants on haloperidol or ziprasidone had similar duration of delirium or coma as those who took the placebo. All three groups also showed similar rates of death within 30 and 90 days, time spent on a ventilator, and time spent in the ICU and hospital.
Because the study grouped together many causes of delirium, the team was unable to determine whether antipsychotics might benefit one specific cause of delirium but not the others. The drugs might also have different effects on different age groups.
"This research joins other important studies on delirium showing that there clearly is need for improvement in treating and managing this complicated condition," says Dr. Molly Wagster, chief of the Behavioral and Systems Neuroscience Branch in NIA's Division of Neuroscience.
"This is strong evidence from what we consider a 'gold standard' clinical trial showing that these two antipsychotics don't work to treat delirium during a critical illness," says NIA Deputy Director Dr. Marie A. Bernard. "Antipsychotics have often been used to treat delirium. The evidence from this study suggests the need to reexamine that practice."
NIH-funded researchers are studying other approaches to reduce both the prevalence and duration of delirium.
Related Links
References:
Haloperidol and Ziprasidone for Treatment of Delirium in Critical Illness.
Girard TD, Exline MC, Carson SS, Hough CL, Rock P, Gong MN, Douglas IS, Malhotra A, Owens RL, Feinstein DJ, Khan B, Pisani MA, Hyzy RC, Schmidt GA, Schweickert WD, Hite RD, Bowton DL, Masica AL, Thompson JL, Chandrasekhar R, Pun BT, Strength C, Boehm LM, Jackson JC, Pandharipande PP, Brummel NE, Hughes CG, Patel MB, Stollings JL, Bernard GR, Dittus RS, Ely EW; MIND-USA Investigators.
N Engl J Med.
2018 Oct 22. doi: 10.1056/NEJMoa1808217. [Epub ahead of print] PMID: 30346242.
Funding:
NIH's National Institute on Aging (NIA) and National Center for Advancing Translational Sciences (NCATS); and Department of Veterans Affairs.