Release: More than one day of early-pregnancy bleeding linked to lower birthweight | NICHD - Eunice Kennedy Shriver National Institute of Child Health and Human Development
Release: More than one day of early-pregnancy bleeding linked to lower birthweight
NIH study cautions that more research is needed to determine if this small difference in weight poses a health risk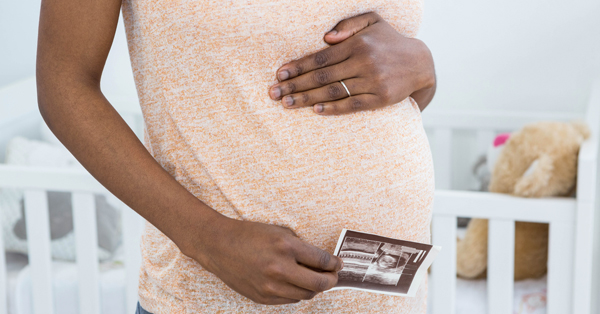 Women who experience vaginal bleeding for more than one day during the first trimester of pregnancy may be more likely to have a smaller baby, compared to women who do not experience bleeding in the first trimester, suggest researchers at the National Institutes of Health. On average, full-term babies born to women with more than one day of bleeding in the first trimester were about 3 ounces lighter than those born to women with no bleeding during this time. Additionally, infants born to women with more than a day of first trimester bleeding were roughly twice as likely to be
small for gestational age
, a category that includes infants who are healthy but small, as well as those whose growth has been restricted because of insufficient nutrition or oxygen or other causes.
The study appears in Obstetrics & Gynecology and was conducted by researchers at the Eunice Kennedy Shriver National Institute of Child Health and Human Development (NICHD) and other U.S. research institutions.
The authors caution that the decrease in birthweight of infants born to women with vaginal bleeding was small. More studies are needed to determine if these infants are at risk for any additional health risks in infancy or later in life.
"The good news is that only one day of bleeding was not significantly associated with reduced growth," said the study's senior author, Katherine L. Grantz, M.D., an investigator in the NICHD Epidemiology Branch. "But our results suggest that even if bleeding stops before the second trimester, a pregnancy with more than one day of bleeding is at somewhat of a greater risk for a smaller baby."
According to the study authors, first trimester vaginal bleeding occurs in 16 to 25 percent of pregnancies. Earlier studies on whether bleeding is associated with adverse pregnancy outcomes have been inconclusive. The researchers analyzed data from the
NICHD Fetal Growth Study
, which enrolled women ages 18 to 40 at 12 hospitals in the United States. The study used ultrasound to track fetal growth throughout pregnancy. Of the roughly 2,300 women in the analysis, 410 (17.8 percent) had bleeding in the first trimester. Of these, 176 bled for one day and 234 bled for more.
The researchers also analyzed birthweight outcomes in a secondary analysis limited to 2,116 women with birthweight data available. Compared to women with no bleeding, fetuses of women with more than one day of bleeding were 68 to 107 grams (approximately 2 to 4 ounces) lighter in weeks 35 to 39 of pregnancy. The average birth weight of these babies who were full-term was about 3 ounces lighter than infants born to women who did not bleed at all. Infants who were small for gestational age were delivered to 148 women in the non-bleeding group (8.5 percent), nine women in the one-day group (5.7 percent), and 33 women (15.7 percent) in the group that had more than a day of bleeding.
Dr. Grantz added that when ultrasound exams indicate that the fetus is small for gestational age, physicians typically increase the number of exams to monitor the pregnancy more closely.
Reference
Bever AM, et al. Fetal growth patterns in pregnancies with first trimester bleeding: the NICHD Fetal Growth Studies. Obstetrics and Gynecology. 2018;
DOI: 10.1097/AOG.0000000000002616
###
About the Eunice Kennedy Shriver National Institute of Child Health and Human Development (NICHD)
: NICHD conducts and supports research in the United States and throughout the world on fetal, infant and child development; maternal, child and family health; reproductive biology and population issues; and medical rehabilitation. For more information, visit
http://www.nichd.nih.gov
.
About the National Institutes of Health (NIH)
: NIH, the nation's medical research agency, includes 27 Institutes and Centers and is a component of the U.S. Department of Health and Human Services. NIH is the primary federal agency conducting and supporting basic, clinical, and translational medical research, and is investigating the causes, treatments, and cures for both common and rare diseases. For more information about NIH and its programs, visit
http://www.nih.gov