NIH, Northwestern scientists develop potential new approach to stop cancer metastasis | National Institutes of Health (NIH)

Institute/Center
Contact
NIH, Northwestern scientists develop potential new approach to stop cancer metastasis
Researchers have identified a compound that blocks the spread of pancreatic and other cancers in various animal models. When cancer spreads from one part of the body to another in a process called metastasis, it can eventually grow beyond the reach of effective therapies. Now, there is a new plan of attack against this deadly process, thanks to scientists at the National Institutes of Health, Northwestern University and their collaborative research partners.
The team collaborated to identify a compound, which they named metarrestin, that stopped tumor metastasis in multiple animal models. Mice treated with metarrestin also had fewer tumors and lived longer than mice that did not receive treatment. These results were
published May 16, 2018 inScience Translational Medicine
.
In patients, metarrestin potentially could be effective as a therapy after cancer surgery. Because advanced cancers are difficult to completely remove with surgery, doctors typically give chemotherapy to try to kill undetected cancer cells left behind and prevent the cancer from coming back. Metarrestin could be added to such standard drug therapy.
Metarrestin breaks down an incompletely understood component of cancer cells called the perinucleolar compartment (PNC). PNCs are found only in cancer cells, and in a higher number of cells in advanced cancer, when it has spread to other sites in the body.
Co-author Sui Huang, M.D., Ph.D., and her colleagues at Northwestern University Feinberg School of Medicine, Chicago, showed early on that the more cancer cells with PNCs in a tumor, the more likely it would spread. Her findings suggested that reducing PNCs might translate to less cancer progression and possibly better outcomes in patients.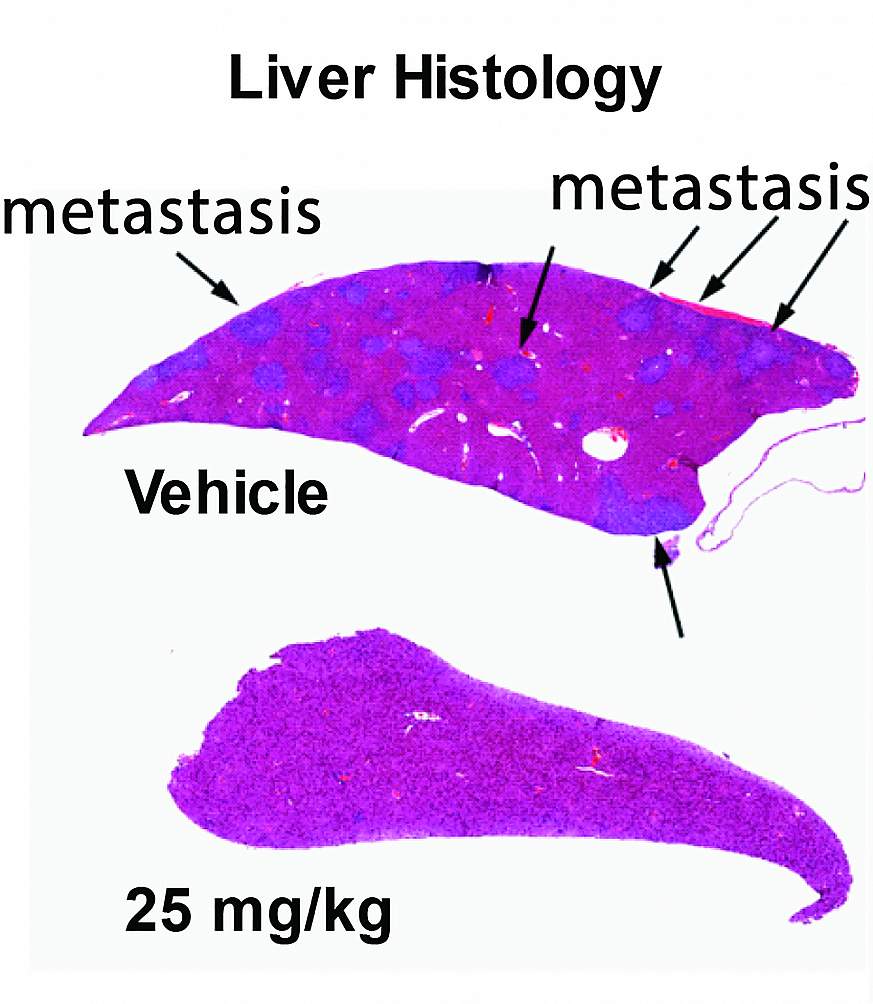 Frankowski et al., Sci. Transl. Med. 10, eaap8307 (2018)
To test these ideas, Huang approached Marugan to tap into NCATS' expertise in screening, chemistry, compound development and testing to evaluate more than 140,000 compounds for their potential effectiveness in eliminating PNCs in cells in advanced cancer.
While nearly 100 compounds initially showed some activity, the investigators identified one compound that could effectively break down PNCs in advanced prostate cancer cells. With the help of researchers at the University of Kansas, Lawrence, they modified the compound to make it work better as a potential drug and evaluated the effects of the molecule in different assays, or tests, in the laboratory. They found that metarrestin could block the way prostate and pancreatic cancer cells spread.
In collaboration with co-author Udo Rudloff, M.D., Ph.D., from NIH's National Cancer Institute's (NCI) Center for Cancer Research, the group evaluated the effects — including toxicity — of metarrestin in pancreatic cancer mouse models. The investigators found that it prevented the further spread of pancreatic cancer by disrupting the protein-making machinery of cancer cells, and mice treated with metarrestin lived longer than mice without treatment.
"Cancer cells are rapidly dividing and need to make more proteins than healthy cells to help carry out various activities, including the ability to spread," Rudloff said. "Interfering with the system stalls cancer cell metastasis."
Rudloff and his NCI group currently are working with scientists at the NCATS-led
Bridging Interventional Development Gaps
program to collect the pre-clinical data on metarrestin needed to further its development as a candidate drug. The scientists plan to file an Investigational New Drug (IND) application in the fall with the U.S. Food and Drug Administration (FDA). FDA IND approval is necessary before a candidate drug can be tested in patients.
The research was funded by NCATS and NCI through their intramural programs, and in addition, the National Human Genome Research Institute grant U54HG005031, the National Institute of General Medical Sciences grants R01GM078555 and R01GM115710, NCI grant 2 P30 CA060553-19, the V Foundation, a donation from the Baskes family to the Robert H. Lurie Comprehensive Cancer Center, donations from 'Running for Rachel' and the Pomerenk family via the Rachel Guss and Bob Pomerenk Pancreas Cancer Research Fellowship to NCI, the Robert H. Lurie Comprehensive Cancer Center – Translational Bridge Program Fellowship in Lymphoma Research and the Molecular Libraries Initiative funding to the University of Kansas Specialized Chemistry Center.
About the National Center for Advancing Translational Sciences (NCATS):
NCATS conducts and supports research on the science and operation of translation — the process by which interventions to improve health are developed and implemented — to allow more treatments to get to more patients more quickly. For more information about how NCATS is improving health through smarter science, visit
https://ncats.nih.gov
.
About the National Institutes of Health (NIH):
NIH, the nation's medical research agency, includes 27 Institutes and Centers and is a component of the U.S. Department of Health and Human Services. NIH is the primary federal agency conducting and supporting basic, clinical, and translational medical research, and is investigating the causes, treatments, and cures for both common and rare diseases. For more information about NIH and its programs, visit
www.nih.gov
.
NIH…Turning Discovery Into Health

®