Microglia are key defenders against prion diseases | National Institutes of Health (NIH)

Institute/Center
Contact
Microglia are key defenders against prion diseases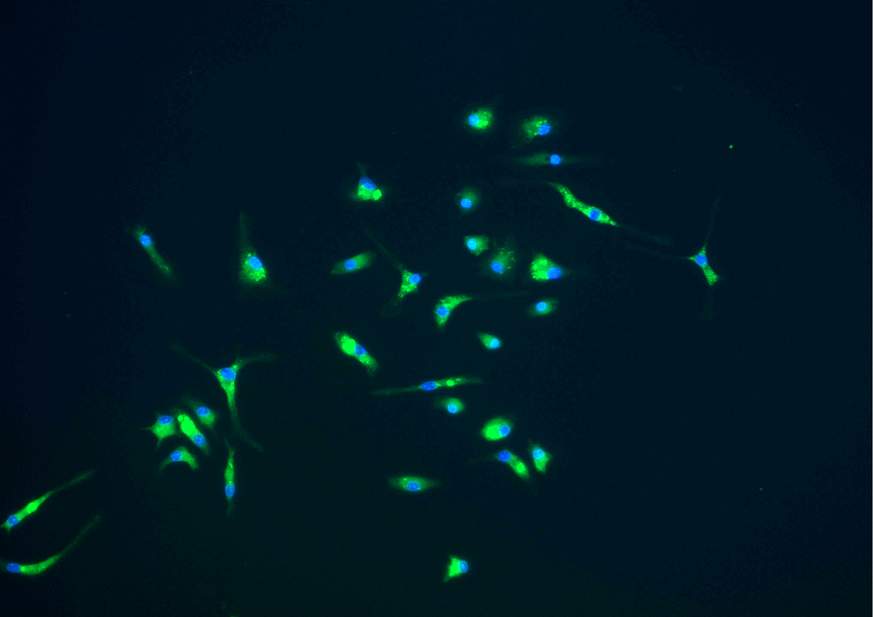 NIAID
What
Prion diseases are slow degenerative brain diseases that occur in people and various other mammals. No vaccines or treatments are available, and these diseases are almost always fatal. Scientists have found little evidence of a protective immune response to prion infections. Further, microglia — brain cells usually involved in the first level of host defense against infections of the brain — have been thought to worsen these diseases by secreting toxic molecules that can damage nerve cells.
Now, scientists have used an experimental drug, PLX5622, to test the role of microglia against scrapie, a prion disease of sheep. PLX5622 rapidly kills most of the microglia in the brain. When researchers gave the drug to mice infected with scrapie, microglia were eliminated and the mice died one month faster than did untreated mice. The results, published in the Journal of Virology by researchers from the National Institute of Allergy and Infectious Diseases at the National Institutes of Health, suggest that microglia can defend against a prion infection and thus slow the course of disease. The scientists hypothesize that microglia trap and destroy the aggregated prion proteins that cause brain damage.
The findings suggest that drugs that increase the helpful activity of microglia may have a role in slowing the progression of prion diseases. Researchers are now studying the details of how microglia may be able to destroy prions in the brain. The scientists note that microglia could have a similar beneficial effect on other neurodegenerative diseases associated with protein aggregation, such as Alzheimer's disease and Parkinson's disease.
Article
J Carroll, et al. Microglia are critical in host defense against prion disease. Journal of Virology DOI: 10.1128/JVI.00549-18 (2018).
Who
Bruce Chesebro, M.D., chief of the NIAID Laboratory of Persistent Viral Diseases, is available to comment on this study.
n
Contact
This press release describes a basic research finding. Basic research increases our understanding of human behavior and biology, which is foundational to advancing new and better ways to prevent, diagnose, and treat disease. Science is an unpredictable and incremental process — each research advance builds on past discoveries, often in unexpected ways. Most clinical advances would not be possible without the knowledge of fundamental basic research.
NIAID conducts and supports research — at NIH, throughout the United States, and worldwide — to study the causes of infectious and immune-mediated diseases, and to develop better means of preventing, diagnosing and treating these illnesses. News releases, fact sheets and other NIAID-related materials are available on the
NIAID website
.
About the National Institutes of Health (NIH):
NIH, the nation's medical research agency, includes 27 Institutes and Centers and is a component of the U.S. Department of Health and Human Services. NIH is the primary federal agency conducting and supporting basic, clinical, and translational medical research, and is investigating the causes, treatments, and cures for both common and rare diseases. For more information about NIH and its programs, visit
www.nih.gov
.
NIH…Turning Discovery Into Health

®