Virtual Reality: A Helping Hand After Stroke: MedlinePlus Health News
Wednesday, November 15, 2017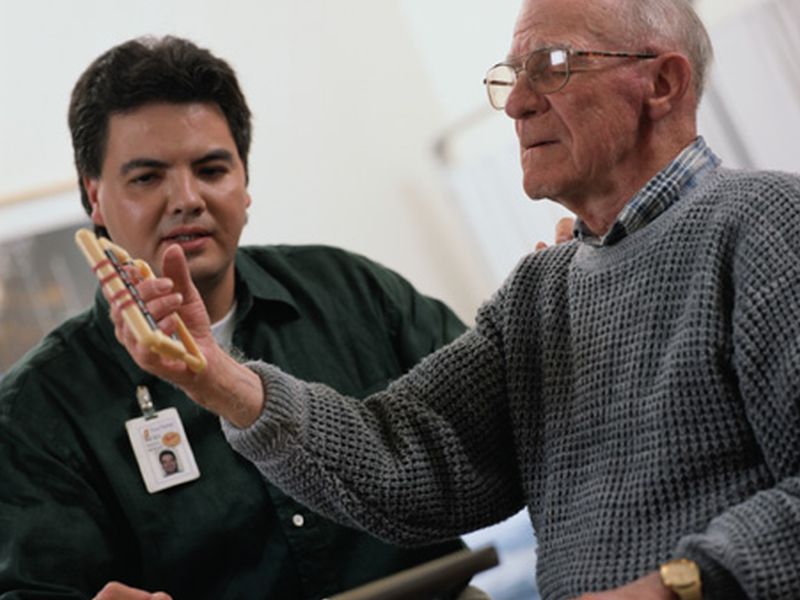 WEDNESDAY, Nov. 15, 2017 (HealthDay News) -- Virtual reality games have shown promise as a treatment for pain and the aftermath of trauma. Now, a new study finds the therapy can also help stroke patients recover some use of their arms and hands.
Playing these games was as effective as adding extra physical therapy to routine stroke rehabilitation, the researchers said.
But, "it is not a question of choosing one thing over the other, rather of having different training alternatives to provide variation," said study author Iris Brunner. She is an associate professor with the University of Aarhus and Hammel Neurocenter, in Denmark.
"Virtual reality cannot replace physical therapy. But it can be experienced as a game, motivating patients to do an extra treatment session," she explained.
Researchers are exploring a variety of medical uses for virtual reality. It's being used to reduce pain, control phobias and help soldiers recover from post-traumatic stress disorder.
In the new study, which Brunner described as the largest of its kind in stroke recovery research, the investigators recruited 120 stroke patients who had mild to severe hand weakness.
The patients were randomly assigned to add 16 hour-long therapy sessions to routine rehabilitation over a month. One group performed physical therapy, while the other group played a virtual reality game called YouGrabber.
In the game, "the patients wear gloves with sensors, and their movements are tracked by an infrared camera and transferred to a virtual arm on screen," Brunner explained.
"In different scenarios, they can grasp objects that come towards them or pick carrots. In other games, patients steer a plane or a car with their movement," Brunner added. "The therapist chooses the movements to be trained and the level of difficulty."
Players hear applause when they do well, and they get scores that are tracked over time. "The patient plays mainly to achieve a higher score than during the last game," she said.
Fifty patients in the physical therapy group and 52 in the virtual reality group completed the study and were evaluated after three months.
The researchers found no difference between the two groups in improvement in hand and arm function.
"Patients who started out with moderately to mildly impaired arm and hand motor function achieved, on average, a level of good motor function," Brunner said, while those with severe weakness were able to use their arms to make movements.
Patients with severe hand weakness appreciated how even small movements translated to the virtual arms on screen, she said. And even the older patients liked the virtual reality game, she noted, possibly because the graphics are simpler than those in commercial video games.
The cost of the virtual reality game wasn't available. The study was funded by various Norwegian and Danish research organizations and funds.
Kate Laver, a research fellow who studies virtual reality at Flinders University in Australia, said the study is larger than many previous studies, so it "provides more robust information."
And Laver said the researchers rightly conclude that virtual reality seems to help as much as physical theory, "and the real advantage may be that it is more motivating."
The potential for virtual reality's use in stroke patients is "huge," she added. "It provides rehabilitation staff with a way to increase the amount of therapy provided, and it also offers opportunities that are difficult to provide in rehabilitation settings. For example, someone can practice riskier activities like crossing the street or driving."
What's next?
Brunner said large studies are needed to understand the potential value of virtual reality as a stroke recovery treatment. It's also important to understand how it affects patients over time, she added.
The study was published online Nov. 15 in the journal Neurology.
SOURCES: Iris Brunner, Ph.D., associate professor, University of Aarhus and Hammel Neurocenter, Denmark; Kate Laver, Ph.D., research fellow, Flinders University, Australia; Nov. 15, 2017, Neurology, online
HealthDay
Copyright (c) 2017
HealthDay
. All rights reserved.
News stories are written and provided by HealthDay and do not reflect federal policy, the views of MedlinePlus, the National Library of Medicine, the National Institutes of Health, or the U.S. Department of Health and Human Services.
More Health News on