Three New Videos from NCI
10/23/2017 09:21 AM EDT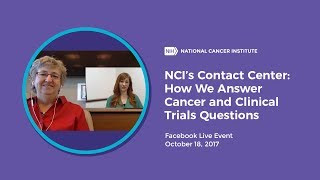 On October 18 at 12:00 p.m. ET, the National Cancer Institute hosted a Facebook Live event about the NCI Contact Center. Astrid Helgeson, NCI Contact Center Supervisor, discussed how the contact center helps people find information about cancer and clinical trials. The event was moderated by Cindy Lollar, who is part of the Office of Communications and Public Liaison at NCI.
www.cancer.gov/news-events/events/social-media
10/18/2017 04:22 PM EDT
Did you know that lung cancer is the leading cause of cancer death in both men and women in the United States? Watch the Lung Cancer Did You Know? video to learn about types of lung cancer, risk factors for developing lung cancer, and get statistics on lung cancer diagnoses and 5-year survival. For more statistics on risk factors, visit
seer.cancer.gov/statfacts/html/lungb.html
. Help raise awareness about lung cancer by sharing this video with friends, family, and your social media networks.
10/16/2017 12:20 PM EDT
Katie Pawelczak of NERx BioSciences shares her experience going through the I-Corps at NIH entrepreneurship program for NIH-funded companies. Audio Described version:
youtu.be/bvvOV9gIptQ
.
sbir.cancer.gov/icorps