Textured Breast Implants Linked to Rare Cancer: MedlinePlus Health News
Textured Breast Implants Linked to Rare Cancer
Researchers say many doctors and patients may be unaware of the risk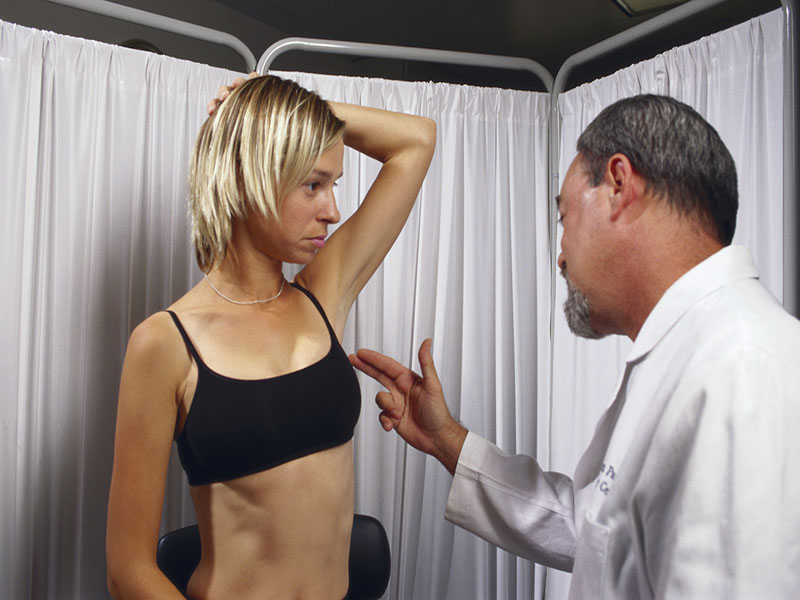 FRIDAY, Oct. 20, 2017 (HealthDay News) -- A particular breast implant may be associated with a rare type of cancer, researchers report.
Breast implant-associated anaplastic large cell lymphoma (BIA-ALCL) is estimated to affect 1 in 30,000 women each year, but researchers said it may actually be more common.
"We're seeing that this cancer is likely very underreported, and as more information on this type of cancer comes to light, the number of cases is likely to increase in the coming years," said Dr. Dino Ravnic. He is an assistant professor of surgery at Penn State College of Medicine.
Penn State investigators reviewed 115 research reports in which 95 patients were evaluated to learn more about risk, development and treatment of BIA-ALCL. Nearly all cases were associated with textured breast implants, which have a slightly rough surface to keep them in the correct position.
"We're still exploring the exact causes, but according to current knowledge, this cancer only really started to appear after textured implants came on the market in the 1990s," Ravnic said in a university news release.
This suggests a possible association that needs more study, the researchers said.
"All manufacturers of textured implants have had cases linked to this type of lymphoma, and we haven't seen cases linked to smooth implants," Ravnic said. "But in many of these cases the implant was removed without testing the surrounding fluid and tissue for lymphoma cells, so it's difficult to definitively correlate the two."
The researchers said BIA-ALCL may result from inflammation surrounding the implant, and tissue that grows into the tiny holes of a textured implant may prolong that inflammation. Chronic inflammation can lead to lymphoma, the investigators said.
Ravnic and his colleagues said doctors should inform patients about BIA-ALCL risk before implant surgery and stress the importance of regular checkups after implants are in place.
The review was published Oct. 18 in the journal JAMA Surgery.
SOURCE: Penn State, news release, Oct. 18, 2017
HealthDay
Copyright (c) 2017
HealthDay
. All rights reserved.
News stories are written and provided by HealthDay and do not reflect federal policy, the views of MedlinePlus, the National Library of Medicine, the National Institutes of Health, or the U.S. Department of Health and Human Services.
More Health News on
Friday, October 20, 2017