Many Women Mistaken on 'Side Effects' of Breast Cancer Drug: MedlinePlus Health News
Many Women Mistaken on 'Side Effects' of Breast Cancer Drug
Study shows that normal symptoms of menopause are often blamed on tamoxifen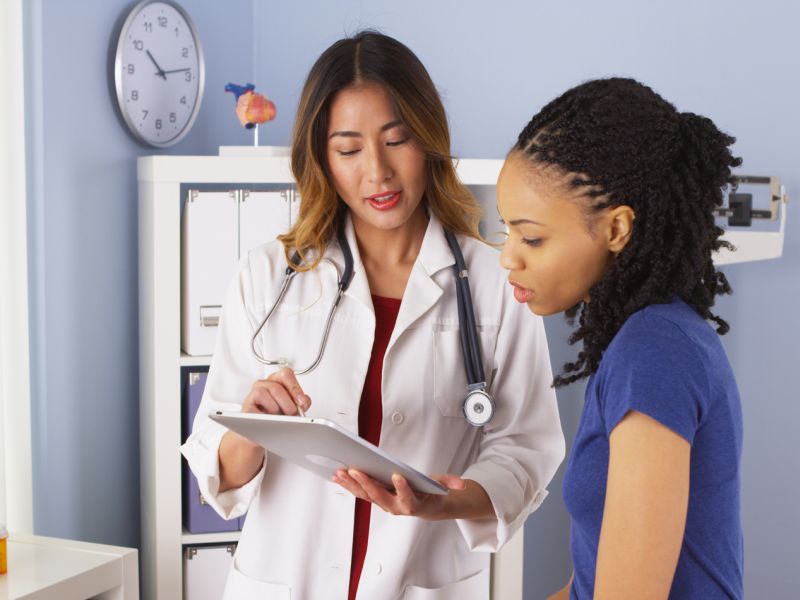 THURSDAY, June 29, 2017 (HealthDay News) -- Many women at high risk for breast cancer do not take the drug tamoxifen to prevent the disease, often because they confuse naturally occurring symptoms with side effects from the drug.
That's the finding of a new study of nearly 4,000 women tracked for almost five years in the United Kingdom.
One U.S. expert in breast cancer care wasn't surprised by the findings.
"It is true that many women who take the drug are perimenopausal, and it appears that the symptoms the women experience may have nothing to do with the drug and are rather simply due to age," explained oncologist Dr. Stephanie Bernik.
"This was already known by physicians, but it is always helpful to have a scientific report to back up the information you give a patient," said Bernik, who is chief of surgical oncology at Lenox Hill Hospital in New York City.
Tamoxifen is used to treat women with any breast cancer whose growth or recurrence is largely driven by estrogen. It's also been shown to reduce the risk of breast cancer by at least 30 percent in women who are at high risk due to a family history of breast cancer and other factors, the study authors noted.
However, the new research showed that, despite these potentially life-saving benefits, many women at high risk for breast cancer did not continue taking tamoxifen as prescribed.
The women in the study were randomly selected to take either a "dummy" placebo pill or tamoxifen for five years.
After at least 4.5 years, 74 percent of women taking the placebo pill were still taking it, compared to 65 percent of women in the tamoxifen group, the findings showed.
Drop-out rates were highest in the first 12 to 18 months of the study, the researchers said -- just over 7 percent in the placebo group and 12 percent in the tamoxifen group.
Symptoms reported by women in the study included nausea or vomiting, headaches, hot flashes and gynecological problems, such as irregular bleeding, vaginal dryness and vaginal discharge.
Those symptoms made a big difference in whether a woman stuck with the pill or not. After six months, 40 percent in both groups who reported symptoms of nausea or vomiting had stopped treatment, the British researchers said.
Symptom-related drop-out rates were "largely similar between women taking placebo or tamoxifen: The greater the severity, the less likely the women were to adhere to their treatment," study co-author Dr. Ivana Sestak, of Queen Mary University of London, said in a university news release.
The only exception was when women experienced headaches -- in that case, drop-outs tended to rise only in the group taking the placebo pill.
But Sestak pointed out that women who developed nausea or hot flashes dropped the pill -- even when it was the placebo.
"These symptoms clearly could not have been caused by the 'drug,' because it was a placebo," study co-author Dr. Samuel Smith, of the University of Leeds, said in the news release.
Taken together, Sestak said, the data "suggests that women may be attributing normally occurring, age-related symptoms, such as those experienced around the time of menopause, to their medication instead."
Dr. Cynara Coomer is chief of breast surgery and director of the Rusi-Marke Comprehensive Breast Center at Staten Island University Hospital in New York City. She reviewed the findings and agreed that "there is an urban myth that tamoxifen puts premenopausal and perimenopausal women into menopause."
"It's important to spend time debunking that myth for patients, as many of them are reluctant to take medication for that reason," Coomer said. "I have found in my practice that if a woman understands that her estrogen levels are not actually reducing and she is not going to menopause prematurely, she is more likely to try and stay on tamoxifen."
The British researchers suggested that better doctor-patient discussions could help.
"Communicating accurate information on side effects to patients, and highlighting that some naturally occurring symptoms may occur during the course of therapy, could be a useful approach in encouraging adherence," Sestak said. "This is particularly important for women who are expected to experience menopause while taking preventive therapy."
The study was published July 29 in the Journal of Clinical Oncology.
SOURCES: Cynara L. Coomer, M.D., chief of breast surgery and director, Florina Rusi-Marke Comprehensive Breast Center, Staten Island University Hospital, Staten Island, N.Y.; Stephanie Bernik, M.D., chief, surgical oncology, Lenox Hill Hospital, New York City; Queen Mary University of London, news release, June 29, 2017
HealthDay
Copyright (c) 2017
HealthDay
. All rights reserved.
News stories are written and provided by HealthDay and do not reflect federal policy, the views of MedlinePlus, the National Library of Medicine, the National Institutes of Health, or the U.S. Department of Health and Human Services.
More Health News on
Thursday, June 29, 2017