CT Scans Might Help Gauge Heart Attack Risk: MedlinePlus Health News
CT Scans Might Help Gauge Heart Attack Risk
Researchers aim to identify vulnerable patients before damage becomes irreversible
Wednesday, July 12, 2017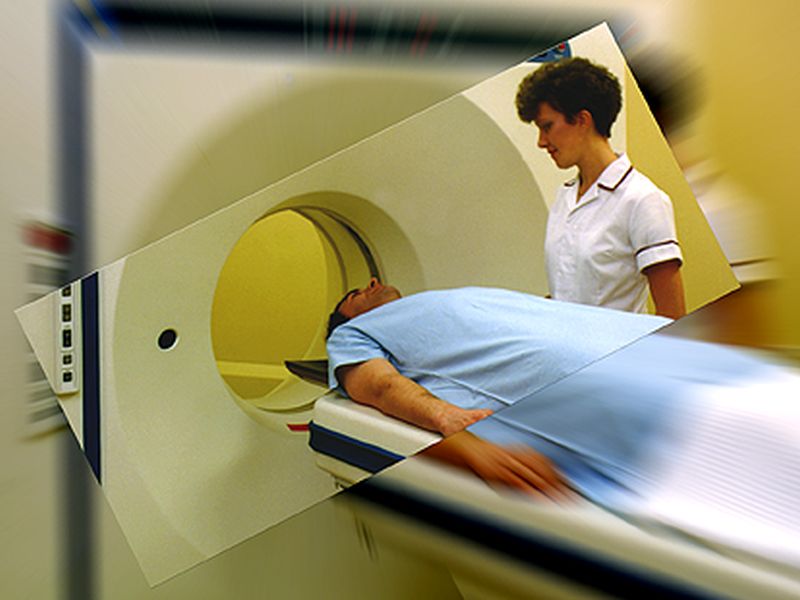 WEDNESDAY, July 12, 2017 (HealthDay News) -- A new CT scan analysis may allow doctors to identify blood vessel inflammation before heart problems actually crop up, researchers report.
Detecting inflammation before it hardens into irreversible plaque could potentially help cardiologists prevent heart attacks, the scientists said.
"Currently, CT only tells you whether there are narrowings in the arteries of the heart, but there is no imaging to tell you which one of these narrowings is prone to rupture, a process that would lead to heart attacks," said lead researcher Dr. Charalambos Antoniades.
"The vulnerable narrowings, or plaques, are the highly inflamed ones," explained Antoniades, an associate professor of cardiovascular medicine at the University of Oxford in England. "Detecting inflammation would allow detection of vulnerable patients prone to have heart attacks."
Antoniades and his colleagues developed the diagnostic tool for use with routine computerized tomography (CT) scans.
The measurement -- called the CT fat attenuation index (FAI) -- is based on changes in the size of fat cells.
"The new method relies on our discovery that the fat surrounding our heart arteries senses inflammation in the neighboring artery, which results in changes in the fat," Antoniades said.
Half of heart attacks happen following rupture of minor plaques in heart vessels that are highly inflamed but not significantly narrowed, Antoniades said. No currently available test identifies this problem.
"Now we can detect these people, and if we treat them with aggressive prevention therapies, such as statins, we will be able to prevent heart attacks," he said.
Results of his team's study were published July 12 in the journal Science Translational Medicine.
About 750,000 Americans have a heart attack every year, and heart disease causes one in every four deaths in the United States, according to a journal news release.
Dr. Byron Lee is director of the electrophysiology laboratories at the University of California, San Francisco.
"Contrary to popular belief, it's typically not the tight lesions in our coronary arteries that lead to the severe and deadly heart attacks," he said. "Rather, it's the unstable lesions, which previously could only be identified with an invasive or expensive test."
This study shows that unstable plaque can be identified with a simple CT scan, Lee said.
"We might now be able to prevent even more heart attacks by intensifying therapy when these unstable lesions are found," he added.
But before the technology can move to clinical practice, the test's value must be proven in further studies, said Dr. Gregg Fonarow, a spokesman for the American Heart Association
Additional studies "will be required to evaluate the validity, reproducibility, and any potential clinical utility of this index," said Fonarow, a professor of cardiology at the University of California, Los Angeles.
CT scans are already commonly ordered for patients with chest pain. So using them for patients at risk for heart attacks would add only a minimal cost to their treatment, Antoniades said. His team tested the index in samples from more than 450 patients undergoing cardiac surgery.
In addition, 40 patients underwent a more expensive positron emission tomography (PET) scan. These scans showed that an increased attenuation index was tied to a striking amount of blood vessel inflammation, Antoniades said.
Working with 270 additional patients with and without significant coronary plaques, the researchers said the index changed dramatically around damaged vessels in five heart attack survivors.
Antoniades explained that this index is different from tests that measure calcium buildup in blood vessels.
The coronary calcification score only detects hardened arteries when damage has become irreversible. It doesn't change with treatment, and it can't distinguish which blood vessel plaques are most likely to rupture, he said.
However, Antoniades suggested that "calcium measures can be combined with the index, providing additional information and possibly better risk stratification."
Antoniades said he expects an ongoing trial of 2,000 people who have had coronary CT scans "will confirm the ability of the method to predict who will die from a heart attack."
SOURCES: Charalambos Antoniades, M.D., Ph.D., associate professor, cardiovascular medicine, University of Oxford, England, U.K.; Gregg Fonarow, M.D., spokesman, American Heart Association, and professor, cardiology, University of California, Los Angeles; Byron Lee, M.D., professor, medicine, and director, electrophysiology laboratories and clinics, University of California, San Francisco; July 12, 2017, ScienceTranslational Medicine
HealthDay
Copyright (c) 2017
HealthDay
. All rights reserved.
News stories are written and provided by HealthDay and do not reflect federal policy, the views of MedlinePlus, the National Library of Medicine, the National Institutes of Health, or the U.S. Department of Health and Human Services.
More Health News on