Are Doctors Discarding Donor Kidneys That Could Save Lives?: MedlinePlus Health News
Are Doctors Discarding Donor Kidneys That Could Save Lives?
Study found suboptimal organs prolonged lives and were a much better option than dialysis
Thursday, July 6, 2017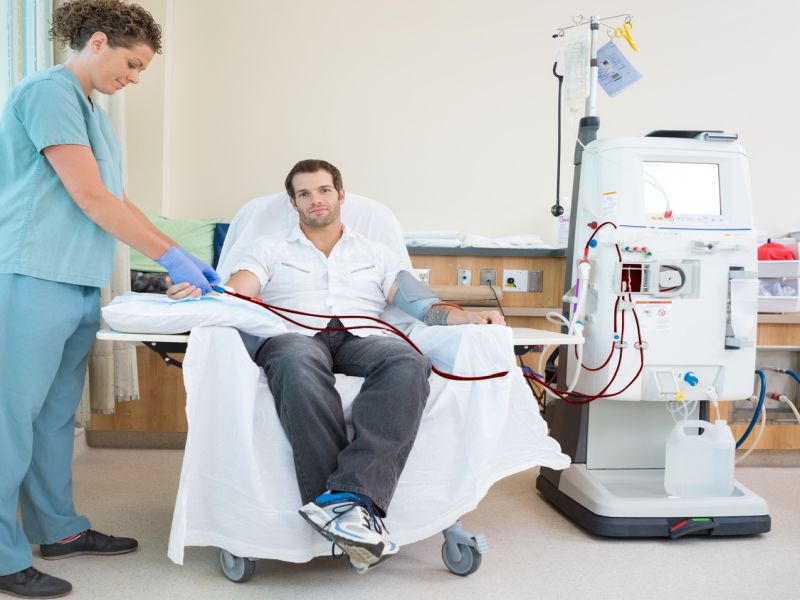 THURSDAY, July 6, 2017 (HealthDay News) -- U.S. doctors are discarding donated kidneys that could keep people alive for years, simply because the organs are not top-quality, a new study claims.
"Suboptimal" kidneys from older donors with health problems perform much better than expected, and would preserve a patient's life much longer than dialysis, said lead researcher Dr. Sumit Mohan, an assistant professor at Columbia University's Mailman School of Public Health.
About 73 percent of lower-quality kidneys received by Columbia patients were still functioning five years after transplant, Mohan and his colleagues found.
"To our surprise, yes, they did worse than the best-quality kidneys, but they didn't do that poorly," Mohan said.
By comparison, the five-year survival rate for kidney patients on dialysis is about 35 percent, Mohan said.
"If I don't get a kidney, my alternative is to stay on dialysis," Mohan said. "Even getting a suboptimal kidney provides a huge survival advantage."
Unfortunately, about 1 in 5 donated kidneys winds up in a trash can in the United States, Mohan said, even though the United Network for Organ Sharing shows more than 97,000 people are now on the waiting list for a kidney transplant.
These kidneys are discarded because biopsies of donated organs reveal scarring or other problems that make them less than ideal, Mohan said.
When is a donor kidney good enough?
Some low-quality kidneys are rightfully discarded, Mohan said, but he suspected that many donor kidneys could still provide years of good function.
To test this idea, Mohan and his team reviewed 975 kidney transplants that occurred at Columbia University Medical Center between 2005 and 2009.
Kidneys from living donors provided the best outcome for patients, with 91 percent still working five years after transplant regardless of whether the organ was damaged, the researchers found.
Living donors undergo intense screening to make sure they are healthy enough to donate a kidney, Mohan explained. In addition, kidneys from living donors are not damaged during organ preservation and transport.
"You should take a living donor kidney regardless of anything else you know about that living donor," Mohan said. "It's always going to be better than a deceased donor kidney."
But high-quality kidneys from deceased donors functioned well, with nearly 82 percent still working after five years, the researchers found.
Surprisingly, most lower-quality kidneys also remained viable for nearly as long as the best kidneys, with 73 percent still working five years after transplant, the study showed.
By eight years after transplant, 62 percent of optimal kidneys and 53 percent of suboptimal kidneys from deceased donors still functioned, Mohan said.
The findings were published online July 6 in the Journal of the American Society of Nephrology.
Are biopsies the best way to decide?
The problem?
Doctors rely too heavily on biopsies in judging whether they will accept a kidney for transplant, said Mohan and Dr. Richard Formica, director of transplant medicine at the Yale School of Medicine.
Biopsies of donated kidneys are often reviewed by pathologists who are not kidney experts, Mohan and Formica explained. These general pathologists are not as capable as specialists of performing a nuanced review of each organ's quality.
In addition, biopsy results can vary depending on where the tissue sample is taken from the kidney, and might not accurately reflect the overall quality of the kidney, Formica added.
Finally, many biopsy samples are frozen, and the freezing process can distort what a pathologist sees under the microscope, Formica said.
"I don't think the way we do biopsies currently in assessing whether or not organs get transplanted gives the clinicians the ability to make an informed decision," Formica said. "That's the problem with biopsy."
Mohan and Formica couldn't say whether the problem extends to other donated organs, such as hearts or livers.
Doctors might be choosier regarding kidneys because patients can be kept alive through dialysis, whereas a person needing a new heart or liver will die without the donation, Formica said.
Lower the bar to save more lives?
"People don't realize if I turn down a kidney that's coming for somebody, it's not that that person is going to sit on the waiting list forever just waiting for the perfect kidney," Mohan said. "There's a significant possibility they're going to die before the next kidney shows up, because the mortality rate on dialysis is so high."
Mohan believes that transplant doctors should rely more heavily on a donor's medical records to decide whether a kidney is viable, and use biopsies solely to help evaluate truly questionable donations.
"If you know age of the donor, the gender, the race, the clinical history, you pretty much already can guess 9 times out of 10 what the biopsy is going to show you," Mohan said. "Looking at a bad biopsy shouldn't sway you further away from using that kidney."
The U.S. organ donation system also should consider changing the way it distributes donated kidneys, to provide people further down the waiting list the option of taking a less-than-perfect kidney if it suits them, said Formica, secretary of the American Society of Transplantation.
"If you're 65 or 70 years old, waiting six years for a kidney isn't really an option," Formica said. "You're either dead or you're not going to have any more fun in your retirement. However, if you could get a kidney that was not perfect but was good enough, if you could get that kidney in two years and then get to take that Danube River cruise you always wanted. That's not a bad trade."
SOURCES: Sumit Mohan, M.D., MPH, assistant professor, Mailman School of Public Health, Columbia University, New York City; Richard Formica, M.D., professor and director, transplant medicine, Yale School of Medicine, New Haven, Conn.; Journal of the American Society of Nephrology
HealthDay
Copyright (c) 2017
HealthDay
. All rights reserved.
News stories are written and provided by HealthDay and do not reflect federal policy, the views of MedlinePlus, the National Library of Medicine, the National Institutes of Health, or the U.S. Department of Health and Human Services.
More Health News on