https://medlineplus.gov/news/fullstory_162495.html
Whether Statins Cut Alzheimer's Risk May Depend on Gender, Race
Type of statin used also made a difference in study, but black men did not see any benefits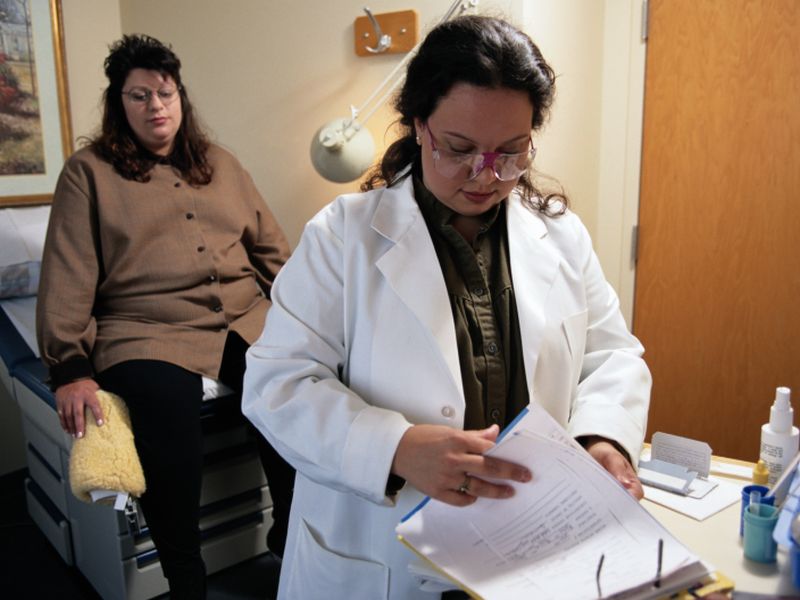 MONDAY, Dec. 12, 2016 (HealthDay News) -- Could cholesterol-fighting statins fend off Alzheimer's disease?
A new, large study suggests that if they do have that power, it may depend on the specific statin, and the gender and race or ethnicity of the person taking it.
For example, black men appeared to gain no benefit from taking any statin, while white women may lower their risk regardless of which statin they take, the researchers said.
The findings don't prove that statins reduce the chances of developing Alzheimer's. And if they do shrink the risk, the effect seems to be small.
Still, "those with high exposure to statins had a reduced risk of [Alzheimer's disease] compared to those with low exposure. And it varied by type of statin and for men, women and for different racial and ethnic individuals," said study author Julie Zissimopoulos. She is associate director of the Schaeffer Center for Health Policy and Economics at the University of Southern California in Los Angeles.
Previous research has suggested that high cholesterol in later life seems to boost the risk of Alzheimer's disease while statins reduce it, said Dr. Gail Li. She is an associate professor in the department of psychiatry and behavioral sciences at the University of Washington in Seattle.
But Li, who was not involved with the new study, added that statins don't seem to help patients who already have Alzheimer's.
The new study aimed to understand how specific groups of people might be affected by the therapy.
The researchers tracked almost 400,000 statin users, all aged 65 or older, who took the medications between 2006 and 2013.
In the study, Zissimopoulos said, "We examine individuals who have been taking statins consistently for at least two years, between the years 2006 and 2008, and follow them for another five years to examine onset of Alzheimer's. We compare them to groups of individuals with low exposure that either took statins less consistently between 2006 and 2008, or started them later -- after 2008."
Overall, the researchers linked high use of statins to a 15 percent lower risk of Alzheimer's in women and a 12 percent lower risk in men compared to those who had low use.
Those who took simvastatin (Zocor) had 10 percent to 23 percent lower risk, depending on their gender and race. However, the researchers saw no benefit for black men.
Among those who used atorvastatin (Lipitor) the most, white men and black men had no apparent benefit, while the risk of Alzheimer's was 16 percent to 39 percent lower for white women, black women and Hispanics.
Only white women appeared to gain a benefit from high usage of pravastatin (Pravachol) and rosuvastatin (Crestor): They had about an 18 percent lower risk of developing Alzheimer's disease, the findings showed.
According to Zissimopoulos, the lifetime risk of developing Alzheimer's disease is between 9 percent and 17 percent at the age of 65.
For her part, Li is skeptical of the new findings. She eyed the results with caution, saying there may be too few people in some of the ethnic groups to come up with statistically reliable conclusions.
Dr. Benjamin Wolozin, a professor with the departments of pharmacology and neurology at Boston University School of Medicine, said genetics may explain the differences between the groups. As to why statins may reduce Alzheimer's risk, he said it may have something to do with the power of the drugs to promote good blood flow to the brain.
An expert in aging research, Dr. Eric Larson, executive director of the Group Health Research Institute in Seattle, had another theory: "Some of the variation could be based on patterns of care -- how drugs are prescribed to different types of patients and also the baseline levels of vascular risk. Black men are likely to have more than just high cholesterol levels -- [they may have] other conditions that increase risk and aren't affected by statins."
What should people who use statins do?
Larson said, "People who have high levels of cholesterol and other conditions that predispose them to vascular diseases should definitely consider taking statins for their benefit in general, and can also feel like they are doing something for their risk of dementia and Alzheimer's."
But, he added, "I would not use the results of this study to guide choices of statins. Things like tolerability, cost and so forth may be more important for many people."
The study was published online Dec. 12 in the journal JAMA Neurology.
SOURCES: Julie Zissimopoulos, Ph.D., associate director, Schaeffer Center for Health Policy and Economics, University of Southern California, Los Angeles; Gail Li, M.D., Ph.D., associate professor, department of psychiatry and behavioral sciences, University of Washington, and geriatric psychiatrist, Veterans Affairs Puget Sound Health System, Seattle; Eric Larson, M.D., MPH, executive director, Group Health Research Institute, Seattle; Benjamin Wolozin, M.D., professor, department of pharmacology and neurology, Boston University School of Medicine; Dec. 12, 2016, JAMA Neurology, online
HealthDay
Copyright (c) 2016
HealthDay
. All rights reserved.
News stories are provided by HealthDay and do not reflect the views of MedlinePlus, the National Library of Medicine, the National Institutes of Health, the U.S. Department of Health and Human Services, or federal policy.
More Health News on:
Monday, December 12, 2016