Palliative care improves quality of life in cancer patients | National Institutes of Health (NIH)

Palliative care improves quality of life in cancer patients
At a Glance
Patients who received palliative care during a bone marrow transplant reported a better quality of life and reduced symptoms during hospitalization.
Further studies will be needed to assess long-term outcomes and costs.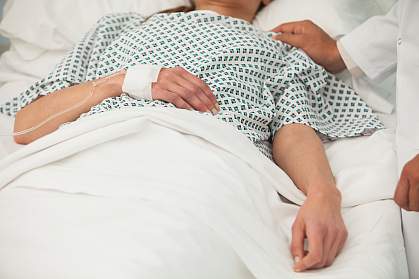 Wavebreakmedia/iStock/Thinkstock
Palliative care is comprehensive treatment to ease the discomfort, symptoms, and stress of serious or life-threatening illnesses, such as cancer, dementia, or heart and lung conditions. It also provides emotional and social support to patients and caregivers. Palliative care can begin as soon as a person is diagnosed with a condition, and may continue along with treatments and follow-up. It differs from hospice, or end-of-life care, which is offered to those whose illness or condition is unlikely to be cured.
A research team led by Dr. Areej El-Jawahri of Massachusetts General Hospital examined the effectiveness of inpatient palliative care on quality of life in patients undergoing bone marrow transplantation. A bone marrow transplant is a difficult process. Patients first receive high-dose chemotherapy to remove diseased blood and bone marrow cells. Side effects can include pain, nausea, vomiting, diarrhea, fatigue, and insomnia. About a week later, patients get an infusion of healthy blood stem cells to repopulate their bone marrow. Because they're vulnerable to infection before the bone marrow's functioning, patients are isolated from family and friends. They thus may experience both physical and emotional distress.
The researchers enrolled 160 people (average age 57 years) who underwent a bone marrow transplant to treat blood cancers such as leukemia and lymphoma. Participants, along with their caregivers, were randomized to receive either standard care (control group) or palliative care integrated with standard care.
Patients in the treatment group were seen at least twice a week by palliative care clinicians (physicians or advance practice nurses). The visits, which family or friends could also attend, provided support and strategies to manage physical and psychological symptoms. The patients received at least 4 visits, with a median of 8, over about 20 days of hospitalization. The research was supported in part by NIH's National Cancer Institute (NCI). Results were published on November 22, 2016, in Journal of the American Medical Association.
The researchers found that after 2 weeks of hospitalization—when treatment is usually the most toxic—patients who received palliative care reported reduced symptoms, a smaller decrease in quality of life, and less depression and lower anxiety compared to patients in the control group. Patients who received the palliative care intervention also reported some improvements after 3 months, such as better quality of life and less depression, but no significant differences in anxiety, fatigue, or symptoms.
In an accompanying paper, an NIH-funded group led by Dr. Dio Kavalieratos of the University of Pittsburgh School of Medicine reviewed 43 studies of palliative care interventions. The analysis included almost 13,000 adults with serious illness and more than 2,400 of their caregivers. The team found that the interventions were associated with improvements in quality of life and less frequent and severe symptoms, but not with improved survival.
"We need to find ways of integrating palliative care concepts in patients' usual care experiences so it isn't a luxury, but a standard part of health care for those living with serious illness," Kavalieratos says.
More work will be needed to assess the impact of palliative care, including long-term outcomes and cost implications.
—by Carol Torgan, Ph.D.
Related Links
References:
Effect of Inpatient Palliative Care on Quality of Life 2 Weeks After Hematopoietic Stem Cell Transplantation: A Randomized Clinical Trial.
El-Jawahri A, LeBlanc T, VanDusen H, Traeger L, Greer JA, Pirl WF, Jackson VA, Telles J, Rhodes A, Spitzer TR, McAfee S, Chen YA, Lee SS, Temel JS.
JAMA
. 2016 Nov 22;316(20):2094-2103. doi: 10.1001/jama.2016.16786. PMID: 27893130.
Association Between Palliative Care and Patient and Caregiver Outcomes: A Systematic Review and Meta-analysis.
Kavalieratos D, Corbelli J, Zhang D, Dionne-Odom JN, Ernecoff NC, Hanmer J, Hoydich ZP, Ikejiani DZ, Klein-Fedyshin M, Zimmermann C, Morton SC, Arnold RM, Heller L, Schenker Y.
JAMA
. 2016 Nov 22;316(20):2104-2114. doi: 10.1001/jama.2016.16840. PMID: 27893131.
Funding:
NIH's National Cancer Institute (NCI), National Heart, Lung, and Blood Institute (NHLBI), National Institute of Nursing Research (NINR), and National Center for Advancing Translational Sciences (NCATS); Agency for Healthcare Research and Quality; National Palliative Care Research Foundation; Cystic Fibrosis Foundation; National Palliative Care Research Center; and the American Cancer Society.