https://medlineplus.gov/news/fullstory_162522.html
Immune-Focused Drug Shows Promise Against Lung Cancer
Tecentriq extended survival by several months for patients with advanced disease, study found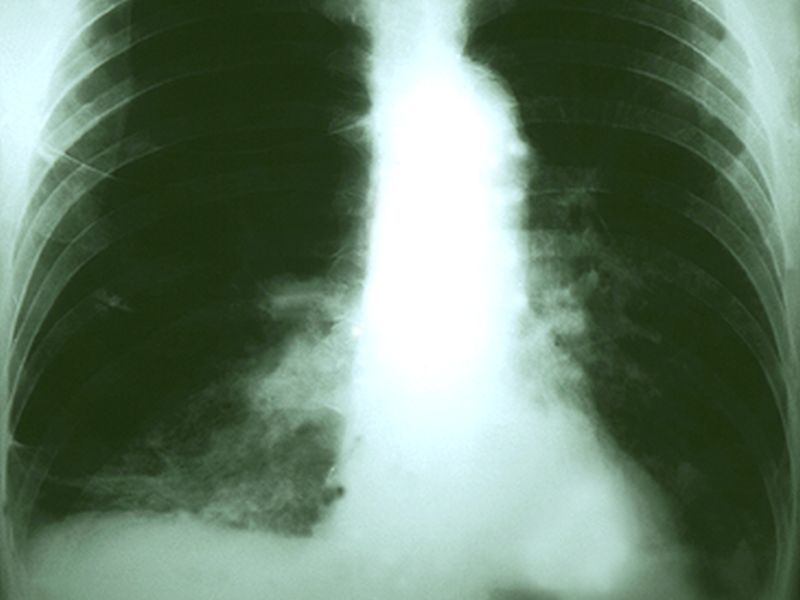 TUESDAY, Dec. 13, 2016 (HealthDay News) -- An immunotherapy drug called Tecentriq (atezolizumab) extended the survival of lung cancer patients for several months longer than chemotherapy and caused fewer side effects, according to a new study.
The findings are from an early analysis of 850 patients with non-small cell lung cancer in a phase 3 trial funded by the drug's makers.
According to the American Cancer Society, non-small cell lung cancer is the major form of the disease, comprising up to 85 percent of cases. Lung cancer remains the leading cancer killer in the United States, with more than 158,000 people expected to die from the disease this year.
The patients in the new trial had run out of treatment options. They received either Tecentriq or the chemotherapy drug docetaxel -- the standard treatment for this type of cancer.
According to a team led by Dr. David Gandara of the University of California, Davis Comprehensive Cancer Center, patients who took Tecentriq survived for an average of 13.8 months, compared with 9.6 months for those on chemotherapy.
Patients taking Tecentriq also had lower rates of severe side effects. About 15 percent experienced such issues while on Tecentriq, compared to about 43 percent of those on standard chemotherapy, Gandara's team said.
Still, side effects from either regimen could be severe, the study authors noted. Overall, close to 8 percent of patients in the Tecentriq group stopped treatment compared with nearly 19 percent of those in the chemotherapy group.
The study, published Dec. 12 in The Lancet, was funded by F. Hoffmann-La Roche Ltd. and Genentech Ltd. It was an "open label" trial, meaning that both patients and doctors knew whether or not patients were receiving Tecentriq.
The drug helps curb tumors by blocking what's known as the "programmed death ligand 1" (PD-L1) protein. This protein resides on the surface of tumor cells and is thought to help the cell hide from immune system attack. So, drugs like Tecentriq block the protein, making cancer cells more vulnerable.
"This is the first phase 3 trial of a PD-L1-directed immunotherapy in lung cancer," Gandara said in a journal news release. "The fact that it improves survival in patients with all categories of PD-L1 expression is highly encouraging and adds to the already known benefits of immunotherapy in lung cancer," he added.
Dr. Kevin Sullivan is an oncologist at Northwell Health Cancer Institute in Lake Success, N.Y. He noted that Tecentriq is now "the third drug in this very unique class of immunotherapies to be approved for use in lung cancer in the 'second line' setting -- after patients have already failed treatment with standard chemotherapy."
However, "these drugs can have some serious side effects that clinicians need to be aware of, including life-threatening autoimmune complications," Sullivan said. "Additionally, it still needs to be understood why certain patients do not benefit from these therapies or why their disease eventually progresses after obtaining a response in their tumors."
SOURCES: Kevin Sullivan M.D., medical oncologist, Northwell Health Cancer Institute, Lake Success, N.Y.; The Lancet, news release, Dec. 12, 2016
HealthDay
Copyright (c) 2016
HealthDay
. All rights reserved.
News stories are provided by HealthDay and do not reflect the views of MedlinePlus, the National Library of Medicine, the National Institutes of Health, the U.S. Department of Health and Human Services, or federal policy.
More Health News on:
Tuesday, December 13, 2016