Routine School Vaccine Requirements Raise HPV Shot Rates, Too: MedlinePlus Health News
Routine School Vaccine Requirements Raise HPV Shot Rates, Too
There may be a 'spillover' effect when kids get other mandated immunizations, study finds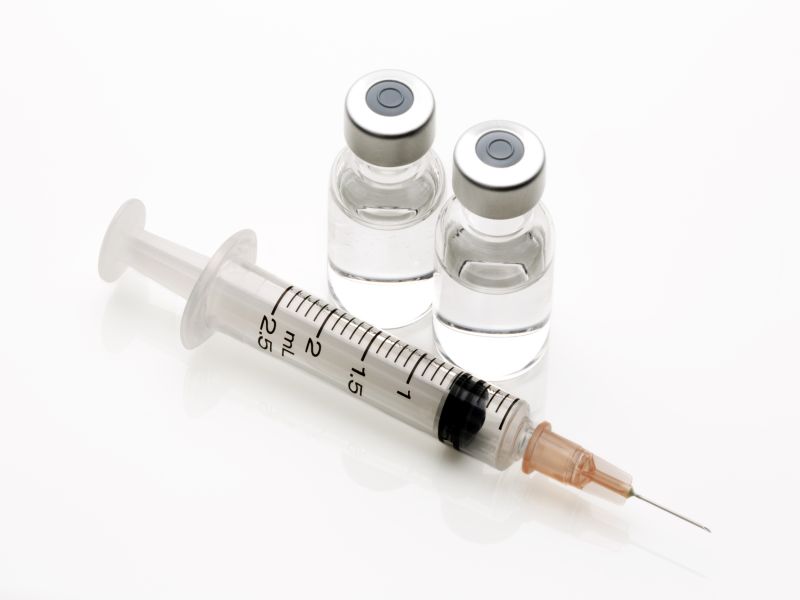 TUESDAY, Nov. 8, 2016 (HealthDay News) -- Schools that require routine vaccines as a condition of attendance have higher rates of vaccination, including higher rates of immunization for the human papillomavirus (HPV), a new study finds.
The HPV vaccine protects against cervical cancer, as well as other cancers linked to the sexually transmitted virus.
Children at these schools are also more likely to get recommended shots for tetanus, diphtheria and pertussis (whooping cough) -- the so-called Tdap shot -- and meningitis (the meningococcal vaccine), researchers said.
One pediatrician who reviewed the new findings believes school mandates can have a big influence on whether or not a child gets immunized.
"Tdap and meningococcal vaccinations rates tend to be higher due to mandatory legislation as a requirement for school entry," said Dr. Jane Swedler, chief of adolescent medicine at Winthrop-University Hospital in Mineola, N.Y.
She added that "HPV vaccination rates are [also] higher in states where there are mandatory school entry requirements, as well as when all vaccines are administered at the same time."
The new study seemed to confirm that. The research was led by Jennifer Moss of the University of North Carolina at Chapel Hill.
Her team tracked vaccination rates over five years for 100,000 teens nationwide. The researchers found that, compared to states without Tdap and meningococcal vaccine requirements, those with such requirements had 22 and 24 percent increases, respectively, in coverage for these vaccines.
The researchers also found that Tdap booster and meningococcal vaccination requirements were associated with larger "spillover" increases in HPV vaccination coverage.
As of the 2015 school year, 47 states had requirements for Tdap booster, 25 states for the meningococcal vaccine, and three states for HPV vaccination.
According to Moss' group, officials should consider changing school entry requirements to increase HPV vaccination rates. An "indirect" approach -- of adopting Tdap booster or meningococcal vaccination requirements -- might help, the research team said.
Swedler agreed.
"The U.S. Centers for Disease Control and Prevention recommends routine vaccinations of Tdap, meningococcal and HPV at the age 11 to 12 annual visit," she said.
"A significant contributor to low HPV rates of vaccinations is that physicians are less likely to recommend HPV vaccinations as a routine vaccine, along with Tdap and meningococcal vaccine, at the same 11-12 year old visit," she said.
Another pediatrician said the "indirect approach" suggested by the researchers could make a difference.
"To increase HPV vaccination rates, policymakers in more states should also consider adopting meningococcal vaccination requirements for school entry [most already require Tdap vaccine]," said Dr. Henry Bernstein, a pediatrician at Cohen Children's Medical Center, in New Hyde Park, N.Y. "Many states have not yet done this, but they should."
"Policymakers also should make vaccine exemptions harder to get," Bernstein added. "Families should not be able to "opt-out" unless there is a documented medical reason... Vaccines are safe and effective, and serious disease can occur if children and families are not vaccinated. Public health depends on it."
The study was published online Nov. 8 in the journal Pediatrics.
SOURCES: Jane Swedler, M.D., chief, adolescent medicine, Winthrop-University Hospital, Mineola, N.Y.; Henry Bernstein, M.D., pediatrician, Cohen Children's Medical Center, New Hyde Park, N.Y.; Pediatrics, news release, Nov. 8, 2016
HealthDay
Copyright (c) 2016
HealthDay
. All rights reserved.
News stories are provided by HealthDay and do not reflect the views of MedlinePlus, the National Library of Medicine, the National Institutes of Health, the U.S. Department of Health and Human Services, or federal policy.
More Health News on:
Tuesday, November 8, 2016