Spikes in Blood Pressure Don't Always Need ER Care: MedlinePlus
Spikes in Blood Pressure Don't Always Need ER Care
Most cases of 'hypertensive urgency' can be treated safely in doctor's office, large study finds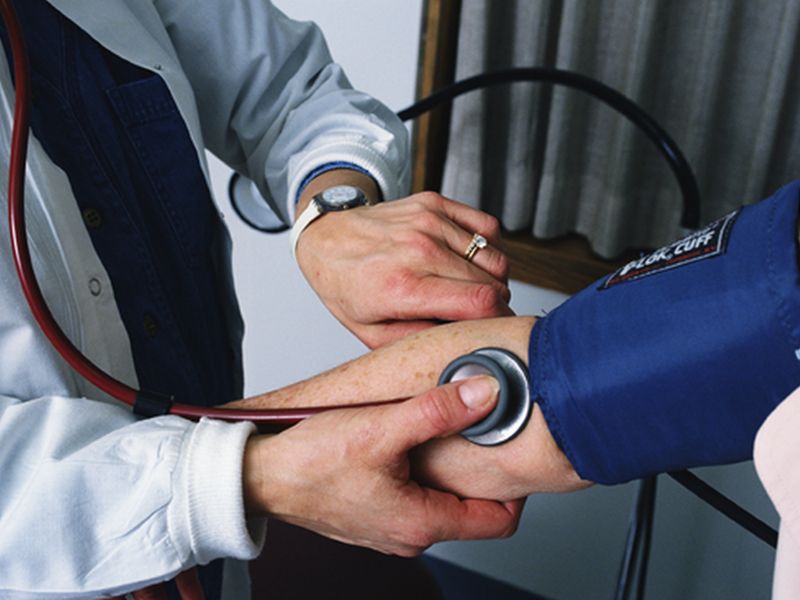 MONDAY, June 13, 2016 (HealthDay News) -- If your blood pressure reading at a routine doctor's office visit is alarmingly high, in most cases that doesn't mean a trip to the emergency room, a new study suggests.
In the Cleveland Clinic study of office visits by almost 60,000 patients with "hypertensive urgency" (very high blood pressure), less than 1 percent needed a referral to a hospital ER.
The rest were treated and then sent home with no added risk in terms of patient outcomes, the researchers said.
"Hypertensive urgency is common in the outpatient setting," noted the team led by the clinic's Dr. Krishna Patel. However, the researchers believe that "most patients probably can be safely treated in the outpatient setting, because cardiovascular complications are rare in the short term."
Dr. Suzanne Steinbaum, who directs Women's Heart Health at Lenox Hill Hospital in New York City, called the finding "reassuring."
"For those patients with hypertension, an episode of elevated blood pressure can be alarming," she said.
However, the Cleveland study suggests that "hypertensive urgency -- defined as a blood pressure of at least 180/110 [millimeters of mercury, or mm Hg] -- without symptoms or evidence of end organ damage can be managed safely as an outpatient," Steinbaum said.
The findings are published online June 13 in JAMA Internal Medicine.
As the researchers explained, high blood pressure can result in organ damage over time. So, doctors may be concerned about the threat of organ damage in people with severely elevated blood pressure -- even for a brief period.
But it's been unclear whether the best course of action is to send such patients to the ER.
The new study found it was only necessary in a small minority (0.7 percent) of patients. And overall, patients referred to the ER and those sent home had similar rates of major heart problems within the next week, month and year, the research team said.
Patients who were sent home had lower odds of needing admission to a hospital over the next week, compared to those who'd been sent to the ER, the study found.
And while patients who were sent home were more likely to have uncontrolled blood pressure one month later, this difference faded away by the six-month mark, Patel's team said.
Treating people outside of the ER could be cost-effective, too.
Sending people to the hospital "was associated with increased use of health care resources but not better outcomes," the Cleveland Clinic researchers reported.
All of this doesn't mean that most patients' hypertension disappeared, however: Most still had uncontrolled high blood pressure months later, the study found.
That was a concern for Steinbaum.
"The real issue becomes addressing the reality that two-thirds of [study] patients who were either hospitalized or outpatient had uncontrolled blood pressures at six months," she said.
Dr. Howard Selinger is chair of family medicine at the Frank H. Netter M.D. School of Medicine at Quinnipiac University, in North Haven, Conn. He believes doctors must still treat hypertensive patients on a case-by-case basis.
Frailty is a key factor, Selinger said.
"If this patient is a frail elderly who perhaps sustained an earlier stroke, that changes the potential for an adverse outcome," he explained.
Other factors -- including the speed at which treatment is available in an outpatient setting, or transport or communication issues -- should also factor into the decisions physicians make, Selinger said.
And, of course, a spike in blood pressure becomes more urgent when other symptoms of heart trouble are present, he added.
"Not to be confused as a hypertensive urgency is a hypertensive crisis -- in which symptoms are already present, such as severe headache, visual changes, chest pains," Selinger stressed. In those cases, ER care may be warranted, he said.
SOURCES: Howard Selinger, M.D., chair, family medicine, Frank H. Netter M.D. School of Medicine, Quinnipiac University, North Haven, Conn.; Suzanne Steinbaum, M.D., director, Women's Heart Health, Lenox Hill Hospital, New York City; JAMA Internal Medicine, news release, June 13, 2016
HealthDay
Copyright (c) 2016
HealthDay
. All rights reserved.
News stories are provided by HealthDay and do not reflect the views of MedlinePlus, the National Library of Medicine, the National Institutes of Health, the U.S. Department of Health and Human Services, or federal policy.
More Health News on:
Monday, June 13, 2016