Older Runners Can Maintain Their 'Fuel Efficiency': MedlinePlus
Older Runners Can Maintain Their 'Fuel Efficiency'
Rate of oxygen consumption differs little between active seniors and younger runners: study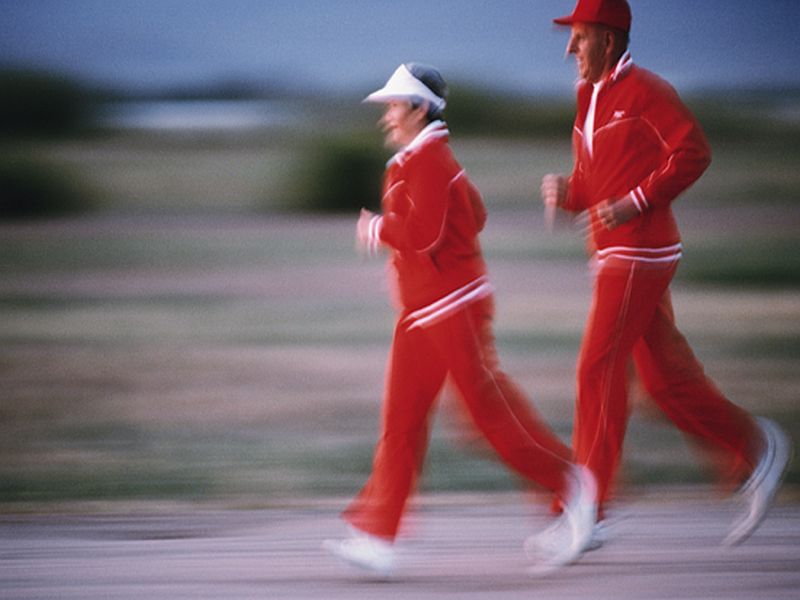 THURSDAY, June 9, 2016 (HealthDay News) -- Runners over age 65 could burn oxygen at nearly the same rate as much younger runners, a new study finds.
The rate of oxygen consumption is what researchers call "running economy." They found that even though the gait of older runners may change, they still maintain youthful energy levels, or good running economy, while exercising.
"There's good evidence that it's never too late to get into exercise, it's about finding what types of exercise are right for your body," said study author Justus Ortega, an associate professor in the department of kinesiology at Humboldt State University, in Arcata, Calif.
The finding offers another reason for people to remain active as they age, the researchers said.
For the study, Ortega and colleagues from the University of Colorado, Boulder conducted treadmill assessments of 15 older runners and 15 younger runners who ran at least three times a week for a minimum of 30 minutes per session, over six months.
There were differences between the two groups in running mechanics, indicating that older runners adjust their techniques as they age. But the older runners burned oxygen at a similar rate as younger runners at a number of different speeds.
"I like to think of it as your body is like a car with a fuel efficiency level," Ortega said in a Humboldt State news release. "Your body has its own fuel efficiency and what we've seen is that the fuel efficiency in muscles is reduced in older adults who are sedentary or only walk occasionally."
Those who continue their jogging habit will enjoy superior running economy, he said.
The researchers plan further studies to determine whether other types of exercise have the same effect on increasing muscle efficiency and whether inactive people can get the same benefits if they boost their physical activity.
The study was published recently in the journal Medicine & Science in Sports & Exercise.
SOURCE: Humboldt State University, news release
HealthDay
Copyright (c) 2016
HealthDay
. All rights reserved.
News stories are provided by HealthDay and do not reflect the views of MedlinePlus, the National Library of Medicine, the National Institutes of Health, the U.S. Department of Health and Human Services, or federal policy.
More Health News on:
Thursday, June 9, 2016