MS Stem Cell Therapy Succeeds But Poses Risks: MedlinePlus
MS Stem Cell Therapy Succeeds But Poses Risks
Toxic side effects of heavy chemo could limit use, researcher says
Thursday, June 9, 2016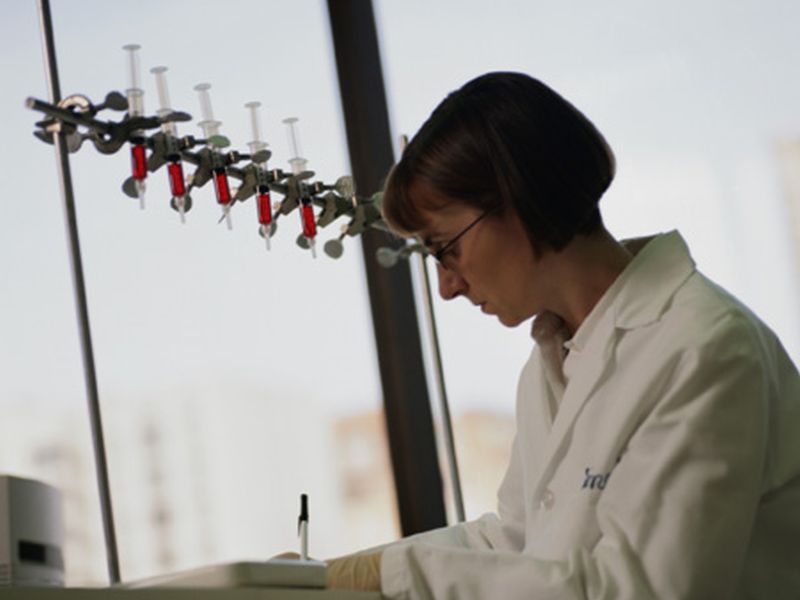 THURSDAY, June 9, 2016 (HealthDay News) -- A treatment combining chemotherapy and a stem cell transplant could represent a major advance against aggressive multiple sclerosis, experts say.
This new treatment destroys the immune system with chemo and rebuilds it with the patient's own stem cells. Researchers say it stopped MS relapses and progression in 23 of 24 patients.
According to the results of this small trial, these 23 patients no longer needed medication to control their MS. Moreover, eight showed continued improvement for nearly eight years.
"These patients had highly active MS with lots of relapses and lots of ongoing damage to their brain, but we've been able to stop that," said lead researcher Dr. Harold Atkins. He is an associate professor of clinical hematology at the University of Ottawa in Canada.
The results are noteworthy, Atkins said. "There are lots of drugs and treatments available that are able to slow the disease or temperately halt it, but this one seems to be significant in that it had a long-lasting effect," he explained.
However, it's not for everybody with MS. "Because of the side effects and the rigor of treatment, it is something that should be used with those with the most aggressive MS before they have real damage. This won't work for patients who have advanced disabilities or are in a wheelchair," he added.
And, because the immune system is destroyed, patients have no defense against infections.
Still, Dr. Paul Wright, chairman of neurology at North Shore University Hospital in Manhasset, N.Y., thinks this therapy is a "breakthrough" in MS treatment.
"For these patients, the turnaround was extremely dramatic," Wright said. But the treatment must be tried in more patients before it can be widely used.
"A larger sample size is necessary," Wright added. "Because the treatment is toxic and potentially life-threatening, you need to make sure before you tout this as a panacea for advanced MS that it benefits a large population of patients."
MS is a chronic inflammatory disease of the central nervous system. It can lead to vision problems, muscle weakness, trouble with coordination and balance, and thinking and memory problems, according to the U.S. National Institutes of Health.
The new treatment involves collecting a patient's bone marrow stem cells, purifying them and freezing them. The patient is then subjected to high levels of chemotherapy. This is similar to the treatment used to treat some lymphomas, Atkins said.
The chemotherapy is so strong that it crosses the blood-brain barrier and eliminates damaged immune cells from the central nervous system, he explained.
Once that's done, the stem cells are thawed and returned to the patient to start the process of rebuilding the immune system, Atkins said.
A larger trial is planned, but this treatment can be used right now in hospitals that do stem cell transplants for lymphoma, according to Atkins.
In this trial, the researchers treated 24 MS patients, aged 18 to 50. Their disease was progressing rapidly and they weren't helped by the usual MS medications.
While improvement was notable, side effects were significant. One patient died from a liver infection, and eight had moderate toxic effects. Fourteen had mild side effects, the study authors said.
After the stem cell transplant, patients remain hospitalized as the immune system begins to recover -- usually about four weeks, Atkins said. It then takes up to nine months at home to fully recover and resume normal activities.
Pointing to the therapy's success, Atkins said patients had at least one relapse a year before treatment but none during follow-up of between four and 13 years.
Also, the patients had a total of 93 brain lesions before treatment. After treatment, only one new lesion was detected, according to the study.
Moreover, three years after the therapy, six patients were able to reduce or discontinue their disability insurance and return to work or school, Atkins said.
The report was published online June 9 in the journal The Lancet.
SOURCES: Harold Atkins, M.D., associate professor, clinical hematology, University of Ottawa, Canada; Paul Wright, M.D., chairman, neurology, North Shore University Hospital, Manhasset, N.Y.; June 9, 2016, The Lancet, online
HealthDay
Copyright (c) 2016
HealthDay
. All rights reserved.
News stories are provided by HealthDay and do not reflect the views of MedlinePlus, the National Library of Medicine, the National Institutes of Health, the U.S. Department of Health and Human Services, or federal policy.
More Health News on: