Fewer Inhaled Steroids May Be OK for Asthmatic Children: MedlinePlus
Fewer Inhaled Steroids May Be OK for Asthmatic Children
Study suggests some kids don't need daily dosing, but one expert worries the strategy might have risks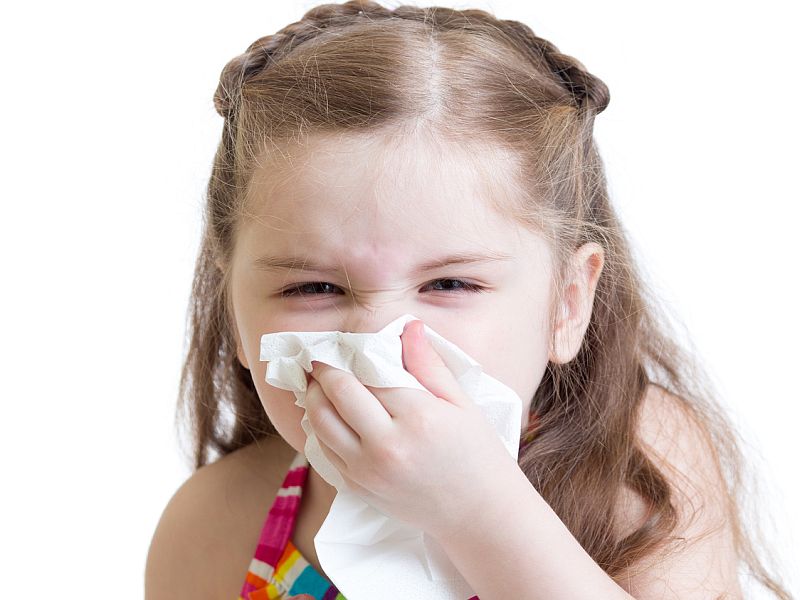 FRIDAY, May 27, 2016 (HealthDay News) -- Inhaled steroid therapy is commonly used to treat asthmatic children with persistent, daily wheezing episodes.
However, a new study suggests that the powerful medicines may not be needed on a daily basis for kids whose wheezing occurs sporadically, such as when they catch a cold.
"It makes sense that these children with frequent symptoms require daily treatment, whereas those who wheeze just during viral illnesses may only need treatment during illnesses," study lead author Dr. Sunitha Kaiser, of the University of California, San Francisco, said in a university news release.
Two experts who reviewed the study had different reactions to the findings, however.
"The less-frequent use of steroids is good news for children, since chronic steroid use can stunt growth," said Dr. Len Horovitz, a pulmonary specialist at Lenox Hill Hospital in New York City.
Child asthma specialist Dr. Melodi Pirzada was more cautious.
"This article may put our preschooler asthmatics in dangerous territory," she said. "A child who is a known asthmatic without daily controller medications is at great risk to have a life-threatening asthma attack. In these cases, it is better to overdo treatment rather than come up short."
Pirzada is chief of pediatric pulmonary medicine at Winthrop-University Hospital in Mineola, N.Y.
In the new study, Kaiser's team analyzed 22 studies involving more than 4,500 children age 6 and younger. All suffered at least two episodes of asthma or wheezing in the previous year.
In 15 of the studies, kids with persistent asthma or wheezing had a 30 percent reduction in the risk of serious flare-ups if they used inhaled steroids on a daily basis.
Six other studies focused on more sporadic (not daily) use of the inhalers by kids whose wheezing was not persistent, and was typically only spurred by a cold. Those studies found a 35 percent reduction in flare-ups compared to a placebo, the researchers said.
Two more studies compared the effects of daily inhaled steroids and more sporadic inhaled steroid use in kids with wheezing induced by common colds. Those studies found no difference in the amount of severe flare-ups, Kaiser's group said.
There were no studies that compared daily-versus-intermittent use of inhaled steroids for kids with chronic, daily asthma or wheeze.
Based on the findings, the researchers believe non-daily use of inhaled steroids may be effective for kids with asthma episodes induced by a cold.
Young children with cold-related wheezing "don't experience wheezing between colds and for them limiting frequency of inhaled steroids to the duration of a cold was as effective," Kaiser said.
The study authors said their findings may be welcomed by parents troubled by the side effects of inhaled steroids, despite studies suggesting the drugs cause minimal problems.
Many parents are reluctant to give too many steroids to children, the researchers explained, because they believe it may stunt a child's growth. Studies have connected mild growth suppression with use of the drugs, Kaiser's team said, but the effect gradually lessens over time.
"We have no definitive data to indicate that intermittent dosing of inhaled steroids impacts growth differently than daily dosing," Kaiser said, "but it's generally accepted that reducing frequency of a drug will minimize side effects. Children should be followed closely to monitor benefits and side effects."
The analysis also "confirms that inhaled steroids are first-line treatment for children with asthma and wheezing. The more we can control their symptoms with inhaled steroids, the less the need to treat children with systemic high-dose steroids," Kaiser said.
The findings appear May 26 in the journal Pediatrics and are consistent with the guidelines of the National Asthma Education and Prevention Program of the U.S. National Heart, Lung, and Blood Institute, the researchers said.
Still, Pirzada isn't convinced that intermittent dosing can be a safe strategy for young children.
"This study has the potential to make the struggle of pediatricians and asthma specialists more difficult in regards to prescribing daily inhaled steroids to prevent asthma attacks," she said. "In many cases, we see patients who do not take their medication on a consistent basis ending up in the emergency department or the hospital, fighting for their lives."
About 9 million children in the United States have asthma, and half of all children aged 5 and younger have had one or more episodes of wheezing, according to the U.S. National Institutes of Health.
SOURCES: Len Horovitz, M.D., pulmonary specialist, Lenox Hill Hospital, New York City; Melodi Pirzada, M.D., chief of pediatric pulmonary medicine, Winthrop-University Hospital, Mineola, N.Y.; University of California, San Francisco, news release, May 25, 2016
HealthDay
Copyright (c) 2016
HealthDay
. All rights reserved.
News stories are provided by HealthDay and do not reflect the views of MedlinePlus, the National Library of Medicine, the National Institutes of Health, the U.S. Department of Health and Human Services, or federal policy.
More Health News on:
Friday, May 27, 2016