Expectant Mom's Flu Shot Protects 2: MedlinePlus
Expectant Mom's Flu Shot Protects 2
Infants benefit when a woman gets her influenza immunization during pregnancy, study confirms
Tuesday, May 3, 2016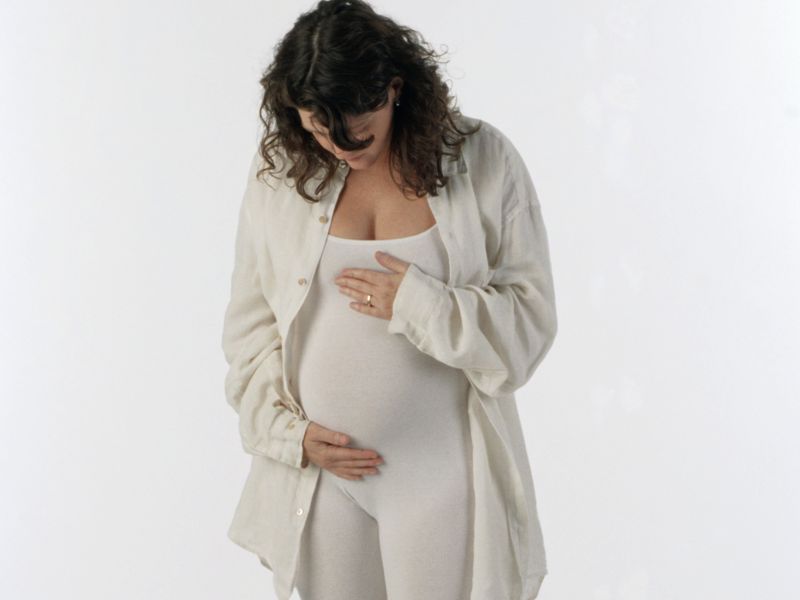 TUESDAY, May 3, 2016 (HealthDay News) -- When a pregnant woman gets vaccinated for the flu, the protection extends to her baby too, new research confirms.
Babies 6 months and younger whose mothers had a flu vaccine during pregnancy were 70 percent less likely to have lab-confirmed flu than babies born to mothers who didn't have the immunization while pregnant. In addition, the babies born to mothers immunized during pregnancy had an 80 percent reduction in flu-related hospitalizations, the study found.
"Children younger than 6 months are too young to be vaccinated," said the study's lead author, Dr. Julie Shakib.
"The best way to protect infants younger than 6 months is to make sure everyone around them is vaccinated. Immunizing pregnant women provides immunity to the baby through the placenta. Immunizing others who live with or care for the baby prevents them from getting the flu and passing it to the baby," said Shakib, assistant professor of pediatrics at the University of Utah School of Medicine.
The study authors called the need to get more pregnant women immunized "a public health priority."
The U.S. Centers for Disease Control and Prevention recommends that all pregnant women receive the flu vaccine to protect both the mother and the baby. Pregnancy causes changes that make women more susceptible to the flu and its complications, the CDC says.
And babies can't receive a flu vaccine of their own until they're at least 6 months old, according to the CDC.
The flu vaccine isn't recommended for infants under 6 months of age because their immune systems can't yet respond to the vaccine in a way that would allow them to develop enough protective antibodies, Dr. Tina Tan said. She's a professor of pediatrics at Feinberg School of Medicine at Northwestern University in Chicago, and was not involved with the study.
For the study, the researchers reviewed more than 245,000 health records of pregnant women and more than 249,000 infant records. Information was available for nine flu seasons from December 2005 through March 2014. Only about 10 percent of these women reported being vaccinated while pregnant, the study revealed.
According to Tan, mothers-to-be cite a variety of reasons for not getting a flu vaccine. They include: misconceptions about harming the infant, harming the mother, belief that they will get influenza from the vaccine, belief that the vaccine is not effective, or they are not at risk for getting influenza so why get the vaccine."
The American Congress of Obstetricians and Gynecologists also strongly recommends that pregnant women get a flu shot during any trimester of pregnancy during flu season, Tan said.
The new study found that 97 percent of confirmed flu cases were among babies whose mothers hadn't been immunized during pregnancy.
"The flu vaccine has a two-for-one benefit if administered during pregnancy because it also provides passive immunity for the newborn," said Dr. Jennifer Wu, an obstetrician-gynecologist at Lenox Hill Hospital in New York City.
"This can be critical during flu season. Newborns cannot get the flu vaccine, and if they do contract the flu, this will likely require a hospital admission," added Wu, who was not involved with the study.
Ultimately, Shakib hopes the results of her team's study will encourage more pregnant women to get the vaccine.
The report was published online May 3 in the journal Pediatrics.
SOURCES: Julie H. Shakib, D.O., assistant professor, pediatrics, University of Utah School of Medicine, Salt Lake City; Tina Q. Tan, M.D., professor, pediatrics, Feinberg School of Medicine, Northwestern University, Chicago; Jennifer Wu, M.D., obstetrician-gynecologist, Lenox Hill Hospital, New York City; June 2016, Pediatrics
HealthDay
Copyright (c) 2016
HealthDay
. All rights reserved.
News stories are provided by HealthDay and do not reflect the views of MedlinePlus, the National Library of Medicine, the National Institutes of Health, the U.S. Department of Health and Human Services, or federal policy.