'Fast track' project shows promising results in cancer whole genome analyses

'Fast track' project shows promising results in cancer whole genome analyses
One key aim of the 100,000 Genomes Project is to improve cancer care for NHS patients. Whole genome sequencing in cancer can enable clinicians to choose better treatments and improve outcomes for patients through personalized medicine.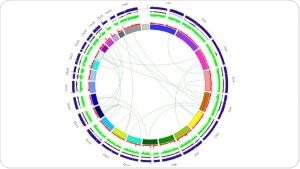 Circos Plot from our supplementary analysis.
While the Project continues to recruit patients and develop the infrastructure for interpreting genomic data at scale, we are delighted that the first four cancer whole genome analyses from our 'fast track' project have been returned to the NHS in 18 working days of patient samples being dispatched to our whole genome sequencing pipeline.
Our 'fast track' project aims to provide cancer analyses within a timeframe that will help in clinical decision-making and care. It is a major part of our plans to build a sustainable legacy for cancer whole genome sequencing.
Further work is needed so the pathways for sample processing and data analysis in whole genome sequencing can be fully accredited for diagnostic use. NHS laboratories will now confirm our reported findings with a standard accredited test, before using the information to guide clinical management.
Chief Scientist, Professor Mark Caulfield says:
Throughout 2017 and 2018, we will return results for patients in both rare disease and cancer at pace.