Moms' Soda Habit in Pregnancy May Boost Kids' Odds for Asthma: MedlinePlus Health News
Friday, December 8, 2017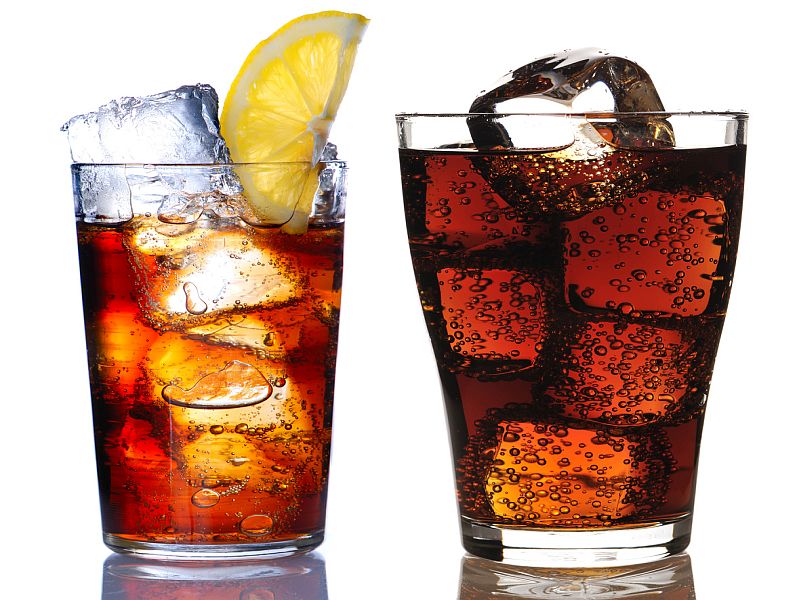 FRIDAY, Dec. 8, 2017 (HealthDay News) -- Kids are more likely to develop asthma if their moms chug sugary drinks during pregnancy, a new study suggests.
Expectant mothers who drank an average of two sugar-sweetened beverages a day were over 60 percent more likely to have kids diagnosed with asthma when they were 7 to 9 years old than were women who drank no sugary beverages while pregnant, Harvard researchers found.
Too much sugar in the diet can lead to excess weight, which is a risk factor for asthma, said Dr. Emily Oken, a professor of nutrition at the Harvard T.H. Chan School of Public Health and a co-author of the study.
Also, researchers think that the fructose used to sweeten these beverages might pose an additional risk by promoting inflammation in the body, Oken noted.
"One of the theories is if you have a predisposition to allergic disease and you have a further hit that makes you more predisposed to get inflammation, that will increase your risk even more," Oken said.
The study adds to a growing body of evidence indicating that a pregnant woman's diet can have long-term consequences for the health of her child, said Dr. Rosalind Wright. She is dean for translational biomedical research at the Icahn School of Medicine at Mount Sinai in New York City, and was not involved with the new study.
"Increasingly we're understanding that the processes that put a kid on a trajectory for obesity and asthma start in pregnancy," Wright said. "This may give us some clues to how early life programming of asthma starts in utero, and how we might intervene more directly to give children a healthy start."
For their study, Oken and her colleagues analyzed data on 1,068 mother-child pairs recruited into a long-term study called Project Viva, which is investigating how diet and other factors during pregnancy might affect a child's future health.
Pregnant women in the study were asked about the quantity of beverages they consumed daily, including sugar-sweetened drinks and fruit juices. Follow-up questionnaires also asked about the amount of sugary drinks consumed by their young children.
By mid-childhood, one out of five kids in the study had developed asthma, the findings showed.
Mothers who drank the most sugary beverages during pregnancy -- about two cans a day -- were 63 percent more likely to have kids with asthma than were women who drank no sugar-sweetened beverages, the study found.
Young kids who consumed drinks sweetened with high-fructose corn syrup also had a higher risk for asthma. Those who drank the most were 64 percent more likely to develop asthma than those who drank the least.
These connections held even after researchers adjusted for other lifestyle and social factors associated with asthma risk, Oken said.
According to Wright, "This adds further evidence that we need to improve dietary intakes in mothers, not just for their own health but for the health of their offspring. We know women are very motivated to change behaviors if they believe it's going to help their children."
The research team also looked at the effect of fruit juice on health because it contains a lot of naturally occurring fructose, Oken said.
"We don't see evidence for the same strength of adverse effects from fruit juice," Oken added. "That may be perhaps because fruit juice also contains vitamins and other anti-inflammatory factors."
The researchers did note that this study cannot prove a direct cause-and-effect relationship. Also, because the study participants were mostly from well-off families, the findings might not apply to families that are less affluent.
The study was published online Dec. 8 in the Annals of the American Thoracic Society.
SOURCES: Emily Oken, M.D., M.P.H., professor of nutrition, Harvard T.H. Chan School of Public Health, Boston; Rosalind Wright, M.D., dean for translational biomedical research, Icahn School of Medicine at Mount Sinai, New York City; Dec. 8, 2017, Annals of the American Thoracic Society, online
HealthDay
Copyright (c) 2017
HealthDay
. All rights reserved.
News stories are written and provided by HealthDay and do not reflect federal policy, the views of MedlinePlus, the National Library of Medicine, the National Institutes of Health, or the U.S. Department of Health and Human Services.
More Health News on