Study reveals impact of underactive thyroid within normal range on woman's ability to conceive

Study reveals impact of underactive thyroid within normal range on woman's ability to conceive
A new study published yesterday in the Journal of Clinical Endocrinology & Metabolism (JCEM), an online journal from the Endocrine Society, suggests that a slightly underactive thyroid may affect the ability of a woman to conceive, even if the gland is functioning at the lower end of the normal range.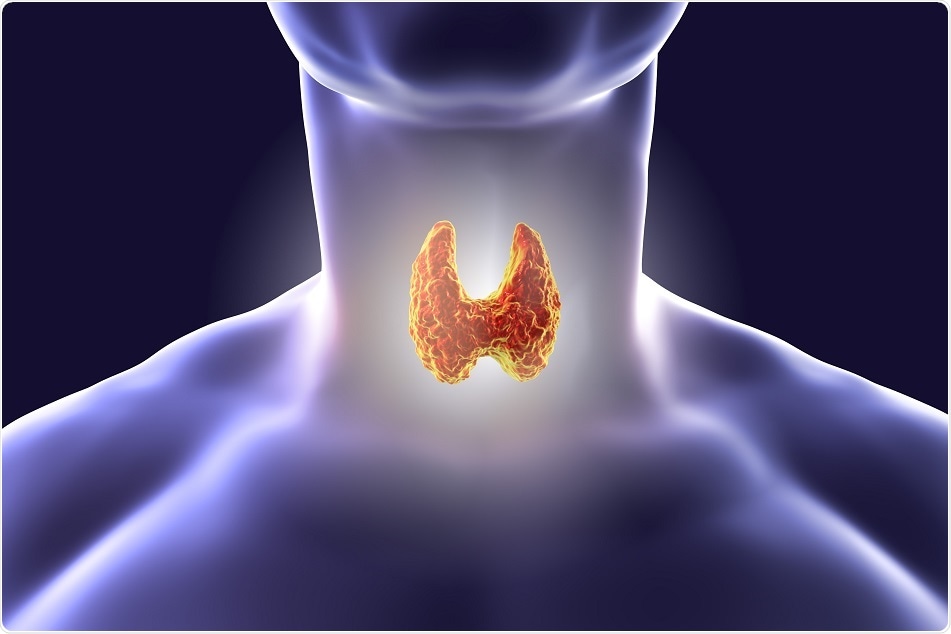 Credit: Kateryna Kon/ Shutterstock.com
According to the study, women with unexplained infertility had a nearly twofold increased possibility of having higher levels of a hormone that stimulates the thyroid gland than women who did not conceive due to known issues with their male partner's sperm count.
The pituitary gland, which is located at the base of the brain, instructs the thyroid gland to produce more hormone when required by producing Thyroid-stimulating hormone (TSH). Increased TSH levels may signify an underactive thyroid gland.
When couples are unable to conceive in spite of trying for months, and their medical evaluation indicates no reason for their infertility, the condition is unexplained infertility.
According to the Office of Women's Health in the U.S. Department of Health and Human Services, nearly 10% of American women in the age group of 15–44 have difficulty becoming or staying pregnant; and the JCEM study suggests that between 10% and 30% of affected couples have unexplained infertility.
Commenting on the study findings, Pouneh K. Fazeli, M.D., M.P.H., the study's senior author, from Massachusetts General Hospital and Harvard Medical School in Boston, mentioned that further research is required to check if treating elevated TSH with thyroid hormone can enhance the chance for women with unexplained pregnancy to get pregnant.
In the current cross-sectional study, data of female patients--- with regular menstrual cycles and a normal fertility evaluation---in the age group of 18–39 who were diagnosed with infertility at Partners HealthCare System hospitals in Boston, Mass., between 2000 and 2012 were analyzed.
The study involved 187 women with unexplained infertility and 52 women with partners who had severe male factor infertility. The TSH levels for all these participants, acquired as a part of the fertility evaluation, were examined.
The findings suggested that women with unexplained infertility had considerably higher levels of TSH when compared with women with infertility due to a known cause. Nearly double the number of women with unexplained infertility showed a TSH higher than 2.5 mlU/L, than those whose partners had male factor infertility.
Dr. Fazeli said that as the findings suggest a link between TSH levels at the high end of the normal range and unexplained infertility, there is a possibility for a high-normal TSH level to adversely affect women who are trying to get pregnant.
According to him, these findings may lead to new avenues for possible treatments.