HIV Diagnoses Occurring More Quickly, CDC Says: MedlinePlus Health News
Tuesday, November 28, 2017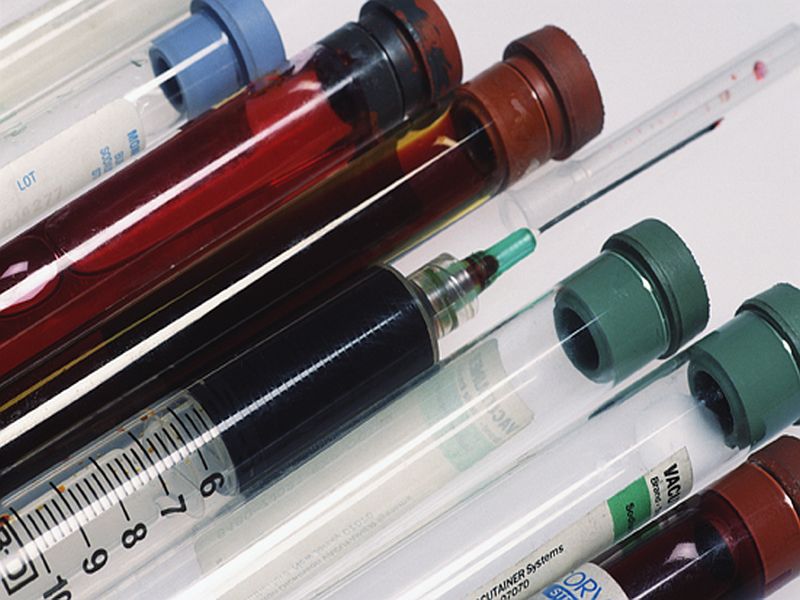 TUESDAY, Nov. 28, 2017 (HealthDay News) -- U.S. health care providers are getting better at detecting new cases of HIV infection, although it still can take years for people to know they've acquired the dreaded virus, federal officials reported Tuesday.
The average time between HIV infection and diagnosis was three years in 2015, seven months earlier than it had been in 2011, according to researchers from the U.S. Centers for Disease Control and Prevention.
A seven-month improvement in four years is a considerable decrease and shows that the United States is on the right track, the CDC said.
"Overall, it reveals that we as a nation are making great progress in HIV prevention," Dr. Brenda Fitzgerald, the CDC director, said during a news briefing on the newly released data.
"These findings are more encouraging signs that the tide continues to turn on our nation's HIV epidemic," she said earlier in a prepared statement. "HIV is being diagnosed more quickly, the number of people who have the virus under control is up and annual infections are down. So while we celebrate our progress, we pledge to work together to end this epidemic forever."
The CDC report was based on HIV surveillance data from all 50 states and more than 20 large cities.
Overall, 85 percent of the estimated 1.1 million people living with HIV in the United States in 2014 knew they were infected. The CDC estimates that people unaware of their HIV status are responsible for about 40 percent of new infections.
In particular, it appears that efforts to get high-risk people tested for HIV are paying off. Groups that more frequently reported getting a recent HIV test included:
Gay men (from 63 percent tested in 2008 to 71 percent in 2014).
People who inject drugs (from 50 percent in 2009 to 58 percent in 2015).
Heterosexuals at increased risk for infection (from 34 percent in 2010 to 41 percent in 2016).
However, that still leaves large numbers of at-risk people who are not getting tested, CDC officials noted.
The CDC recommends that all teenagers and adults be tested for HIV at least once during their lifetime, and people in high-risk groups should be tested at least annually.
But, Fitzgerald said, "we also know we are still missing opportunities for testing people most at risk for HIV."
The study revealed that seven in 10 people at high risk for HIV infection saw a health care provider in the past year but did not get tested, signaling a missed opportunity.
Testing is key to preventing the spread of HIV, the CDC researchers explained. One-quarter of people diagnosed with HIV in 2015 carried the virus for seven or more years without knowing it.
"If you are at risk for HIV, don't guess -- get a test," Dr. Jonathan Mermin, director of the CDC's National Center for HIV/AIDS, Viral Hepatitis, STD and TB Prevention, said in the CDC statement. "The benefits are clear. Prompt diagnosis is prevention. It is the first step to protecting people living with HIV and their partners."
Once diagnosed, people can be treated with drugs that suppress HIV down to nearly undetectable levels in their blood, he added during the news briefing.
"In recent studies of thousands of couples where one partner has HIV and the other does not, there have been no sexually transmitted HIV infections when the HIV-positive partner was virally suppressed," Mermin said.
Lack of prompt testing varies based on a person's race or ethnicity and the risk group to which they belong, according to the CDC. For instance:
Gay and bisexual males received their HIV diagnosis three years after infection, on average, compared with five years for heterosexual men and 2½ years for women.
White people tended to be diagnosed an average of two years after infection, compared with three years for blacks and Hispanics, and four years for Asian-Americans.
Fitzgerald added, "Once diagnosed, HIV can be treated so people who have HIV can live long, healthy lives."
The findings were published Nov. 28 in the CDC's Morbidity and Mortality Weekly Report.
SOURCES: U.S. Centers for Disease Control and Prevention, news briefing with Brenda Fitzgerald, M.D., CDC director, and Jonathan Mermin, M.D., director of the CDC's National Center for HIV/AIDS, Viral Hepatitis, STD and TB Prevention; Nov. 28, 2017, news release, U.S. Centers for Disease Control and Prevention; Nov. 28, 2017, Morbidity and Mortality Weekly Report
HealthDay
Copyright (c) 2017
HealthDay
. All rights reserved.
News stories are written and provided by HealthDay and do not reflect federal policy, the views of MedlinePlus, the National Library of Medicine, the National Institutes of Health, or the U.S. Department of Health and Human Services.
More Health News on