Many Migraine Sufferers Given Unecessary Opioids, Study Finds: MedlinePlus Health News
Many Migraine Sufferers Given Unecessary Opioids, Study Finds
Addictive painkillers should be treatment of last resort, headache expert says
Friday, August 25, 2017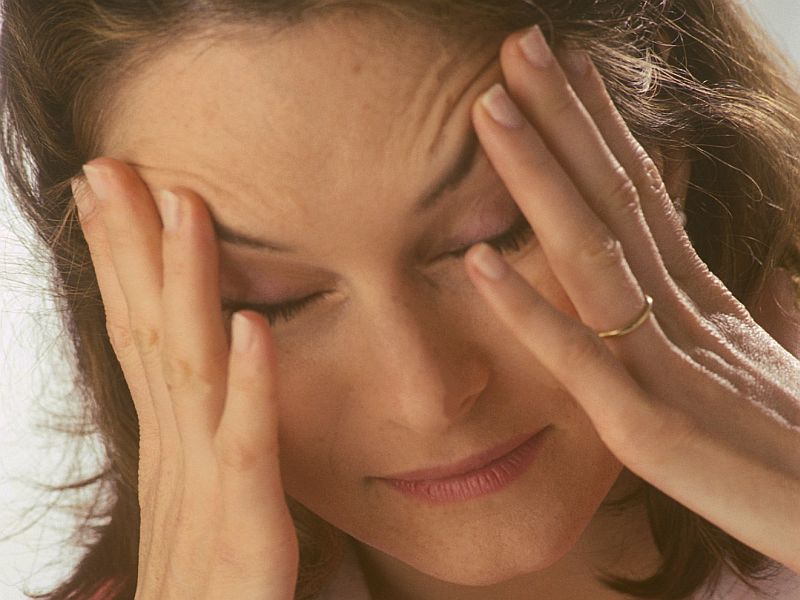 FRIDAY, Aug. 25, 2017 (HealthDay News) -- Too many people with migraines are prescribed potentially addictive opiate painkillers, while too few may be getting recommended medications, a new study suggests.
Researchers found that of nearly 2,900 Americans who visited the doctor for migraine relief, 15 percent were prescribed opioids such as oxycodone (OxyContin or Percocet) or hydrocodone (Norco, Vicoprofen).
That's despite the fact that the drugs should really be used only as a "last resort," said study lead researcher Dr. Larry Charleston IV.
Opioids are not only less effective than recommended migraine drugs, they're also risky, said Charleston, an assistant professor of neurology at the University of Michigan Medical School.
Repeated opioid use, he explained, can actually lead to more frequent, or even chronic, migraines. And by now, it's no secret that the drugs have the potential for abuse and addiction.
"We have a huge problem with opioids in the U.S.," Charleston said.
Dr. Lauren Natbony treats migraine patients at Mount Sinai's Center for Headache and Pain Medicine in New York City.
She said that the most common cause of chronic migraine is medication overuse -- including opioids. The painkillers should only be used in "rare circumstances," Natbony said -- such as for certain patients who simply cannot tolerate "migraine-specific" medications.
The 15 percent figure in this study is "way too high," said Natbony, who wasn't involved in the research.
Migraines are intense headaches that typically cause throbbing pain on one side of the head -- along with sensitivity to light and sound, and sometimes nausea and vomiting.
They're also common, affecting about 12 percent of Americans, according to the U.S. National Institutes of Health.
Treatment guidelines say that people with migraines should first try general painkillers -- such as acetaminophen (Tylenol), naproxen (Aleve), ibuprofen (Advil, Motrin) -- or migraine-specific medications called triptans. Those include drugs such as sumatriptan (Imitrex, generics) and rizatriptan (Maxalt, generics).
People with more severe or more frequent migraine attacks may need preventive medications. Those include certain blood pressure drugs, such as metoprolol (Lopressor, Toprol) and propranolol (Inderal), and anti-seizure drugs like topiramate (Qudexy, Topamax) and valproate (Depacon).
The current findings are based on a federal survey. The survey tracks trends in office-based medical care across the United States.
Charleston's team focused on U.S. adults who visited the doctor for migraine treatment between 2006 and 2013. They were representative of 50 million office visits nationwide, the researchers said.
White, black and Hispanic patients were prescribed similar rates of opioids for migraines, the study found.
Meanwhile, 39 percent of patients were not prescribed any "abortive" medication -- meaning a drug that eases a migraine attack in progress. A similar percentage (just over 40 percent) received no preventive medications.
The researchers had no information on the severity or duration of patients' headaches, according to Charleston. So it's not clear how often they should have been prescribed medication.
But, Charleston said, when patients were prescribed abortive or preventive medications, they were often "low-quality." That meant drugs that did not fall in the "Level A" category set by the American Academy of Neurology -- based on evidence of their effectiveness.
For example, triptans (sumatriptan/Imitrex, rizatriptan/Maxalt) and dihydroergotamine (Migranal, which comes as a nasal spray or injection) would be considered Level A abortive treatments. In this study, only 19 percent of patients received such Level A drugs, while 27 percent were prescribed at least some lower-quality abortive medication.
According to Natbony, it's hard to know what to make of those findings. There could be reasons that some patients received drugs that were not in the Level A category, she said.
The bottom line for patients, she said, is to "advocate for themselves."
Ask whether you are on the best medications for your head pain, Natbony advised -- and if you're prescribed an opioid, question it. "Don't assume it's OK because a doctor is prescribing it," she said.
It's unclear why so many patients in this study were on opioids, according to Charleston.
About half had seen their primary care doctor, while between one-fifth and one-quarter visited a neurologist.
It's possible, Natbony said, that many of those doctors lacked education in migraine treatment. Even some neurologists, she noted, may be less-informed if they don't specialize in headache management.
"It's not clear where the breakdown is happening," Natbony said.
Whatever the reasons, she said that migraine patients who are unsatisfied with their care should get a second opinion -- if possible, with a headache specialist.
That may not always be easy, though. There's roughly one headache specialist for every 86,000 migraine sufferers in the United States, Charleston said.
Findings from the study were published recently in the journal Cephalalgia.
SOURCES: Larry Charleston IV, M.D., assistant professor, neurology, University of Michigan Medical School, Ann Arbor; Lauren Natbony, M.D., assistant professor, neurology, Center for Headache and Pain Medicine, Icahn School of Medicine at Mount Sinai, New York City; June 26, 2017, Cephalalgia, online
HealthDay
Copyright (c) 2017
HealthDay
. All rights reserved.
News stories are written and provided by HealthDay and do not reflect federal policy, the views of MedlinePlus, the National Library of Medicine, the National Institutes of Health, or the U.S. Department of Health and Human Services.
More Health News on