Children being increasingly diagnosed with hypertension

Children being increasingly diagnosed with hypertension
According to the latest set of guidelines released yesterday by the
American Academy of Pediatrics
, more and more children and adolescents who visit their pediatricians annually for routine health checkups are likely to be diagnosed with abnormal blood pressure making them vulnerable to developing hypertension.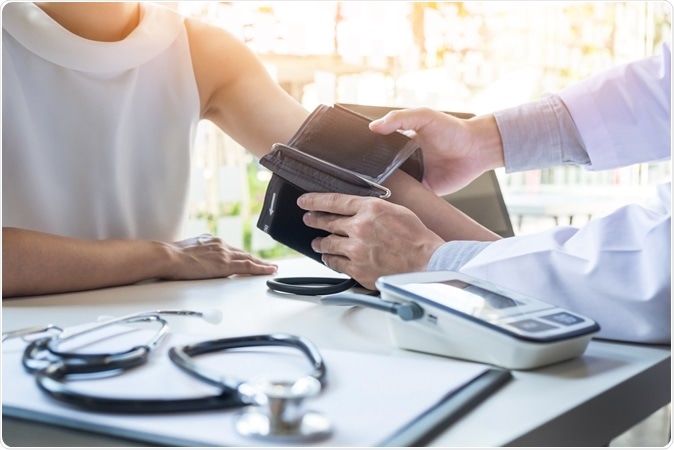 Image Credit: Indypendenz / Shutterstock
The new guidelines issued by the American Academy of Pediatrics appeared in the journal Pediatrics. It outlines the diagnosis tables of hypertension meaning "which levels are high and which are normal" for normal-weight children. The guidelines came from putting together the available scientific evidence and evidence based recommendations by a committee that was made up of twenty experts in the field. These recommendations were an update or upgrade from the earlier guidelines that were issued in 2004. Over 15,000 new research articles were reviewed starting from 2014, to look for the best possible ways to manage, diagnose and treat abnormally high blood pressure in children and adolescents.
Dr. Joseph T. Flynn, one of the authors of the guidelines and a professor of pediatrics at University of Washington noted that from the current evidence, it has been estimated that around 3.5% of all children and teenagers in United States have hypertension. This comes from large scale population studies and thus is fairly accurate estimate he said. The range stated in the guidelines is between 2 and 5% of the whole pediatric and adolescent population. It was around 1 to 2 percent before he noted.
Dr. Flynn spoke about the likely cause of this almost two to three fold rise saying that the age groups affected determine the most likely cause of this new trend. He said that while in infants and very young kids the cause is more likely to be diseased kidneys, among older children and teenagers, there may be no apparent cause. Just like in adults there is a large entity of hypertensives that do not have a specific cause for the condition and are said to have "essential hypertension", these kids too have primary hypertension or essential hypertension.
Talking about childhood obesity on the rise and its contribution to this trend of hypertensives among kid, Flynn added that obesity is one of the contributing factors. Hover obesity may not be the only cause of hypertension because a large proportion of normal weight children also develop hypertension. The guidelines too are based on normal weight children to precisely classify hypertension and this could mean that more children would be getting treatment.
These guidelines also add a new emphasis on confirmation of the diagnosis. Children may show a higher blood pressure at the doctor's office due to fear or anxiety associated with doctor's visits. This is termed "white coat hypertension". Diagnosis can be confirmed by ambulatory blood pressure monitoring said Flynn. In this the person continues to wear the blood pressure cuff for 24 hours with periodic measurements throughout the day. This gives a fair idea about the actual blood pressure the child has. In this new guideline ambulatory blood pressure has been recommended as standard practice in children after any abnormal reading in the doctor's office.
Flynn emphasized about the damage untreated hypertension would cause to the child's heart and kidneys and how it could raise the risk of future cardiovascular disease in the kids. These guidelines are aligned with those in adults Flynn noted. For example the blood pressure levels that are considered to be high mandating treatment for an adult would also be considered high for an older child or adolescent (13 years or older) he explained. This could simplify treatment planning for physicians. The recommendations state that around 75% of all cases of pediatric hypertension are missed in primary care settings and adequate medications are initiated in a proportion of patients much less than actual.
The guidelines also replace the earlier term "prehypertension" meaning at risk for developing hypertension later with the term "elevated blood pressure. The exact situations where further investigations such as echocardiograms are needed in pediatric patients have also been identified. Definitions of increased size of the left side of the heart termed "left ventricular hypertrophy" have also been revised in these guidelines. An addition of 27 clinical recommendations and 30 evidence-based key action statements regarding what to do have been made in the guidelines.
For parents Flynn advised routine blood pressure check up for their children and incorporation of lifestyle changes in the children including addition of more physical activities and alteration of diet. Medication may still be needed for some cases.
Reference