Infants' safe sleep recommendations - SIDS & SUID

Infants' safe sleep recommendations - SIDS & SUID
SIDS & SUID – A Brief History
Sudden infant death syndrome (SIDS) has been a cause for concern for a while now. The New Zealand Cot Study and European data in the 1990's had found that sleeping in prone position was dangerous for infants.
In 1992 the American Academy of Pediatrics (AAP) recommended that infants should no longer be placed on their chests when put to bed.
In 1994 the National Institutes of Health and other agencies also joined the "Back to Sleep" campaign to ensure safe sleep for infants.
As a result over the next decade the rates of SIDS in the United States dropped by 53 percent as the rates of sleeping on the back rose from less than 10% to 78% among infants. This was a great achievement by the AAP and prevented many deaths.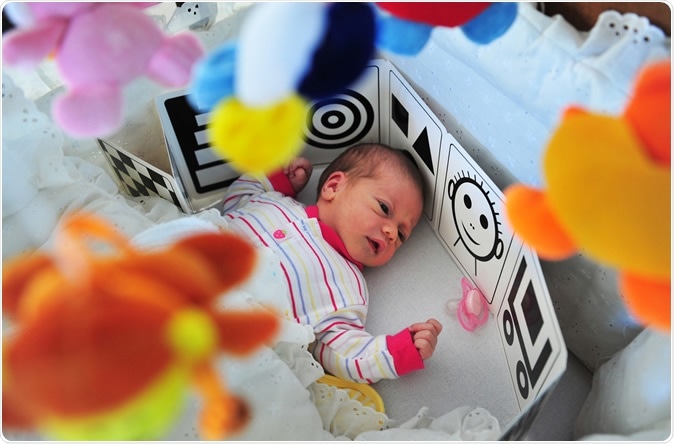 SIDS was the third leading cause of infant mortality in the U.S. in 2011 and rates have been declining since 1988. Image Credit: ChameleonsEye / Shutterstock
However with time the effectiveness of sleeping on the back was influenced by other factors as well that included co-sleeping or bed sharing with parents, soft bedding etc.
Thus in 2012 an educational campaign called "Safe to Sleep" emerged. It was noted that while SIDS rates were still declining, other reasons for infant deaths while sleeping rose. This included deaths due to suffocation or strangulation etc. These were termed sudden unexpected infant death (SUID). SUID has been shown to have unaltered incidence over the last few years alerting researchers about the safety issues in infant sleeping practices.
SUIDs have killed 3,700 babies in 2015 according to the CDC. While 1,600 of these were due to SIDS, 1200 were due to unknown causes and 900 due to accidental suffocation and strangulation while in bed. SUID rates among non-Hispanic black infants were 170.2 per 100,000 live births between 2011 and 2014. This was significantly higher than the rates among non-Hispanic white infants (83.8 per 100,000 live births).
Study
:
Improvements in Infant Sleep Position: We Can Do Better!
In the latest issue of the journal
Pediatrics
, an analysis of current practices and their pros and cons and benefits have been explored.
Infant sleep positions in United States have been studied in this research work in a large sample of around 3,300 mothers.
The mothers were surveyed from 32 hospitals all over the country with a deeper look at African American and Hispanic mothers. The study looked at all the sleep positions used by the mothers for their babies.
The team also studied the actual intentions the mother had in terms of how she wanted her baby to sleep with the video recordings showing what she actually did.
Dr. Eve Colson, professor of pediatrics at Yale School of Medicine and co-author of the study explained that this study is unique in this way that it looked at intentions of the mothers versus what actually happened.
Results showed that over the last 15 years, the rise in rates of sleeping on the back or supine sleeping was from 73% to 77%.
Only around half (49%) of the mothers put their babies exclusively on their backs while putting them to bed, the study showed. This was significantly alarming. What was heartening was that 57.6% mothers who intended to exclusively use the supine sleeping position maintained this correct position for most of the time (49.2%).
Results also revealed the discrepancy between what the mothers intended as safe sleeping position and what they actually practiced. This showed that while the night started with the baby in a safe sleeping environment, it ended with the baby in an unsafe sleeping environment by the time it was morning. This happened quite frequently for most mothers and babies surveyed.
African American mothers and mothers with less than high school education were found to be still more likely to put their babies to sleep on their chest. This raised the risk of SIDS two times among the babies. Soft bedding and bed sharing as well as inadequate percentages of breast feeding among these babies raise their risk for SIDS, this study and previous studies have noted.
Authors of this study concluded that since there was no control, there is a 2.6-fold increased risk of putting a baby on its chest for sleep. More efforts and education of the mothers as well as other caregivers are necessary feel the authors of this study.
As suggested by the National Action Partnership to Promote Safe Sleep, the healthy baby sleeping practices should be extended to partners, friends, family, grandparents and baby care providers as well.
This study found that many mothers felt that it was not up to them to decide how best to put the baby to sleep as some other family members were more than three times as likely to place the baby on its chest and stomach.
Many of the old timers felt sleeping on the back would raise the risk of the baby choking said Colson. Hospital sleep safety for babies is also an issue to be looked at, write the authors to set good examples.
Reference