Tattoo Remorse? What You Need to Know About Erasing Your Ink: MedlinePlus Health News
Tattoo Remorse? What You Need to Know About Erasing Your Ink
Lasers, sanding and even surgery can hide a bad decision, but beware of ointments, creams, FDA advises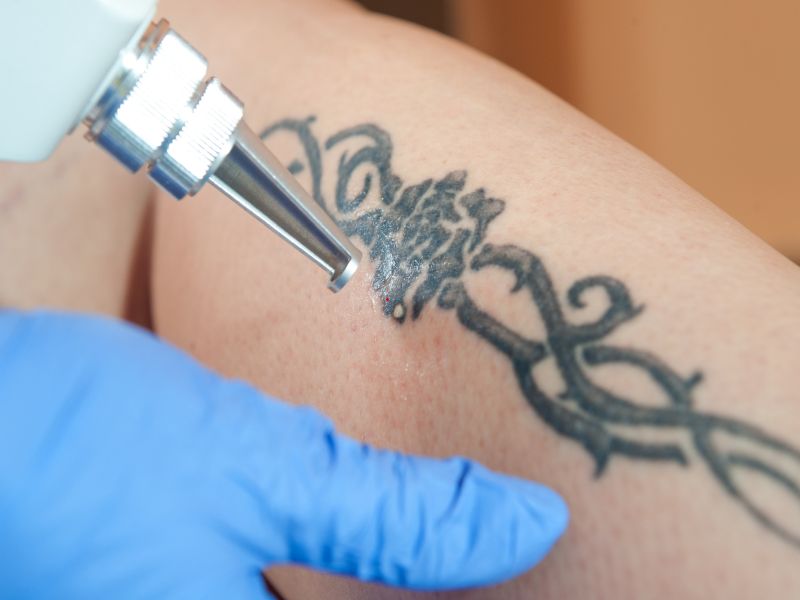 WEDNESDAY, June 28, 2017 (HealthDay News) -- Perhaps your neon forearm tattoo with the name of your high school girlfriend wasn't your brightest move ever.
If so, you're not alone.
Forever is apparently in the eye of the beholder. One in eight tattooed Americans regret getting what is supposed to be a permanent form of creative expression, according to a 2012 Harris Interactive survey.
And the American Society for Dermatologic Surgery reports that more and more are doing something about it.
In 2011, its doctors performed nearly 100,000 tattoo removals, up from 86,000 in 2010. And the number continues to rise.
But before you embark on a tattoo cleanse, learn about your options. The U.S. Food and Drug Administration, which regulates tattooing and tattoo removal, has some practical advice.
One way to go is professionally supervised laser removal, according to Mehmet Kosoglu, an FDA engineer.
The process exposes a tattoo to pulses of high-intensity laser energy. After exposure, tattoo pigment breaks up into small pieces, which can then be naturally metabolized by the body or excreted.
Some colors respond better to laser removal better than others, Kosoglu warns. Green, red and yellow are more stubborn than black and blue. And it will likely take six to 10 procedures to get the ink-free outcome you want.
Dermabrasion is another option, in which the top layer of skin is literally sanded away.
Or you can even have the tattooed skin cut away and surrounding skin stitched together.
Be aware that there are no FDA-approved creams for tattoo removal, FDA dermatologist Dr. Markham Luke said.
"FDA has not reviewed them, and is not aware of any clinical evidence that they work," Luke noted in an agency news release. In fact, he said, ointments and creams marketed for tattoo removal may cause unexpected reactions, including rashes, burning, scarring or changes in skin pigmentation.
"If you have any concerns about having a tattoo removed, it's a good idea to consult your dermatologist, who is knowledgeable about laser treatments," Luke added.
SOURCE: U.S. Food and Drug Administration news release, June 22, 2017
HealthDay
Copyright (c) 2017
HealthDay
. All rights reserved.
News stories are written and provided by HealthDay and do not reflect federal policy, the views of MedlinePlus, the National Library of Medicine, the National Institutes of Health, or the U.S. Department of Health and Human Services.
More Health News on
Wednesday, June 28, 2017